Keltbray is targeting work on the government's large infrastructure projects and work outside of the capital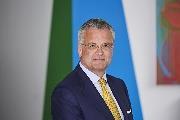 Keltbray's pre-tax profit soared by 126% last year, while revenue jumped by more than a third.
The specialist contractor posted a pre-tax profit of £23.4m in its latest full year results, up from £10.4m for the previous year.
Revenue increased by 36% to £369m for the year ended 31 October 2016, up from £272m.
Keltbray said it experienced "better than anticipated" growth in 2016, but new orders in the commercial sector reduced at the end of the year.
Cheif executive Brendan Kerr said: "While enquiries started to slow down towards the end of the year and the impact of Brexit remains uncertain, we do expect turnover to increase further in 2017, albeit at a slower pace.
"The outlook across the group is encouraging and last year we invested more than £15m in new demolition, piling, rail and structures plant with improved safety features to position ourselves for further growth."
Keltbray admitted the outlook for 2018 was "somewhat uncertain" due to Brexit and the potential impact in London.
To combat this the group's board have been developing growth areas outside of the capital's commercial market.
Despite the Brexit factor and London slowdown the group said it had a "satisfactory" workload and was "not falling dramatically" in the commercial and residential sectors.
It also revealed it was targeting work on the government's raft of large infrastructure projects.
Keltbray's demolition and piling business had "strong" growth last year as it increased its market share in the residential and commercial sectors, with turnover for the business increasing to £248m for the year, up from £202m in 2015.
During the year, the specialist contractor launched a new concrete business, after buying some assets from Dunne Group when the firm went into administration last summer. This included Dunne's former yard and head office at Bathgate in Scotland, along with equipment used for the construction of reinforced concrete structures.
The firm's rail business, which was impacted by Network Rail's pause in its major electrification plans in 2015, saw its revenue increase by 85% in 2016 to £100m, up from £54.2m in 2015. However, Keltbray flagged that margins continued to be challenging in the rail business with the client "under significant budgetary pressures".
The outlook for the business is positive so long as Network Rail does not reduce its spending in CP6 and there is no restructuring or reorganisations which could further delay capital project spending, Keltbray said.
The firm, which directly employs 1,300 people, also confirmed that it had now completed all the contracts involved with its waste-to-golf course business and had closed the business, as it reported it would be doing last May.