It would be understandable if Rider Levett Bucknall UK's new chair felt intimidated by her predecessor's legacy. But,as Building reports, Ann Bentley is ready to fill the role in her own way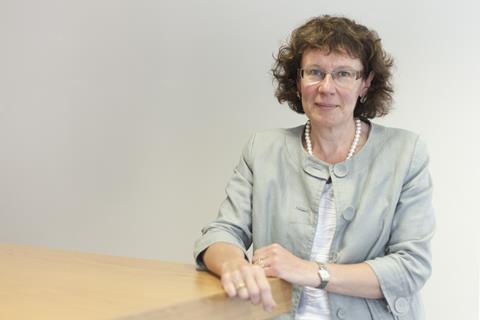 Ann Bentley readily admits she's got big shoes to fill as incoming chair of Rider Levett Bucknall UK.
Bentley succeeds David Bucknall - the indefatigable 73-year-old widely regarded as one of the industry's most charismatic figures and a leading force in the QS firm bearing his family's name for several decades.
Succeeding Bucknall - who is retiring from RLB but will remain as head of the RICS QS professional board - comes with "enormous" pressure, Bentley admits. She takes on the role at a time when the firm is being buffeted by intense competition, particularly from the various "mega consultants" formed by mergers and acquisitions over the past few years, and is facing a stagnant UK market.
But Bentley is not intimidated. She has been instrumental in the management of RLB for almost all of her 23 years at the consultant and has helped lead it through some of its most "horrendous" times.
Speaking in a meeting room in the consultant's London office she sets out RLB's strategy for capitalising on the complacency of its larger rivals, how the firm will grow at home and abroad, and how breaking into the male-dominated world of engineering early in her career helped toughen her up.
New role
Bentley is taking on a strategic role for RLB's most challenging region - the UK. RLB is formed of three financially independent companies that merged in 2007 and were formerly known as Rider Hunt (based in Australia), Levett and Bailey (based in Hong Kong) and Bucknall Austin in the UK. The combined RLB is managed by a global board - which Bentley is now a part of - that determines business development, marketing, customer service and staffing across the entire global business.
Bentley has made the unusual move of being promoted from operations director of RLB UK to chair. Typically the chief executive - here Lance Taylor - steps up to the role, but Bentley says they did not compete for the job. Taylor was one of the directors who nominated Bentley for the job - which was approved by RLB's 100 staff shareholders.
"It was felt we needed that continued corporate governance expertise in the chair role," she says. "We complement each other well. Lance is more focused on the customer process and business development side."
On Bentley's to-do list is a target of growing the share of RLB UK's revenue drawn from international markets from 10% to 25% within three years. RLB UK manages the firm's Saudi Arabia and India divisions and also services a number of international clients from its UK offices. Bentley says one key aim will be to do more to "leverage" opportunities from the other two component parts of RLB. She says the firm has built up the "momentum" to achieve its target, potentially ahead of time.
Despite this ambition, Bentley's focus is still the UK market. She believes there is an opportunity to capitalise on any complacency from its larger global rivals and grow market share as they move their focus overseas. "It would be easy to close everything down except a couple of offices but we haven't done that - our strategy is to maintain our regional network [of nine offices] because, as our rivals contract from certain areas, our ability to capture market share will be significant."
You get the bid out and you feel you've worked really hard, but if the bid's unsuccessful it's a complete waste of time
Bentley also believes the company's expertise in estate rationalisation, refurbishment and national roll-out programmes - it counts the Prison Service, Royal Mail and Tesco among its clients - will stand it in good stead as clients react to the recession.
Another area Bentley hopes to improve is the profitability of RLB UK. The company has a plan to increase its bottom line profit margin from 5% to 7.5% in three years. She admits some of RLB's contracts merely break even to maintain client relationships. But the company is determined to turn this around - it has been pushing a rigorous efficiency drive through the business, managed during her previous tenure as operations director of the firm - including IT investment and restructuring. A key part of this is what she calls the firm's "bid to win philosophy". She says the firm has reduced its number of bids by half in the past 18 months, but its success rate has doubled from about one in five to two in five, cutting out "really expensive bid costs". "I think a lot of companies bid to bid," she says. "You get the bid out and you feel you've worked really hard, but if the bid's unsuccessful it's been a complete waste of time. You actually would have been better off playing golf with a customer than bidding."
Despite pressure from an increasing array of rival multinational consultants, Bentley says RLB is determined to stay independent. But she says the consolidation trend has prompted the firm to explore partnering options with other independent consultants to achieve the scale to bid for some work.
Replacing Bucknall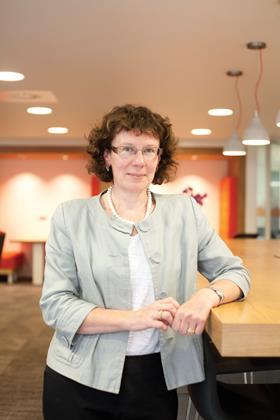 Bentley may currently lack Bucknall's profile, but she should not be underestimated. An engineer by trade, Bentley was one of the first female civil engineers to qualify at British Rail after she began her career there in 1982. She attributes her career progression in a completely male-dominated field in those early years to "bloody mindedness".
She says she has encountered "no barriers" to her career in the past two decades because of her sex, but it was a different story when she started out, encountering what she describes as some "pretty crude" behaviour. So why enter the profession? "I was probably part of the first generation that could do anything I wanted so I took the opportunity because it now existed - my mother wouldn't have been able to do it."
She joined what was then Bucknall Austin as a project manager in 1989, before working up the ranks to manage the company's Birmingham office. She says she learnt most when the company was taken over by venture capital-backed investors - who renamed the firm Citex. Bentley says when the investors acquired the firm they told staff they planned to sell it within five years, but in the event this was done piece by piece. As colleagues and managers jumped ship, Bentley found herself managing the firm's professional services division.
"I really toughened up during the last two years of Citex," she says. "My job was to be an interface between them and the staff. I had to remind our staff that we knew where we were going - we were going to be sold and you had to look beyond that and at the potential opportunities in the sale."
The opportunity came. In 2003 Bentley was one of 20 - including Bucknall who returned to the firm after a five year period working elsewhere in the profession - that led the management buy-out of the professional services division from Citex.
Bentley pays tribute to her predecessor: "He has been a figurehead and a dynamic figure in the industry and has pushed us on to do things that we perhaps didn't have the confidence to do. I have the most enormous respect for him, but I'll bring a different style to it. There's no two ways about it - my role as chairman will be different to his.
"I hope it will be equally as successful."