The sheer speed and scale of construction in many Asian cities makes them ripe sites for innovation. From on-site robots to bamboo construction, communal living and smart cities, here are some of the region's most technologically impressive construction experiments, which could hold lessons for how we do things here.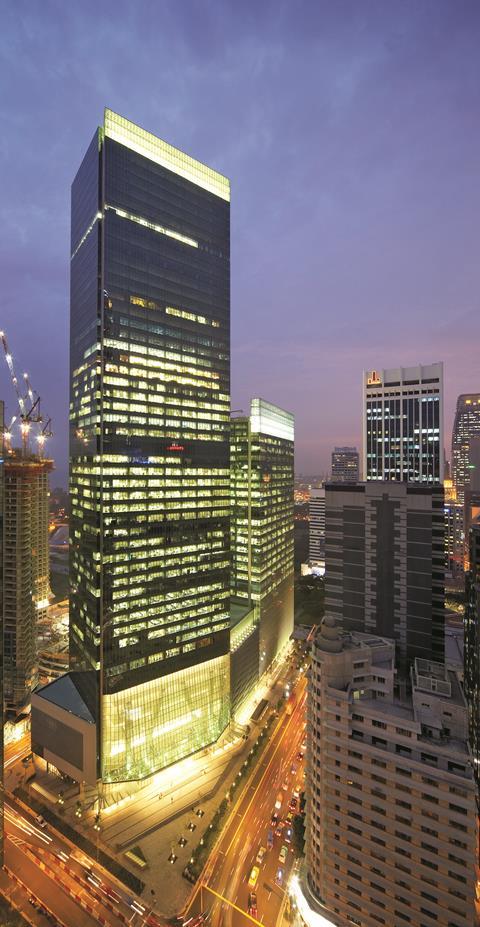 Building around infrastructure
With the development of Crossrail, London is having to think more creatively about how stations and other developments can sit together comfortably in the middle of a city. For many denser Asian cities, it's a conundrum they have dealt with for a long time. "They are far more advanced at building over and around infrastructure, and this process is often developer-led rather than infrastructure-led," says Patrick Hayes, structural director of engineer Meinhardt. He cites One Raffles Quay (pictured) in Singapore as an example of this feat of ducking and weaving – a 150m-long subterranean mall runs beneath busy roads connecting the new scheme with the Ocean Building and Raffles Place station.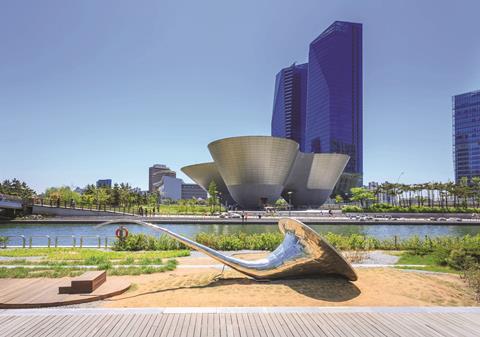 Smart cities
The region is making rapid strides in this field: consultant Juniper Research's global ranking of smart cities last year was topped by Singapore, while Songdo in South Korea (above) claims to be the world's first smart city. Consultant Frost & Sullivan estimates total spending in the Asia-Pacific on "internet of things" technology for networked objects was $10bn in 2014 and that it will reach $58bn by 2020. It also predicted that the region would be home to 10 smart cities by 2025. Singapore has already leveraged the technology to tackle areas such as waste management and overcrowding on public transport and has plans to roll out driverless buses on its roads by 2020.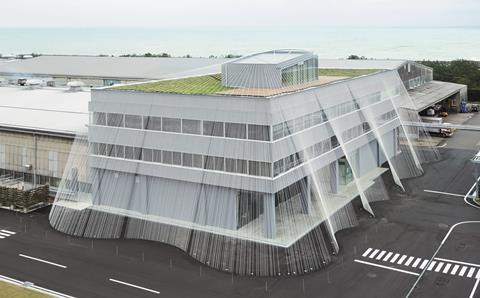 Light reinforcement
From the big picture to the details, fabric manufacturer Komatsu Seiren in Japan has developed what it claims is the lightest seismic reinforcement in the world. A single, 160m strand of its Cabkoma strand rod weighs just 12kg, five times lighter than a metal rod. It is made of a new thermoplastic carbon fibre composite, covered in synthetic and inorganic fibers and finished with a thermoplastic resin. It was first used by architect Kengo Kuma on the manufacturer's head office (pictured here), tethering the building to the ground to provide earthquake protection.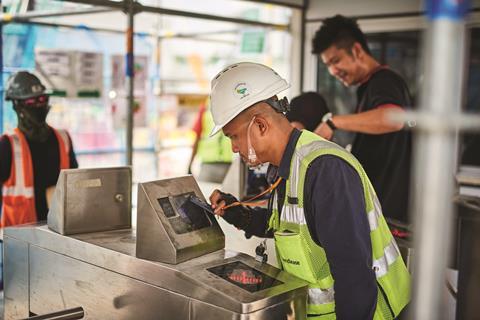 Biometrics
As part of a the vast TRX masterplan in Kuala Lumpur, Malaysia, Lendlease is developing an entertainment and lifestyle quarter – at 6.8ha, its largest integrated development in Asia. A large project means many workers, so the contractor is using biometrics to enhance security and safety on site. The system (left) ensures only those with approved competencies are allowed on site and also tracks the hours of both staff and managers to ensure nobody works more than their maximum allowable hours and that there is adequate supervision for all work undertaken.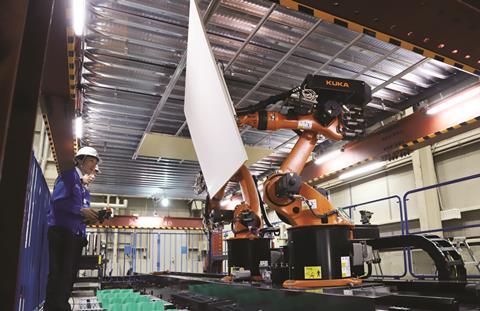 Robotics
As Japan's population ages and dwindles, the nation is turning to robots to boost its construction workforce. Contractor Kajima is using automatic vehicles such as dump trucks and bulldozers, while fellow construction firm Shimizu has developed several, including an arm-shaped robot that can move items around a site (pictured). Japan is also a leader when it comes to wearable exoskeletons, which workers can put on to help them lift heavier items. Elsewhere, construction companies are experimenting with drone technology to acquire data and monitor construction sites – among them, Arup on its Cloud Valley project in Hangzhou, China, and Arcadis across several projects in Singapore.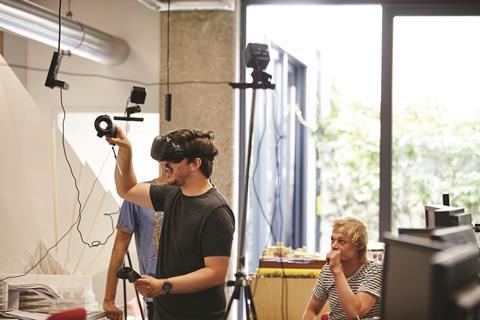 Virtual reality
In November, consultant Aecom and technology company HTC signed a memorandum of understanding to jointly develop and extend the reach of virtual reality for architecture, engineering and construction, setting up a new laboratory in Taiwan to experiment with the technology. Anahita Chouhan, partner at Make Architects' Hong Kong office says the firm is increasingly using virtual reality (pictured in action, above) in order to offer clients a view of projects as they develop, especially on hotel schemes. Japanese companies are also developing augmented reality technology – for example, for tablets that superimpose 3D images of various stages of a project over a site and show the location of underground structures such as sewage and gas pipes.
AI/machine learning
Artificial intelligence (AI) is still in its early stages across much of South-east Asia, but in a report in July consultant McKinsey argued that the technology could have a major disruptive impact on the region's economies – smart solutions in cities, it said, could eliminate tonnes of greenhouse-gas emissions, save lives through better traffic and mobility management, crime prevention, emergency responses and healthcare solutions; and cut down commuting time through intelligent traffic and transit solutions. In East Asian nations such as Japan, AI is already taking hold on construction sites – in December, graphics chips Nvidia and construction firm Komatsu announced a partnership to make building sites safer, using graphics chips to visualise and analyse construction sites so that machines are enabled to make better decisions.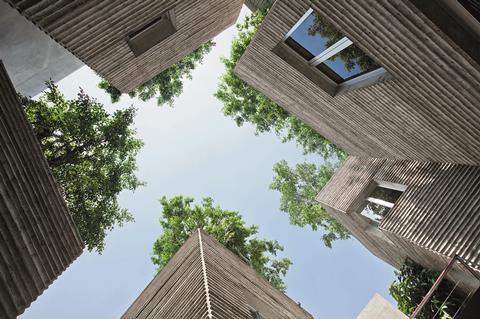 Bamboo
Long used for scaffolding and construction across Asia, bamboo is having a revival and has been dubbed the "green steel of the 21st century" by celebrated Vietnamese architect Vo Trong Nghia. Abundant in many parts of the globe, bamboo is one of the fastest-growing plants in the world. It is stronger than steel, extremely lightweight and absorbs high amounts of carbon dioxide while growing. Vo Trong Nghia used the material on his beguiling House for Trees (pictured), a five-storey private residence in Ho Chi Minh City – on its external walls and as greenery on each of its balconies. Indonesian studio Budipradono Architects, Swiss-Filipino studio Atelier Sacha Cotture and globally renewed Japanese architect Kengo Kuma are among those experimenting with the material.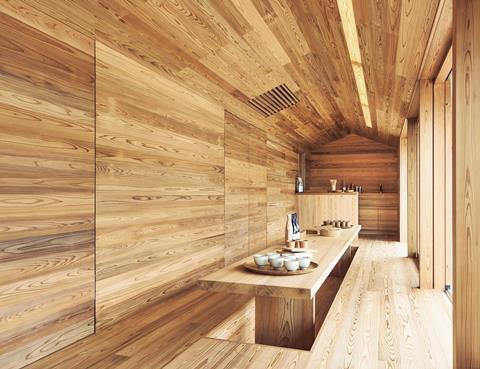 Communal living and hosting
The Yoshino Cedar House (left) is a collaboration between Tokyo-based architect Go Hasegawa and Airbnb founder Joe Gebbia that seeks to rethink how architecture can revitalise a community. The building is a hybrid community space and homestay in which visitors can rent rooms via the Airbnb website. A co-operative of residents of the village, which has felt the economic impact of its ageing population, use the space themselves as well as hosting guests – with the income generated going towards other community projects. Japan has birthed several other architectural projects that pursue a communal approach to contemporary living, including Naka Architects' Studio Apartments with a Small Restaurant, a "small economy" of five residential units, a small restaurant and a shared office space in Tokyo; and Ryue Nishizawa's iconic Moriyama House also in Tokyo, which blurs the boundaries between outside and inside. Over in South Korea, Archihood WXY's Gap House in Seoul takes a similar approach, using outdoor space to encourage mingling between housemates.
Offsite construction
In November the UK government announced there would be a presumption in favour of offsite for all publicly funded projects by 2019. Singapore is going a step further and legislating for offsite's inclusion in the construction process. Engineering consultant Meinhardt is advising the government there on its strategy for offsite and modular for the next 10 to 15 years, taking insights from sectors such as automotive and aerospace. The firm's structural director Patrick Hayes says: "Some projects in Singapore are moving towards having up to 70% of a building made offsite, and its government is using legislation to change the industry. If offsite is so important to the UK, why can't we take the same approach as we did to sustainability and write it into the Building Regulations?"
Smart-tinting glass
The number of tall skyscrapers sprouting in cities across Asia provides an opportunity to experiment with glass – the material that makes up the facades of so many modern buildings. Kinestral Technologies is among the manufacturers working to expand the use of smart-tinting glass in Asian cities. The technology uses sensors to detect the light level and then changes between clear and dark through the course of a day. It claims that installing smart-tinting windows can reduce a building's energy consumption by 20%.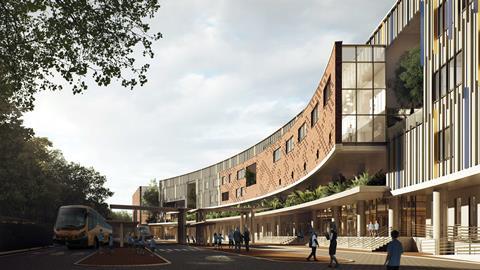 Chilled slab system
Architecture practice HOK is combining a range of low and high technologies to enable its new International School of Kuala Lumpur (pictured above) to become the first school to achieve Malaysia's Green Building Index Platinum rating for sustainable design. Chilled water cools the floor slabs at night, taking advantage of off-peak tariffs and reducing day-time cooling loads. Passive solar strategies mean the building is projected to use 60% less energy than the average school in a similar hot, humid climate. Two aspects of traditional Malaysian architecture – screens and shelter – are used to offer sun and rain protection. The design also reduces potable water use by 75% through efficient fixtures, rainwater harvesting, and native plantings that minimise irrigation requirements. None of these techniques are revolutionary but together they create a school that's achieving a remarkably high environmental standard in a hot tropical city.