Ben Ainslie Racing's Portsmouth HQ embodies the bold spirit of the yacht teams it will house – and with a build programme of under 18 months, it can nearly match their speed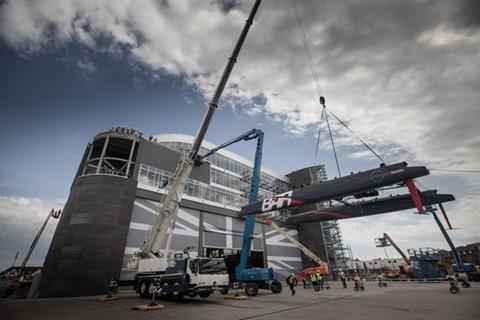 Ever since 1851, when an upstart American schooner beat the Royal Yacht Squadron in a regatta around the Isle of Wight, the America's Cup has been one of the world's richest and most prestigious yacht races. But while it is claimed to be the world's oldest international sporting trophy, it is about to help deliver one of the sport's newest and most sophisticated buildings.
The new home of Ben Ainslie Racing (now known as Land Rover BAR following a link up with the car manufacturer) is nearing completion in Portsmouth and aims not only to make a groundbreaking contribution to the world of yachting, but to also set new benchmarks for sustainability and construction innovation.
Arguably chief among these were its astonishingly quick construction programme, (less than 18 months) and the fact that in order to realise the tight programme, fit out began well before the base build had completed, a highly unconventional construction approach that brought with it a whole set of unique challenges and opportunities.
The 6,874m² building will be the headquarters of the commercial sporting race team established by multiple Olympic gold medallist Sir Ben Ainslie and it will be specifically dedicated to helping Britain win the America's Cup – something we have never managed to do. Bringing administration, management, boat designers and sailing and shore crews under one roof for the first time, it will be the only facility of its kind amongst all America's Cup competing nations across the world. BAR has certainly had some high-profile backing during its inception; both the Duchess of Cambridge and the prime minister have been active supporters of Ainslie's quest.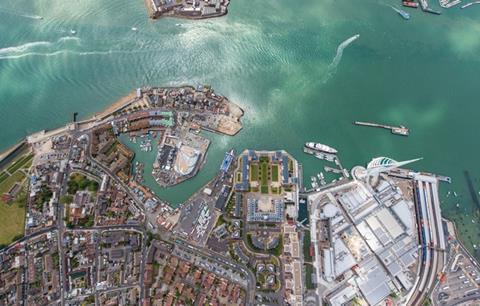 The modern America's Cup tends to take place every three to five years and although the next and 35th race will be held in Bermuda in 2017, Portsmouth will host the preparatory world series later this month, events in which the almost-completed BAR will play a significant part.
BAR has been designed by local Hampshire architect HGP, designer of the nearby landmark Spinnaker Tower. BAR describes the new building as a "showcase for sport, innovation, technology and sustainability." The state-of-the-art facility will contain a workshop where boats are built, staff offices, VIP areas, a gym and a visitor and education centre.
The building is located on a prominent but formerly disused dockyard site on Portsmouth Harbour, a site and a city drenched in proud maritime history, with which the building's architecture directly tries to engage. The steel frame structure is 28m tall and incorporates three floors stacked above a vast triple-height workshop space where the boats will be built. The upper storeys provide spectacular views across the harbour.
As HGP director Peter Warlow explains, this vertical arrangement was a key part of the design concept and a direct and pragmatic response to site constraints. "Initially four sites were considered and the one eventually selected was the smallest. So we had to build upwards rather than build outwards, hence the building's stacked yet compact form."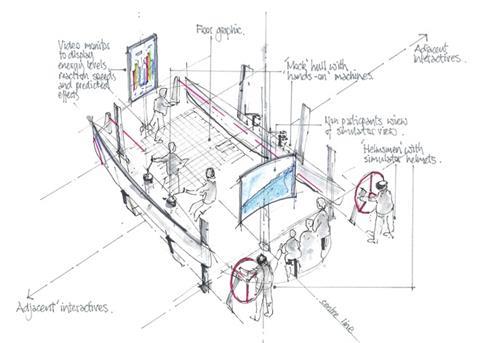 The fact that most of the building is disproportionately raised over a triple-height space has also led to a steel frame of considerable structural complexity. This has been exacerbated by the gigantic three-storey-high opening bays required by the workshop in order for boats to enter and which extend over the full width of principal facade, forcing this section of the building above essentially to be supported by massive spanning beams.
Moreover, crane girders running across the three bays are capable of carrying boats of up to 30 tonnes each. Considerable work had to be undertaken on the structural frame to ensure that the steelwork and the building itself would not twist under the massive localised loading this would impose on one end of the structure.
Other innovations within the workshop include rails on which giant administrative portable cabins can be wheeled into the building and stacked on top of each other. The advantage of this feature is that it enables the cabins to be transported around the world along with the racing team itself rather than establishing separate administrative logistics for each tour.
The building is also BREEAM "excellent"-rated and incorporates a wide range of sustainability features. As BAR sustainability manager Susie Tomson explains, the building's sailing function provided an obvious analogy with environmental awareness. "We're a sports building but we're not a fixed concrete stadium, the sailing mandate means that we have an instant and natural affinity with the outside environment."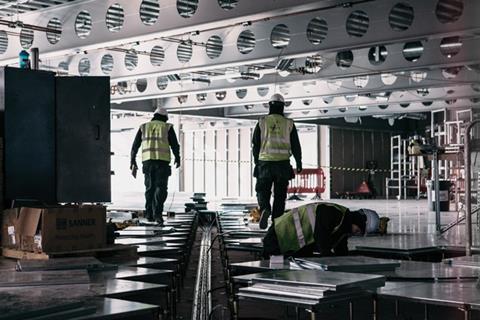 Accordingly, the building has embedded low energy and low carbon principles into its design. It has 432 solar PV panels, which provide 130MWh per year, utilises 100% renewable electricity, has 15 separate building performance monitoring points and has achieved 70% improvement in air permeability compared to Building Regulations.
Two of the building's principal architectural features are also embedded in the sustainable approach. A full-height, triangular lightwell has been cut into the centre of the building, aiding natural ventilation through the building and allowing natural light to permeate deep into the floorplan. Matthew Williams, HGP design director, describes the lightwell as emblematic of "a hierarchy of cascading layers linked together through a central lightwell that connects everyone to the heart of the team and the boat."
Additionally, a gigantic fabric wrap will soon be applied to much of the building facade. Its translucency will still admit natural light into t
he interior but it will also assist with reducing solar glare and help the building almost double its thermal performance. Aesthetically it is also the building's principal feature statement and it will also enable the organisation's branding and marketing campaigns to be projected onto the facade.
But perhaps the key challenge of the entire project was the novel programme that saw fit out start well before the completion of base build. This was essential in order for BAR to meet its tight programme but it came with its set of challenges, as Brendan Collins, director at fit out contractor Overbury explains.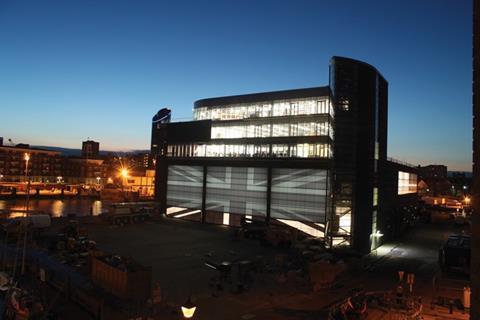 "It certainly made life harder. Ordinarily, we'd come into a site where the shell and core was pretty much done and begin then. But here we began fit out when only 30% of the glazing had been installed. This was a particular problem because the site's location is covered in salt air blown in from the sea, which was potentially very damaging to some of the highly vulnerable services and fixtures we had to install."
So how did the design team address the problem? Temporary sheeting provided immediate protection from the salt air but, according to Collins, it required a significant change in procedures and attitudes from the whole design team.
"We had to change our thought process. Normally each contractor focuses on their job in hand but here everyone had to think about the other contractors' needs and factor that into our approach. As the fit-out contractor we were constantly asking ourselves 'what can we do early?' This led us to a position where we worked incredibly closely with the base build team advising them what to complete first so we could get in and start the fit out. It had to be a rolling programme of collaboration and cooperation but it worked."
The building's imminent completion just over a year after planning permission was obtained is indeed testament to the efficiency and success of this programme. For Williams, it also reflects the methodology required to deliver complex projects successfully and on time.
"Everything has to be lined up, planners, contractors, consultants, clients, users. Everyone has to be committed to achieving this shared vision at a set specific time with a kind of Olympic spirit. On this project it certainly helped that so much of the design and contractor team were sailors themselves. Once that coordinated, collaborative unity of intention is achieved, everything works.
Project Team
Client Land Rover BAR
Architect HGP
Main contractor Allied Developments
Fit-out contractor Overbury
Structural engineer Reuby and Stagg
QS Quartz Project Services
Environmental consultants Couch Perry Wilkes