Andrew Davies has boosted Wates' turnover by £300m annually while placing a commitment to social value at the heart of the company
Sponsored by DGP Logistics Plc
Winner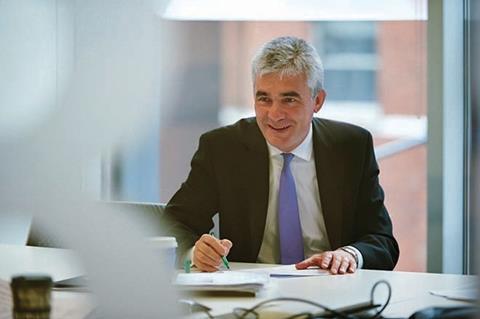 Andrew Davies
Wates
Since joining Wates from BAE Systems in 2014, Andrew Davies has embarked on an ambitious plan to double the contractor's turnover to £2bn. Under his leadership, Wates has acquired the bulk of the construction business of rival firm Shepherd, boosting turnover by £300m annually. The deal strengthened Wates' northern presence, and added a detailed design and engineering capability to its existing M&E management offering. Davies has placed a commitment to social value at the heart of Wates and the company was given a Queen's Award for Enterprise for sustainable development in April. This followed a £1.35m investment in social enterprise in 2015. Turnover in 2015 increased 21% to £1.27bn, with profit rising 26%.
RUNNERS UP
Jason Carey
PJ Carey (Contractors)
Jason Carey joined Carey Group as a site engineer in 2000. He worked his way up the firm and since 2014 has led its specialist contracting arm, responsible for the delivery of all projects in the UK and Ireland. Under his leadership, the company has transformed from a traditional tier 2 contractor into a multi-faceted firm working across several disciplines including civils, drylining and resource management. One peer who supported his nomination said: "Jason is a decent and straightforward man, and a credit to our industry."
Richard Howson
Carillion
Richard Howson has been CEO of Carillion since 2012. Towards the end of the economic downturn, he led a move for Carillion to scale back up in its construction work, after a period of focus on support services, to take advantage of opportunities for growth as market conditions improved. As a result, UK construction revenue topped £1bn in 2015, boosted by major wins for clients including the Highways Agency and Argent. Overall, the Carillion group posted a 9% rise in pre-tax profit for 2015, up to £155.1m, while group revenue grew 13% to £4.1bn. One peer who supported Howson's nomination said: "Carillion is coming back as a real force in the UK building industry."
George Iacobescu
Canary Wharf Group
Over the past decade, Canary Wharf Group has transformed Canary Wharf into a thriving hub of commercial, retail and leisure space, and its influence on tall building design is now spreading across London. George Iacobescu, appointed CEO in 2011, has led this expansion, which in 2016 resulted in the start on site of Southbank Place, a £1bn mixed use development on the site of the Shell Centre tower. The group has also successfully diversified its tenant base over recent years, establishing one of London's leading technology clusters at Canary Wharf.
Andy Mitchell
Tideway
Andy Mitchell joined Tideway, the firm responsible for building the £4.2bn Thames Tideway Tunnel, from Crossrail in 2014. Mitchell secured financing for the scheme from a consortium of investors with a pioneering funding structure that is being watched as a model that could be used for other major infrastructure projects worldwide. He has made occupational health and safety a key tenet of the project, being one of the inaugural signatories to a Health in Construction Leadership Group pledge to tackle ill-health on sites.
Mike Putnam
Skanska UK
As CEO of Skanska UK, Mike Putnam has led the contractor's strategy of expansion in off-site work, and an innovation push that has seen it invest in a "flying factories" concept of small mobile off-site manufacturing units, and trials of 3D concrete printing. His leadership in these areas, and on sustainability, is reaching the wider industry through his positions on the Construction Leadership Council and Green Construction Board. In 2015, under his leadership, Skanska's UK construction division grew revenue 21% to £1.5bn.
Ian Sutcliffe
Countryside
Ian Sutcliffe has been CEO of housebuilder Countryside since 2015. He oversaw the firm's listing on the stock exchange, which was completed in February this year, raising £114m to enable the company to reduce its debt and accelerate the development of key sites. The move followed a growth strategy that has seen the company increase in profitability for the last three years, with 2015 operating profit up 93% to £91m. The company's successful performance has continued since: in its results for the first half of the year, the company reported revenue up 24% to £312.8m and operating profit up 44%.