This initiative suggests BIM could be used to facilitate a collaborative 3D multi-screen meeting space
Sponsored by Asite
Winner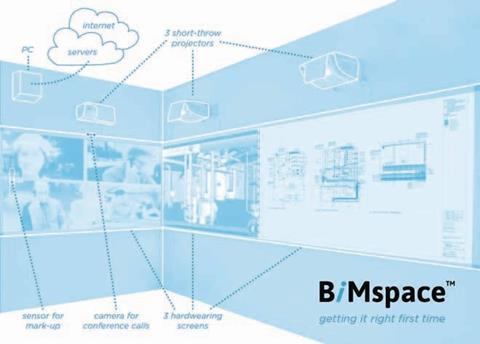 BIMSpace
Cullinan Studio
BIM is often seen as the preserve of the contractor, engineer and supply chain but this pioneering initiative marks an ambitious attempt to harness BIM as a tool that wrests control back to the architect. One of BIM's more esoteric impacts has been to galvanise debate about the future role of the architect. BIMspace suggests that one of those roles could be to facilitate a collaborative 3D multi-screen meeting space, where clients can be immersed in multiple dimensions of embedded data to make more informed decisions and reduce abortive work. The initiative has been tested on live projects, including the National Automotive Innovation Centre (NAIC) for the University of Warwick.
RUNNERS UP
BIM for Conservation
David Miller Architects
The Barns project was a residential scheme involving conservation, refurbishment and new build. In order to secure commercial viability, a coordinated, digitised process was initiated that was centred on BIM-driven delivery. This incorporated a number of innovative digital technologies, including point cloud surveys, digital quantity take-off and procurement.
BIM for Construction Clients
Richard Saxon
In a bid to promote the value of BIM to non-government clients, Richard Saxon of the Consultancy for the Built Environment has written a book for RIBA Publishing. The book seeks to increase general awareness of BIM and digital asset management by collating a comprehensive series of interviews, case studies and experiences charting various scenarios of involvement with BIM projects. The book was published as a forerunner to the government's April 2016 BIM mandate deadline.
BIM in Operation: dLCC Toolkit
Faithful + Gould
The application of the digital lifecycle cost toolkit has transformed how Faithful + Gould enables its clients to define, measure and manage capital costs during project design and construction stages. It has also unlocked access to operational lifecycle cost data and operation and maintenance information. By practically applying lifecycle costs (5D) and maintenance data (6D) to 3D BIM, this initiative has transformed the process of integrating asset information models into BIM delivery.
Digital Health Checks
Interserve
Interserve's BIM Competency and Health Check initiative is a two-pronged approach aimed at maximising BIM efficiency across its teams and supply chain. First it attempts to identify the digital strengths and limitations in its supply chain partners in order to aid selection. Second it asks these teams a series of evaluation questions in order to ensure successful digital delivery.
Digitising the Supply Chain at Rathbone Square
Lendlease
This project aims to achieve a fully collaborative digital workspace across large projects. Recognising the complexity of the inner-city mixed-use redevelopment project in question, the client team sought a digital built asset vision from the start. Measures included defining BIM requirements and roles, establishing BIM protocols, providing BIM training and ensuring continuous progress monitoring.
Digitising Wharfedale
BAM
This initiative seeks to embed BIM into an area where many see its future lying – maintenance and building management. Traditionally, building maintenance has relied on paper and operation manuals.
This project proves that by digitising processes, huge efficiencies and cost savings can be accrued. The new Wharfedale Hospital in West Yorkshire, which was used as a test-bed for the venture, has already benefited from an array of operational improvements.
KT4BIM
KT4BIM
The KT4BIM initiative dilutes a complex process into a simple challenge, to deliver a BIM Level 2 project from start to finish that is in strict accordance with published BIM standards. Its goals are to provide BIM learning and development for all stages of BIM aptitude across the project team, to develop a tool that measures the success of the implementation standards sought on a project and to create a greater understanding of BIM across the industry.
North East Priority Schools Building Programme
AHR
The delivery of 12 schools – spread across seven local authorities with a £100m-plus budget – is a massive undertaking under any circumstances. The design team felt a project of this scale, and one that already involved a high degree of standardisation, needed a more collaborative approach. BIM was selected as the best way to achieve this. Some of the measures adopted included digital brief analyses and coordination data for facilities management.
One Place
HLM
One Place is HLM's initiative to create one platform hosting a common data environment that can be used internally and externally. It is built using the Union Square platform and acts as an intranet – a single point of information sharing for staff, clients and supply chain members. It allows staff to access the same quality management system and data, as well as allowing clients to access project information.