The international reputation of Eckersley O'Callaghan has soared this year, with new offices all in major global cities
Sponsored by Building Live
Winner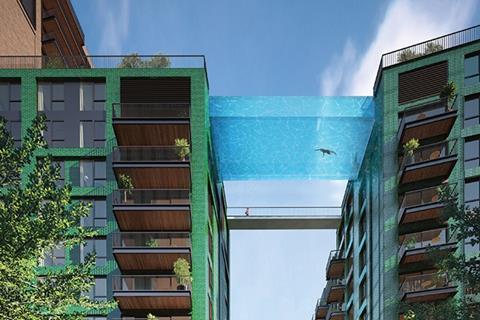 Eckersley O'Callaghan
By delivering both creative and technical solutions which go above and beyond the client brief, Eckersley O'Callaghan has won plaudits from the Building Awards judges and global technology giant Apple alike.
A consistent performance led to this London-based engineer's reputation soaring in 2016, with new offices opening in San Francisco, New York, Paris and Shanghai reflecting a growing order book that includes Apple's Californian HQ and Chelsea's new stadium. The 67% of revenue gained through repeat business has helped nearly double income in three years.
RUNNERS UP
AECOM
In 2016 this powerhouse pulled off an engineering feat of Olympic proportions by delivering the Rio Games. As the biggest building engineer in the UK the firm has continued to focus on quality as well as quantity, having completed the UK's first carbon-neutral chemistry laboratory for the University of Nottingham as well as the RIBA award-winning speculative office project Turnmill in Clerkenwell.
AKT II
Delivering the mother of all extensions lay at the heart of AKT II's success in 2016. Brought in to do what many said couldn't be done, the firm added 11 storeys to the 30-storey South Bank Tower through use of an internal interface, drawing on BIM and structural finite elements analysis to bring together all aspects of structural design in one package.
Atelier Ten
Known as a bright spark in the engineering field, Atelier Ten led the way in delivering innovative, low-energy solutions for clients in 2016 including reducing energy use at Haworth Tompkins' refurbishment of the National Theatre by 70% and adopting local climate patterns for Zaha Hadid's Bee'ah Headquarters project in UAE. The firm also delivered financially, with fee income up 27%.
Atkins
Transforming Birmingham New Street Station posed many challenges and took seven years but is now admired by commuters and industry commentariat alike. The firm's global reach has seen it make headway on projects such as the Dubai Opera House and the ITER nuclear fusion reactor in France. Financials have kept abreast of reputation, with total operating profit rising over 20%.
Cundall
The firm has worked on commissions as diverse as the Sydney Opera House and the whitewater centre to host the Canoe Slalom in Rio 2016, and designed a skyscraper using BIM in 48 hours as part of Build New York Live 2015's winning project. Cundall has boosted its global footprint, reputation and revenue simultaneously, with total fee income up 25%.
Curtins
Embracing R&D has been key to Curtins' growth strategy in a year which has seen the firm deliver the £65m Celtic Manor convention centre and £80m regeneration of the BBC's Circle Square. By introducing 12 innovations including use of TRACC software for planning disputes and VR technology to de-risk sites, the firm also achieved a 100% client rating for loyalty.
Mott MacDonald
Collaboration with the University of Cambridge, Network Rail and HS2 on digital infrastructure and pioneering a new approach to cavern design for Crossrail's underground stations has cemented Mott MacDonald's reputation at the forefront of the industry. The engineer saw total fee income up by 14%.
QODA Consulting
Doubling turnover, introducing a BIM offering and opening new offices in London and Birmingham has seen QODA Consulting step into the limelight in 2016. The past year has also seen the engineer, which was founded in 2011, break into new markets and deliver the conversion of the grade I-listed former Midland Bank on Poultry into a luxury six-star hotel and the development of 10 Trinity Square in the City of London.
WSP | Parsons Brinckerhoff
After taking home last year's Building Award, WSP | Parsons Brinckerhoff reached new heights in 2016 by leading the 22 Bishopsgate tower project in London and 432 Park Avenue scheme in New York. Alongside the sky-high order book the firm has ensured high levels of client, employee and end-user care as well as sustainable approaches to engineering.