Wates Group is showing balanced growth across the firm and completed more than 1,500 projects in 2015
Sponsored by Ecobuild
Winner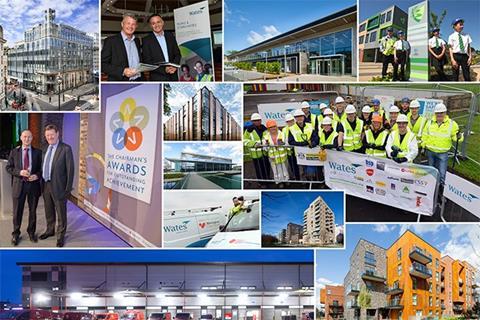 Wates Group
A historic construction name, family-owned Wates Group has set itself on an ambitious expansion and transformation programme in recent years with the arrival of new chief executive Andrew Davies. One of the industry's few billion-pound contractors not to have reported major difficulties in the aftermath of the recession, it is now focused on growth, delivering a 20% rise in revenue this year, and on course to report a much bigger increase once it fully feels the benefit of the game-changing 2015 purchase of the bulk of Shepherd's construction business. Wates completed more than 1,500 projects in 2015, including a £28m new courtyard for the Victoria & Albert Museum, and a £54m job to restore Marylebone town hall for the London Business School. Its sustainability and CSR credentials are second to none, with two Queen's Awards for Sustainability to its name, and an Investors in People score that puts it in the top 3% of all firms. Its commitment to partnering is demonstrated by its supply chain sustainability school, while the firm is showing balanced growth between construction, facilities management and M&E.
RUNNERS UP
Carillion
In the last year, Carillion has shown renewed ambition to be a major construction player, after deliberately reducing the size of its construction business during the recession. Turnover was up 14% as it worked to deliver £3.7bn of projects, including some of the industry's biggest such as the £445m Phase 1 of Battersea Power Station, the £300m Royal Liverpool Hospital PFI and the £80m new main stand at Anfield football stadium. The company has developed a reputation for collaboration, with 50% repeat business, the BS11000 partnering accreditation and 4,000 accredited SME suppliers. Its sustainability strategy has contributed £34m directly to profit.
GRAHAM Construction
Northern-Ireland based GRAHAM has grown revenue by 60% in the last three years, with the group turnover at a record level, and construction profit tripling on the previous year. The firm's reputation has grown through securing high-profile contracts such as the £81m Peel Park Quarter student residences in Salford and the £185m Ulster Hospital Phase B programme. It has a BIM Academy to train staff, and is one of the first BIM Level 2 compliant contractors in the UK. GRAHAM received a RoSPA Gold award in 2016 for consistently high health and safety performance and is Investors in People Gold accredited.
Mace
Last year's winner, Mace grew turnover in 2015 by another 18%, its 25th consecutive year of growth since it was set up in 1990. Now employing 1,760 staff, the last year has seen it complete the Birmingham New Street station redevelopment and Tate Modern extension, while securing the £400m Tottenham Hotspur stadium and £375m Chelsea Barracks jobs. The company has 80% client satisfaction, and three quarters of its work comes from repeat business. Its health and safety performance is also industry-leading, with 13 RoSPA Gold awards for its business units.
M+W Group
Stuttgart-based engineering giant M+W has been growing a UK construction business with a tight focus on energy, science and advanced industrial projects that is now delivering outstanding performance. The UK construction arm grew turnover by 41% in the last year, with profit tripling, as it worked on £400m of waste-to-energy facilities in Surrey and a £150m waste decommissioning project at Sellafield. Its rapid growth, based on 80% repeat business, has allowed it to treble its workforce in three years, with a diversity rate more than twice the industry standard. M+W is the only UK contractor to have been selected to work on the ITER international fusion reactor programme, a contract expected to run for six years.
Osborne
London-based Osborne is a family-owned firm that has gone through major changes in the last year following the appointment of chief executive Andy Steele. Rebranding to a distinctive magenta logo, the company is focused on customer service, being the only UK contractor to have secured the ServiceMark accreditation from the Institute of Customer Service. High profile projects include the £42m library for the Royal Holloway University of London. Committed to training, Osborne is also a member of The 5% Club, pledging to ensure that 5% of staff are apprentices, graduates or sponsored students on structured programmes.