The initiative's holistic approach to the idea of training especially grabbed the judges' attention
Winner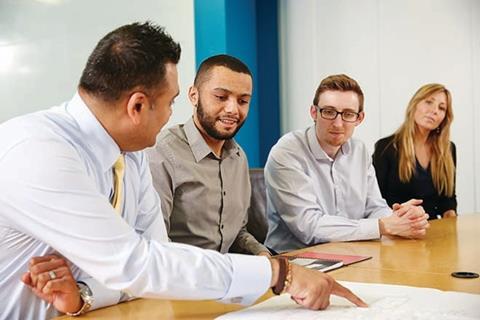 John Rowan and Partners
Classroom to Chartership Initiative
Designed specifically to meet national construction skills targets, John Rowan and Partners set up "Classroom to Chartership". The initiative includes targeting schools to raise awareness of opportunities within the industry, university visits to promote the sector and giving graduates work opportunities in New Zealand, UAE and India as well as Europe. The holistic approach to the idea of training especially grabbed the judges' attention and, by tackling the key issue of lack of awareness in schools, John Rowan and Partners is leading the way in inspiring a new generation.
RUNNERS UP
Atkins
Pathways to Engineering
Founded as part of Atkins' London 2012 legacy, the firm's Pathways to Engineering initiative has taken on the challenge of increasing support, training and skills for young people, parents and teachers in less privileged areas. Atkins has developed an engineering module that prepares students for internships and the opportunity of an Atkins apprenticeship.
Crest Nicholson
Developing Skills and Future Talent
With a skills shortage in housebuilding, Crest Nicholson has introduced three apprenticeship schemes. Its Site Management Academy is designed to bring up to 20 new trainee site managers into the business each year to create future site managers. The firm also invested £2.45m in projects including a "work experience hub".
Curtins
Curtins Academy
The Curtins Academy has modelled itself on the core requirements of the main relevant institutions and the Engineering Council specification. It is designed to help graduates grow technically, professionally and commercially and become future leaders of the business.
HLM
The Academy
Centred on HLM's values of quality, people and clients the HLM Academy allows employees to follow a personalised career learning path. With a mix of self-directed learning and coaching the scheme outlines the emotional and technical skills needed for success. Achievements so far have seen HLM achieve BIM Level 2 certification.
Hotchkiss
Hotchkiss Safety Alliance
Developing a health and safety culture from the ground up has been at the heart of Hotchkiss' Safety Alliance. The initiative includes away days with external speakers invited to help broaden apprentices' knowledge of the industry and engage with clients and the supply chain.
ISG
ISG's Northern National Skills Academy for Construction Programme
With a commitment to delivering over 1,200 training outputs for young people, the unemployed and beneficiaries in the supply chain over three years, ISG's skills initiative is on another level. Built around a national skills academy for construction, ISG has adapted commercial and operational aspects of the business to suit a training environment.
Specialist Joinery Group
Establishing a World Class Academy
With £500,000 investment in the past 12 months, Specialist Joinery Group has aimed high in its efforts to create the next generation of experts by establishing a "Specialist Academy". Complete with workshop, CAD suite and library and aimed at craft apprenticeship, the academy has helped forge links with local communities and challenge perceptions of the industry.
Wates Group
Building Futures
Through the Building Futures initiative, Wates has helped hundreds of young adults, ex-offenders and unemployed people achieve a Green CSCS Card and a BTEC Level 1 Certificate in Construction. It also supports graduates with a post programme to find employment. Outcomes include a 37% drop in re-offending rates from the 10% of participants who have served a sentence.
WSP | Parsons Brinckerhoff
The Future of Structural Design
With workshops to educate staff on carbon skills, a knowledge network of sustainable structures and a push to see 60% of all staff professionally qualified, WSP | Parsons Brinckerhoff has taken strides to increase the quality of its talent pool. The firm also aims to train at least 15 associate staff a year to become BREEAM Associates.