Keltbray managed to recycle concrete from 22 buildings at its Nova Victoria scheme, saving over 5,000 lorry loads
Sponsored by Lakesmere Group
Winner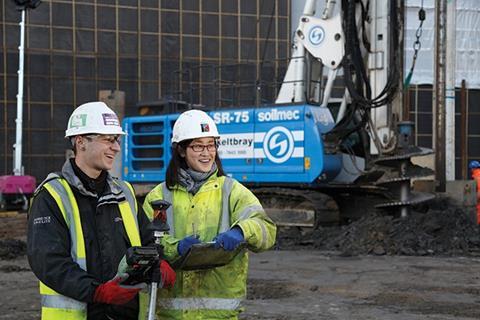 Keltbray Group
With an aim to make a positive difference in the industry Keltbray has led the field in exceeding goals on behalf of its clients. Putting emphasis on re-use and sustainability, Keltbray managed to recycle concrete from 22 buildings at its Nova Victoria scheme, saving over 5,000 lorry loads. Promoting BIM, the firm has developed a software application to allow engineers to input piling data via tablets, saving the piling division £60k at year. And Keltbray hasn't confined its innovative approach to the construction site. The firm also launched the patented DawesGuard for lorries, which aims to prevent people being trapped between the axles of large vehicles, reducing the risk of serious or fatal injury.
RUNNERS UP
Alumet Systems
Making inroads into London's prized residential sector for the first time helped specialist envelope and renewable energy subcontractor Alumet Systems land £28m of resi projects. And with work on Bermondsey's Chambers Wharf, Baltimore Tower in Canary Wharf and the RSH+P designed Merano Tower in Vauxhall added to its portfolio along with a 98% customer retention rate, Alumet has seen turnover increase by 120% from 2013.
NG Bailey
With Birmingham New Street, London Bridge station and the University of Sheffield's Advanced Manufacturing Research Centre on its books, NG Bailey has lifted construction revenue by 11% to £280m in 2015-16. A diversification strategy has seen the group develop its infrastructure and services divisions and helped secure an order book of £700m. Meanwhile, a higher use of off-site manufacture has led to 35% reductions in build costs and a 40% cut in labour costs in the year. The firm is also delivering on sustainability with 89% of waste diverted to landfill.
O'Brien Contractors
With turnover increasing by 60% and pre-tax profit leaping over 200%, O'Brien Contractors has had a bumper year in 2016. The boost in revenue has come from a number of projects including providing groundworks and highways for the M&S store at Longbridge and bulk earthworks for Jaguar Land Rover at its i54 site in Wolverhampton. Off site, the firm has adopted two primary schools as part of a road safety club, and sponsored the British Blind Sport charity.
Prater
With a full-scale prototype of a station platform at London Bridge and a "pop-up" factory at BSkyB's technology park, Prater's embrace of off-site manufacturing has allowed the firm to keep ahead of the curve when it comes to project management. Responsible for the design, supply and installation of everything at London Bridge from the track-bed up, the firm's ability to iron out issues prior to arrival on site kept the project on schedule. With other developments including The Alder Hey Children's Hospital in Liverpool, Battersea Power Station and Stratford's International Quarter, staffing levels have grown by a quarter, with pre-tax profit rising over a third.
Styles & Wood
Moving from a reliance on refurbishment contracts to become a wider property services business, Styles & Wood has seen double-digit growth in revenue and profit. A 10% expansion in workforce has helped meet client demands, and the company has relocated to new, larger headquarters in Manchester. It has also partnered with project management firm GVA Acuity to launch a joint modular apprenticeship scheme.
Szerelmey
With an eye for perfection, stonework and restoration specialist Szerelmey has gained a reputation as the go-to firm for internal fit-out and external hard landscaping. Incorporating Jura limestone cladding to Victoria's 13-storey Kings Gate House, undertaking the £8m stonework for Kensington scheme De Vere Gardens and delivering the complicated new faience facade at Eric Parry's 5-7 St Helen's Place are among projects completed in the year.