The first listed building with a BREEAM "outstanding" rating in the UK was a worthy winner
Sponsored by Fenwick Elliot
Winner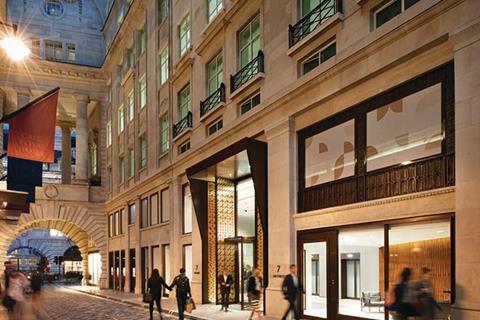 7 Air Street
Aecom
This prestigious development is the first listed building with a BREEAM "outstanding" rating in the UK.
Built in the 1920s as part of the redevelopment of London's Regent Street, its refurbishment involved the consolidation of two existing buildings behind retained facades.
RUNNERS UP
5 Broadgate
Entered by: Make Architects
A remarkable environmental design ethos has produced one of the most sustainable large office buildings in the country. Swiss investment firm UBS' London HQ houses 6,000 traders in 700,000ft2 of office space. A super-insulated primarily solid envelope reduces solar gain and helps the building be almost 50% more energy efficient than Part L of the Building Regulations.
Bartholomew Barn
Saint-Gobain
Measuring just 450m2 and costing £1.2m, this multipurpose hall may be one of the smallest finalists but what it lacks in size it makes up for in innovation. The Barn provides space for sports, assemblies and drama for King's Hawford Junior School in Worcester. It uses Saint-Gobain's Multi Comfort design concept, which includes Passivhaus standards of energy use. The concept seeks to optimise four comfort types: thermal, acoustic, air and visual, aiming to increase wellbeing while protecting the environment.
GSK Compliance Building
Simons Group
Can a pharmaceutical facility with all its heavy plant and servicing requirements achieve carbon neutrality? On the basis of GlaxoSmithKline's (GSK) new operational base in Ware, Hertfordshire, the answer is yes. Not only is the building carbon neutral but it releases 17 tonnes less CO2 per year than a conventionally designed pharmaceuticals building of a similar size.
Hub by Premier Inn Covent Garden
TowerEight
Hub Covent Garden is the only UK hotel to achieve BREEAM "outstanding" status. Hub is based on the "lean, clean and green" approach: it aims to use 30% less energy than required by Building Regulations and uses 100% renewable energy. This is achieved by initiatives such as heat recovery technology to heat and cool guest rooms, a biodiverse roof and cycle store for guests.
Keynsham Civic Centre
Max Fordham / AHR
This office building in Somerset is virtually zero carbon and on target to achieve a DEC A score at the end of its second full year of operation. It uses a hybrid cross-laminated timber frame and harnesses high quality, low maintenance natural materials such as solid oak flooring and the standing seam brass that makes such a visual impact externally.
Land Rover BAR America's Cup HQ
HGP Architects
The America's Cup may be the most glamorous yacht race in the world but the new Portsmouth HQ of its British race team is built from a mixture of the practical and pioneering. The 6,874m2 28m tall building provides office and training space for the crew as well as a vast triple-height workshop for boats. Environmental features include 432 solar PV panels and 100% renewable electricity.
Penarth Learning Community
HLM
The education sector may have access to smaller public funds than has been the case in the recent past but Penarth Learning Community proves that this need be no barrier to achieving sustainable design.
The project has been designed to deliver a flexible learning environment with minimal environmental impact. Features included reduced reliance on artificial lighting, natural ventilation and extensive shading devices to limit solar gain.
The Enterprise Centre, University of East Anglia
Morgan Sindall
This landmark project is the first building in the UK to be wrapped in thatched timber cassettes, combining traditional construction with modern technology. It is also the first building in the world to use Thetford Corsican Pine in its timber frame. As well as these achievements, the project was awarded BREEAM "outstanding" and Passivhaus dual certification.
University of Leicester Centre for Medicine
Willmott Dixon
The University of Leicester's new £42m Centre for Medicine is the UK's largest non-residential Passivhaus building.
It provides 12,836m2 of office, lab and teaching space over six floors within twin, podium-linked tower blocks. The building has achieved BREEAM "excellent" and EPC A-rated dual certification. Its insulated envelope provides U-values of 0.13W/m2K and air permeability of less than 1m3/m2/hr@50Pa. Intelligent systems include automated blinds to keep rooms cool.