Dervilla Mitchell is chair of Arup's UK and EMEA business

Sponsored by AECOM
Winner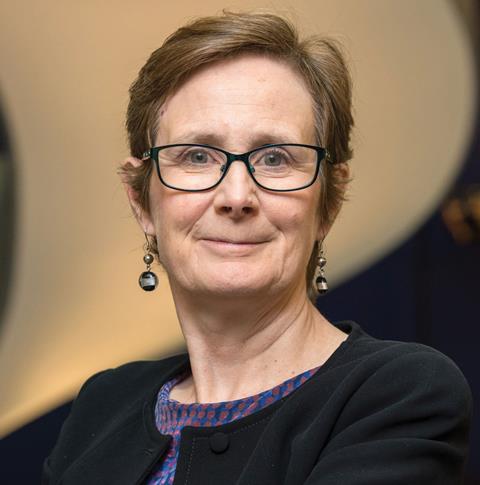 Dervilla Mitchell
ARUP
Having joined consultant Arup in 1980, Dervilla Mitchell's career has been both long and highly successful. As a member of the group board, she has an overarching leadership role at a global level. She is also the company's global ethics director, in which capacity she takes the lead on equality, diversity and inclusion. Mitchell was appointed chair of Arup's UK and EMEA business in April this year, taking on responsibility for around 55% of the company's total income.
"The breadth of what she has achieved is breathtaking – she is on a truly different level," the judges commented. "She has balanced all of her commitments and gone on to achieve outstanding business credentials. Not only has she excelled in the UK, but also taken her base abroad and carried her skills globally."
RUNNERS UP
Anna Tsartsari
BE Design
According to consultant BE Design, of which Anna Tsartsari is a director, she is most proud of the part she has played in growing the company from just five staff members to a firm employing 25 people in just four-and-a-half years. The business' turnover has also grown substantially, reaching £1.8m last year, up 79% on the year before. This is something for which Tsartsari can take a significant share of the credit. She is currently account manager for several of the firm's larger projects, including residential development Rushden Lakes in Northamptonshire.
Helen Bunch
Wates Group
Helen Bunch joined contractor Wates in 2006 as group strategy director and in 2011 moved into an operations role as managing director of the firm's retail division, which at the time was struggling due to the recession. By 2013, it had been transformed from an organisation suffering significant losses to a profitable business with a £100m turnover. In 2015, the retail business was rebranded as Wates Smartspace and has continued to see strong growth, with revenue now standing at around £170m.
Karen Mosley
HLM
Karen Mosley joined architect HLM in 1986 to provide administrative assistance on projects in the Sheffield office. Since then, her career has developed substantially. She was appointed office manager for the Sheffield office in 1991 and then corporate administration manager across the business in 1994. By 2000, she was a board director, having become company secretary in 1998, and was appointed to the executive board in 2005. In this role she has helped to shape business development strategies and has been vital in developing the business overseas.
Lucy Homer
Lendlease
Lucy Homer joined Lendlease in 2014 as head of design but, according to the contractor, such was her drive that she had soon added the position of head of technical support to her role and joined the firm's executive leadership team. She continues to be highly involved in project work, with recent major developments including the International Quarter in Stratford, the regeneration of Elephant and Castle and the redevelopment of the BBC's Broadcasting House. Lendlease highlights that Homer is one of its most active mentors and has played a critical role in the careers of many young people, women in particular.
Rachel Woolliscroft
Wates Group
Having joined contractor Wates in 1998, Rachel Woolliscroft is now the company's sustainability director and was responsible for designing and developing Reshaping Tomorrow, Wates' framework for sustainability and corporate responsibility. The firm was awarded the Queen's Award for Enterprise: Sustainable Development in 2011 and 2016 – the only construction company to receive the prize twice. Woolliscroft is also involved with improving skills and education – both for Wates' employees and disadvantaged children and adults outside of the organisation.
Sarah Williamson
BYLOR
As construction engineer lead for BYLOR (a joint venture between Bouygues TP and Laing O'Rourke) at Hinkley Point C, Sarah Williamson holds one of the most important engineering roles in contemporary project construction. In the last year she has been responsible for the preparation and execution of the first nuclear safety concrete poured at the plant. The first of its type in the UK for more than 40 years, the pour represents the start of work on the site's first permanent structures.