NG Bailey's diversification strategy has seen operating profit rise 100%
Winner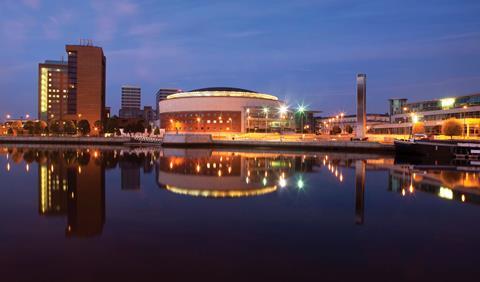 NG Bailey
NG Bailey's diversification strategy is clearly bearing fruit. In the last year, revenue at the contractor increased by 23%, while operating profit rose 100%. The firm also worked on a wide range of high-profile projects, including a new operations centre at London Bridge station, a £1.2m infrastructure contract to equip the Belfast Waterfront conference centre (pictured) with smart building connectivity, security and safety, and the UK's largest commercial Passivhaus building.
"They have had a great deal of milestones throughout the year and are now an incredibly strong player in the market," commented the judges. "They stand out from the crowd and have a great deal of evidence to back up the fact they deserve to win. Their impressive financials and client testimonials are a direct outcome of the strategies that they have implemented."
RUNNERS UP
Britplas
With construction revenue up 34% and pre-tax profit rising by 22%, Britplas can look back at the last year with satisfaction. In keeping with its desire to diversify the business, the firm also worked on a wide range of projects in 2016/17. Britplas highlights projects including the Milton Park office development in Oxfordshire, a hotel for the Marriott chain in Portsmouth, and the new John Lewis department store at the extension to the Westfield London shopping centre, as well as FitzRoy House in Northampton, Europe's largest adolescent mental health facility.
Fileturn
In the last year, fit-out specialist Fileturn saw construction revenue increase by 19% and its operating profit rise by 15%. The company also saw its headcount rise by 6% and can report a relatively low staff churn of 2.4%. The company works across different sectors, including hotels – Hilton is a repeat client – restaurants and bars, residential, and commercial.
M. Lambe Construction
The increase in M. Lambe Construction's revenue of 36% is impressive, but the 148% increase in pre-tax profit is remarkable. Headcount rose by more than 6%. In terms of projects, the firm highlights its work with Bellway Homes on the £25m Hanwell View project in Banbury, which is set to deliver 512 new homes. It also points to its role on the Waters Keep regeneration scheme in Walsall for Keepmoat, as well as Lovell Partnerships' Castleward project in Derby.
O'Donovan Waste Disposal
O'Donovan specialises in the disposal of construction waste and operates a fleet of 90 HGVs, including 30 eight-wheel tipper lorries. In the last year, its pre-tax profit increased by 16%. The firm says that its passion is to professionalise the role of HGV drivers while promoting road safety in the community through HGV awareness events.
Prater
Prater had a profitable year, with pre-tax profit up by more than 8%. The firm also saw headcount rise by 7% and had a repeat business rate of 90%. Prater highlights its role on the redevelopment of London Bridge station, in particular its use of off-site construction – essential for the station to remain operational. It also points to work on the Bracknell town centre regeneration and the first phase of the Battersea Power Station redevelopment.
Reconomy
Outsourced waste management and recycling services firm Reconomy had a successful 2016/17, with revenue rising 13% and the company increasing its headcount by 18%. Reconomy's aim is to divert as much waste as possible from landfill by treating it as a reusable resource that can retain value and a purpose within the wider marketplace. The firm works with a network of more than 1,000 pre-approved supply chain partners. It has framework agreements with clients including Barratt Homes, Balfour Beatty, Kier and Lendlease.
Trustmgt
Trustmgt had a highly profitable year in 2016/17, with revenue rising 53% and pre-tax profit by 235%. The company, which specialises in management and maintenance services, has a growing portfolio of sites across the UK and works with both local authorities and developers. Trustmgt highlights its open approach and says that its fees matrix provides total transparency on current and future costs and allows developers' sales teams to provide potential residents with accurate information when purchasing a new home.