Read about the winner and shortlisted entries for this year's new Diversity Award – Making a Difference
Winner: Grimshaw
Architectural practice Grimshaw seeks to recruit and retain the widest possible mix of voices to reflect the diversity of UK society. Building on a set of eight diversity principles established in 2016, this year the firm set up an umbrella group to enable a holistic approach to diversity and inclusion. This group provides support and leadership for its smaller groups, which are women, LGBT+ and allies, and multi-ethnic groups and allies, while also addressing issues relevant to groups not currently represented such as those related to disability, social mobility, neurodiversity, age and religion. The success of its eight principles is thanks to establishing key goals, identifying barriers, and quarterly measurement and review. Measuring has allowed the firm to drive year-on-year improvements in gender equality. Grimshaw is working to be more inclusive of multi‑racial perspectives and is currently collectively deciding how to measure progress for this part of its diversity strategy.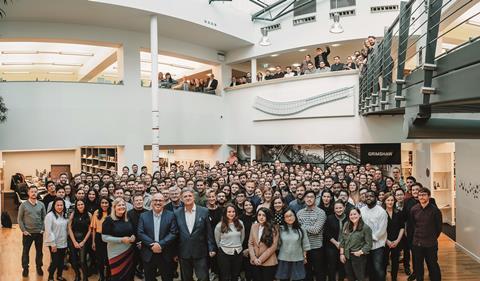 Runners-up
Cahill Design Consultants
CDC is passionate about supporting a diverse and inclusive team. The business is proud to boast that half of its team holding senior roles are female, it has a 50% female-to-male ratio workforce, and 30% of its team are from a non-UK heritage background. The firm's management supports this with a non-exclusionary, blind application process and an unbiased interview approach with standardised interview questions.
Having developed an employee-led workplace strategy, CDC ensures its staff work in a safe, transparent and inclusive environment in which they feel supported, and rejects a long-hours culture that could alienate and negatively impact the mental health of its team. It implements clear disciplinary procedures and reporting for all staff and arranges regular confidential discussions with individual team members so issues can be raised in an open and trusting way then resolved promptly. The firm has policies on diversity, inclusion and equality, and zero tolerance for bullying and harassment, which all staff must read and sign at the beginning of their employment.
Daniel Taylor, MDC Group
Daniel Taylor is a renowned design specialist with a reputation for creating bespoke interiors for public and private sector clients. Awarded an MBE in 2019 for contributions to business design and diversity in the workplace, Taylor brings together the ideologies of social momentum with the strategic vision to nurture business. He is passionate about encouraging creativity among young people, particularly those from black and ethnic minority communities. A founding trustee for Creative & Cultural Skills and a Fellow of the Royal Society, Taylor's career highlights include winning the contract to design the Conservative Party's new headquarters in Victoria Street, London, collaborating with scientists and engineers at the UK's Transport Research Laboratory headquarters in Berkshire, and spearheading the launch of a £12m employer-led initiative that works with businesses to identify successful apprenticeship practice and opportunities for the young.
Design2e
Civil and structural engineering design firm Design2e comprises a diverse team of 24 staff at its Birmingham city-centre office. Since the company was founded in 2011 it has progressively recruited its team through a structured policy that promotes diversity and inclusivity. Design2e's recruitment focuses equally on personality traits and technical skills, welcoming full-time, part-time, placement and work experience applications to suit the needs of the applicant, regardless of their prior experience, age, race, colour, sex, sexual orientation, physical disability or mental illness. Last year the firm recruited eight new team members from a broad range of cultural and religious backgrounds. Half of these new recruits were female, which means that a third of the company's staff are now women. Design2e believes this to be an exemplary achievement in what is traditionally a male field of occupation. Diversity and inclusivity are embedded into Design2e's working culture, and the company aims to continue promoting its inclusive culture to both clients and the wider industry at every opportunity.