Read about the winner and shortlisted entries for this year's Major Contractor of the Year (over £300m) award
Winner: ISG
For ISG this has been its third consecutive year of record profit and a £2.5bn turnover. Highlights from the past 12 months include working on the firm's largest-ever fit-out project and redeveloping the stands at Lord's cricket ground. The contractor has also built £170m of distribution centres. ISG also claimed 11 education projects through a government framework, which were worth £100m in total. As part of the firm's response to the covid-19 pandemic, ISG created a site app that has been shared with Build UK for the benefit of the wider industry. The contractor has subsequently adapted the app to help support the reopening of schools.
The ISG-backed Professional Construction Practice Diploma, which is the industry's first-ever level 3 or A-level equivalent qualification, launched in 2018 and now has over 120 students across a cohort of four schools and one college. ISG is also engaging students earlier in their education, with 61 students taking the level 1/2 Constructing the Built Environment course in the same schools – equivalent to a GCSE. ISG's Smartspace team also delivered 8,000 training days for its staff across 200 subjects, up 13% on the previous year. This was in addition to its growing online educational resources.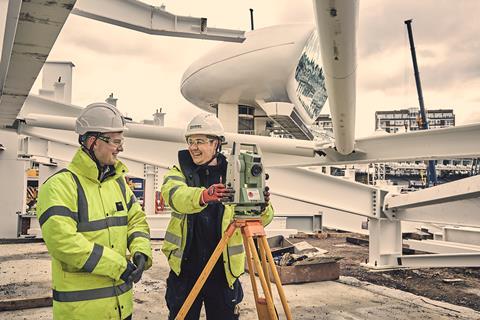 Runners-up
Robertson
Over the past year Robertson has worked on a host of high-profile projects, including the now-completed £333m exhibition centre named The Event Complex Aberdeen for the city's council, which was delivered by more than 8,000 people who amassed more than 3 million hours worked. Other schemes completed by Robertson over the past 12 months include the £4.2m Strawberry Field Training Centre in Liverpool, whose location is the inspiration for the Beatles' classic song.
In 2019/20 Robertson developed a new approach to evaluating customer experience following research with customers and partners to find out what they really valued in a contractor and what could be done to make their experience the best it could be. The new online dashboard uses a grading system for nine key areas which cover everything from overall experience, health and safety, quality and sustainability to time frame, project team and the handover of the site.
The firm has also placed a significant focus on the health, safety and wellbeing of its staff. In 2019/20 it trained more mental health first-aiders and encouraged its teams to support Mental Health Awareness Day. Departments within Robertson were also encouraged to take time out to talk about mental health, supported by an awareness campaign and a range of resources from the HR team.
Wates Group
The past year has been a big one for Wates. When the covid-19 pandemic gripped the UK, Wates committed to speeding up its delivery of a scheme to turn two out-of-use floors at the Royal London Hospital into nearly 180 beds for covid-19 patients. The project took just five weeks to deliver. The firm had been asked by the Barts Health NHS Trust to turn levels 14 and 15 of the hospital into six wards with 176 beds and 117 clinical support rooms.
Over the past year Wates has overhauled its business to focus more on its core areas of public sector and housing work. The firm is understood to be looking at growing its business in several sectors, including affordable housing, offsite technology, public sector work and partnerships work with local authorities. As part of its residential business, the contractor has also been named as Harrow council's development partner for its £600m regeneration programme. The project is expected to transform Wealdstone in north-west London through the construction of 1,500 homes, including affordable housing, a new civic centre, shops, offices and a school, as well as public and green spaces. The project will also provide construction training for more than 130 unemployed adults and will deliver 220 apprenticeships.