Read about the winner and shortlisted entries for this year's Offsite Project of the Year award
Winner: Royal Orthopaedic Hospital theatre and ward complex
Entered by ModuleCo
ModuleCo Healthcare and its manufacturing partner ModuleCo delivered a three-storey modular complex with two operating theatres, a six-bed recovery suite and a 12-bed inpatient ward last December. Modules were designed and created in ModuleCo's Gloucestershire factory and craned into the site in six days, with minimal disruption to the hospital's daily operation. The whole project was finished in 28 weeks, MCH's fastest delivery time from order to handover, and from installation the project was patient-ready in eight weeks.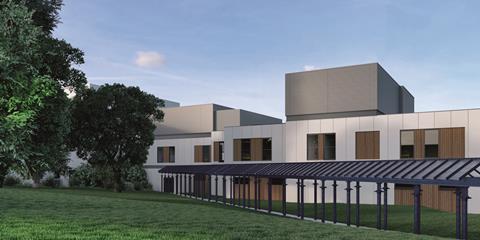 Runners-up
Cell and Gene Therapy Catapult expansion
Entered by Merit
Using its expert design, fabrication and installation teams, Merit worked with the client to maximise offsite construction of six clean-room modules and develop privileged access management (PAM) technology to suit this high-tech, advanced therapies research environment. Merit delivered the project in just over nine months, less than half the time it had taken another contractor to deliver the previous phase using traditional construction methods.
Green Park Village Primary School
Entered by Reds10
Reds10 built 80% of this Reading school offsite, delivering it 15% faster than if using traditional methods. Key components for the school – a two-storey, steel framed volumetric building – were made in Reds10's factory for quality control purposes and to reduce time on site. These included a concrete floor, the plant room, a kitchen, toilets and external glazing. The project, developed by the Berkeley Group, shows how high-quality architecture can be incorporated into modular schemes.
Hackwood Primary Academy
Entered by Lungfish Architects
Offsite construction allowed for this school, Derby's first such facility to be fully constructed using modular methods, to open and be fully operational within nine months of breaking ground, with just 37 weeks spent on site. This is nine months faster than for other projects of a similar size, scope and specification. The 42 modules were craned into position in just seven days, transforming the build from foundation level to a building quickly and efficiently.
North Tees and Hartlepool NHS Foundation Trust energy centre
Entered by NG Bailey
NG Bailey ensured emergency medical care continued while installing a new £14m energy centre, part of the trust's ongoing sustainability and transformation plan to provide capacity for future development on site. Offsite methods were central to ensuring safety and completing the project on time and to budget. Solutions included prefabricated plant skids and heavy-duty services modules, incorporating plant, pipe, fittings, and control equipment. Close collaboration ensured the safety of patients, staff, visitors and the general public was prioritised.
Scale Space
Entered by Western Building Systems
Set on Imperial College London's White City campus, the 200,000ft² Scale Space is the first community-created scheme in the UK designed to help innovative businesses grow. Meticulous planning and modular manufacturing saved millions on the construction budget, with repetition of prefabricated units providing economies of scale. Built to BREEAM Excellent standard, it was delivered 30% quicker than if using traditional methods.
Sir Frederick Gibberd College
Entered by Caledonian Modular
As lead designer and principal contractor, Caledonian delivered this project from feasibility through design and planning. Its strategy was to maximise the extent of on-site groundworks prior to the 198 modules arriving on site. Each was delivered 90% complete, including flooring, fit-out and cladding. The school was delivered in 12 weeks during lockdown and looks indistinguishable from a conventional build.
Union Wharf
Entered by HTA Design / Assael Architecture
On this 249-home build-to-rent scheme in Greenwich, south-east London, the adoption of volumetric offsite construction meant that most of the project was procured in advance and finished in the factory ahead of on-site works. The high level of co-ordination during the early design stages, plus opportunities for prototyping, testing and benchmarking that offsite manufacture presented, instilled a high level of confidence in the product.