Read about the winner and shortlisted entries for this year's Specialist Contractor of the Year award
Winner: Britplas
Glazing and facade group Britplas reached the end of a strategic five-year plan in the past 12 months, with turnover doubling and profitability maintained. The group opted to diversify beyond specialist windows for mental health facilities and into the general commercial facades market, leading to sweeping changes across the business and major investment in people, systems and infrastructure. The firm has worked on several high-profile projects recently, including the 17 million ft² Edinburgh St James development – Britplas' largest ever contract – and the Calico student accommodation scheme in Liverpool (pictured). The company offered its staff a far-reaching support package during the covid-19 lockdown.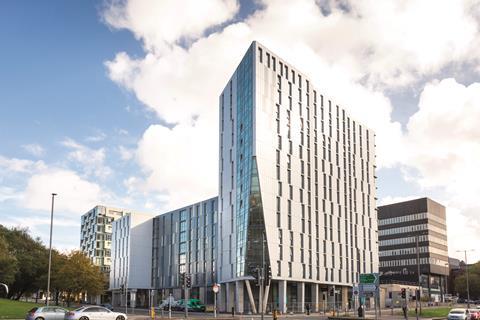 Special commendation
Mivan
A specialist interior fit-out company established 45 years ago in Antrim, Northern Ireland, Mivan has grown organically in recent years, building on its reputation for quality in the high-end market while maintaining a family, people-centric ethos. Faced with the coronavirus, Mivan is driving forward its offsite construction offering, Mivan Modular Solutions, to help push down costs and speed up delivery. Two recently completed projects that stand out are the five-star luxury hotel The Langley in Buckinghamshire and the prime residential development Twenty Grosvenor Square in London.
Runners-up
Bennetts Cranes
A specialist tower crane company based in the South-west, Bennetts Cranes' recent projects include St Martin's Place, Birmingham, a flagship scheme of 228 luxury flats, and Chelsea Creek in Fulham, a large residential development by the River Thames. With its strong customer-focused approach, the company sees a large percentage of repeat business from contractors that have come to rely on its specialist knowledge in tower crane technology and site planning. Its order book was full for the next two years when covid struck.
Clarke Facades
In the past 12 to 18 months Clark Facades has doubled its growth, and while construction took an unexpected pause due to covid, with delays to new projects and some programmes being shelved or extended, its pre-construction team has been busy working with those clients that have busy project pipelines, offering design and cost advice. The firm is completing more offsite work, utilising skilled aluminium fabricators at its factory to manufacture and assemble curtain wall for unitised installation. Projects include its largest to date, at Longwater Avenue in Reading, and Merchant Square in Belfast.
EE Smith Contracts
The Leicester-based interior fit-out specialist has recently worked around the clock on the Londoner Hotel in Leicester Square, its largest contract to date, as well as on providing 454 bathroom fit-outs at the iconic Battersea Power Station development. The family-run firm has increased its workforce significantly across its six factories in the past 12 months and currently employs 41 apprentices, both on and off site, to maintain high skill levels for the future. It has also invested over £1m in a state-of-the-art spray facility.
Lucas UK Group
Lucas has been a technology partner of F1 and engineering firm McLaren for nine years, which has been inspirational for the group. The fit-out and finishing specialist has invested heavily in new technical facilities, providing contractors, architects, engineers and designers with bespoke specifications and innovative solutions. It has also invested in a visitor and learning centre, new recruits and apprentices, plus professional studio facilities to produce "The Lucas Show" to promote the construction industry to a wider audience. Recent projects include 22 Bishopsgate, Southbank Place and Battersea Power Station.
Munnelly Support Services
With 40 years' experience in the construction sector as a logistics specialist, Munnelly has redeveloped the way essential supplies are delivered. This has resulted in safer, more efficient and quicker delivery of some major UK projects such as Bank Underground station and Royal Wharf. Responding to the covid crisis, it adopted new methods to successfully transform 43 projects in four weeks to create safe, socially distanced, effective projects so that its schemes could get back into production.