Read about the winner and shortlisted entries for this year's Construction/Consultant Surveyor of the Year (100 staff or over) category
Winner: Turner & Townsend
As Turner & Townsend celebrates its 75th anniversary in a year of huge change, it has seen operating profit grow 30% and has secured work in innovative sectors such as with the Vaccine Taskforce, for which it provided support on contract management, negotiators and procurement expertise. It also helped develop the Construction Innovation Hub's Value Toolkit and the Construction Playbook.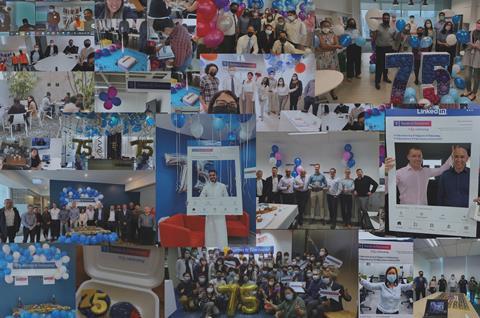 Runners-up
Aecom
The past year has accelerated transformation for Aecom – including its previously launched Freedom to Grow strategy on flexible working, which meant staff had already begun to move away from nine-to-five office-based work, and its web-based Virtual Consultation Tool allowing clients to engage with stakeholders. Recent projects include University College Hospital's Grafton Way Building and the NHS Louisa Jordan hospital.
Alinea
In the face of difficult conditions across the industry, Alinea had its best year ever, thanks to a focus on safety, job preservation and wellbeing. Client satisfaction was clear, with 90% repeat business. The consultant's 70 new projects included work in the life sciences industry and the public sector, with the British Library and Harley Street's London Clinic among clients commissioning projects.
Baily Garner
Despite the pandemic, Baily Garner maintained a staff turnover rate of just 6%. The firm was quick to adapt to the challenges, setting up 183 staff to work remotely within just four days. Notable projects include the Teviot Estate regeneration in London's Tower Hamlets, providing 1,800 to 2,400 mixed-tenure residential units, and the Metropolitan Police's modernisation programme.
Core Five
Core Five prides itself on being a great employer – with 95% of its staff saying they are proud to work there. In the past year, it put no staff on furlough and made none redundant. Indeed, it increased the headcount at its Birmingham office by 40%. The consultant has advised on £25bn worth of projects over the year, with noteworthy schemes including 2 Finsbury Avenue and Bankside Yards.
Fulkers Bailey Russell
Fulkers Bailey Russell's work in the past year includes roles enhancing covid-19 wards, fast-tracked vaccination centres and vital services for London Ambulance Service, creating 111 call centres. The completion of the University of Bath's Institute of Advanced Automotive Propulsion and London South Bank University's London Road Building are among its other notable projects.
Gleeds
Gleeds' clients this year have included the Defence Infrastructure Organisation, which it is supporting to improve its estimated costings and providing expertise for new-build and whole-life costs post 2022. A focus on staff wellbeing was key throughout the pandemic, with the consultant holding weekly town hall meetings, a quiz show with Gleeds' chairman, high-intensity interval training and yoga classes, and a "live and unplugged" music series.
Mott MacDonald
Work in the past 12 months has included collaborating with Be First to identify reporting requirements and come up with a solution for reporting project, programme, portfolio and commercial management data across its 50,000-home portfolio. It has also achieved a huge milestone in its target of achieving net zero carbon by 2040 by becoming the first company in its class globally to be certified as carbon neutral.
Rider Levett Bucknall
In 2020/21 Rider Levett Bucknall created a new alliance in India and strengthened its presence in Europe with 20 offices. The consultant's projects include a green plan for University Hospitals of Leicester NHS Trust and more than 1,500 schemes and surveys for Tesco. It has also employed 20 graduates and 38 apprentices and has run a virtual work experience and Kickstart programme.
Soben
Soben has worked on a number of landmark projects this year, and after winning the Building Awards category for consultants with under 100 staff last year has now moved up into the category for larger firms. Recent schemes include the detailed cost planning process for the MEP package at Euston's HS2 station. The firm has also this year further developed its quantity benchmarking tool and a carbon emissions calculator.
Stace
Stace has been involved in a host of schemes over the past year, with the firm working on projects including the first phase of Enfield council's major redevelopment of Meridian Water and Quintain's Wembley masterplan. Reflecting the trends of the past year, Stace worked on a covid-19 testing lab that was completed in a 12-week design and construct programme and the permanent vaccination centres around Essex and Suffolk.