Read about the winner and shortlisted entries for this year's Construction/Consultant Surveyor of the Year (fewer than 100 staff) category
Winner: Exigere
In the past year Exigere has had 15 new starters and made seven promotions – despite tough conditions in the sector. Achievements over the past 12 months include increasing fee income by 20% and operating profit by 48%, while also developing the Exigere pre-qualification questionnaire process and contractor database to procure the best contractors for its clients. Notable projects include 60 London Wall for LaSalle Investment Management and Citygrove, Castle Lane for Landsec, and 160 Old Street for Great Portland Estates.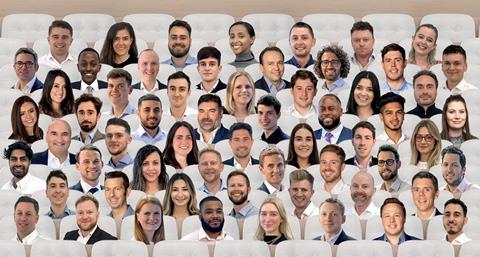 Runners-up
Blackburn & Co
In the past 12 months Blackburn & Co has worked on a variety of central London schemes, including Italian marketplace Eataly's first UK outpost at 135 Bishopsgate, the Featherstone Building on Old Street, and the fit-out of law firm Cooley's new office space at 22 Bishopsgate. The firm has a number of high-profile recurring clients, with Derwent London and Landsec each contributing at least 10% of Blackburn & Co's workload. The firm also boasts low staff turnover, with just five employees having left in its 12-year history.
Kam Project Consultants
The quality of Kam Project Consultants' work is evidenced by the fact that 94% of its business is from repeat customers. It has undertaken a host of projects for big-name clients recently, including the Vaccines Manufacturing and Innovation Centre, Harwell. This advanced manufacturing facility started pre-covid but required exceptional acceleration and change of use due to the pandemic. The firm is also working in research and development, collaborating with industry experts on the speculative development of the UK's first multistorey logistics and warehouse facility.
Mesh Construction Consultancy
The 2020/21 year has been a big one for Mesh Construction Consultancy, with the consultant completing 272 projects, including the refurbishment of a grade II-listed Italian hospital building to create a new £17m sight and sound centre. It has carried out a significant amount of other work in the healthcare sector in the past year, delivering 140 projects in this area of the market. The firm also acquired 85% of its work through repeat customers – signalling the confidence of its customer base.
MJ Donnelly Quantity Surveyors
MJ Donnelly has had many notable projects over the past year, including the Cregagh Park housing development in Belfast and Liatroim Fontenoys GAA Club in County Down. The firm's strong 2020/21 year came in spite of a key client being forced to suspend several hotel projects – which represented 30% of the consultant's booked fee turnover – showing its resilience. The Northern Ireland-based firm has spent the past year working on developing bespoke software for project cost prediction. Notable clients include Gilbert-Ash, Willmott Dixon and McLaughlin & Harvey.
Plan A Consultants
Profitability at Plan A Consultants jumped 20% in 2020/21 – a sign of a strong business, given the challenging market conditions. The firm secured a host of high-profile projects around the world this year, including the Natural History Museum in Abu Dhabi, UAE, Populous' Esports Arena in Saudi Arabia, and Delhi Art Gallery by Adjaye Associates in India. The firm's growing order book has seen it expand its client base over the past year, with a strong repeat customer base at 67% being complemented by new clients.
Rund Partnership
Rund Partnership is set to exceed its growth targets for the year, expanding the business and securing a brace of notable project appointments. These include work on the Royal Albert Hall in the capacity of project manager, where it is working closely with Westminster city council and WSP in delivering public realm improvements. It has also been appointed as employer's agent and principal designer for Network Homes, supporting the delivery of over 2,800 new homes by 2023 within London and Hertfordshire.
The Construction Consultants
Projects over the past year range from The Gym Group's national framework to a £35m new-build private rental scheme for Crown Works. In the past 12 months the consultant has won new clients within the residential, leisure, retail and industrial sectors. The strength of performance has been such that the consultancy firm has not just maintained its staff numbers through the pandemic but even grown its team, from eight to a total now of 11 staff.