Read about the winner and shortlisted entries for this year's Specialist Contractor of the Year award
Winner: Dowds Group
In the past year Dowds not only survived but thrived, expanding to include a build team and a facilities management team so that it can offer its client end-to-end services. The firm has also been involved in a diverse array of schemes, including Northern Ireland's second Nightingale hospital, the new V&A collections centre in Stratford, and installing a proton beam therapy system (pictured) at Rutherford Cancer Centre in Reading.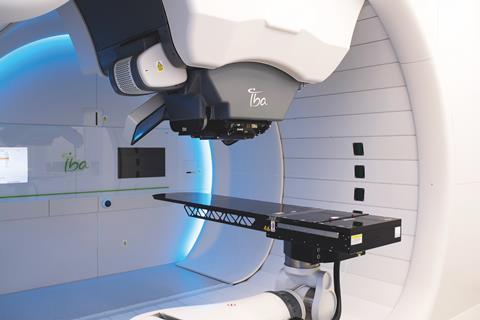 Runners-up
DGP Logistics
Despite the challenges of the last 12 months for the construction industry, DGP has grown by approximately 30% over that time. The logistics specialist has made significant investments in future growth by starting a new infrastructure business and creating a German subsidiary targeting data centre projects in Europe. High-profile projects include a grade I-listed building in London's Westminster, where Sir Robert McAlpine is construction manager, and NO6 East Village in Stratford.
JLES Group
JLES Group has had a successful 12 months, bucking many of the trends of the pandemic – a point proven by the fact that 100% of its projects were delivered on time. The firm responded quickly to the pandemic, having established a health and safety subsidiary business to support its supply chain and clients. All this helped lead the group to a 9.5/10 client satisfaction score based on its monthly surveys.
Kane Group
Customer satisfaction is at the forefront of Kane Group's goals, with 85.7% of clients returning this year – a sign of the quality of its work. The firm's future order book is already 98.4% secured and will see the commencement of significant projects such as the Gascoigne estate residential scheme in Barking and Dagenham. Kane has also developed a bespoke in-house procurement app, which has allowed huge efficiencies in terms of order processing and supplier relationships.
NG Bailey
In its centenary year NG Bailey worked on a host of big-name projects, including delivery of a wide range of services on the UK's Nightingale hospitals programme. At the height of production for the Nightingales, completed items were coming off the production line every three-and-a-half minutes – and thten being transported and installed on the same day. Other highlights of the past year include being named principal contractor on the UK Battery Industrialisation Centre near Coventry.
OFR Consultants
In the past 12 months OFR Consultants has continued to excel, welcoming 23 new colleagues and winning a host of projects across the UK and Europe. The company has advised on schemes ranging from commercial developments and workplaces to internationally renowned sports stadiums and helped to deliver three NHS Nightingale hospitals. Clients have included the All-England Lawn Tennis Club, Urban Splash and the Rugby Football Union.
Reconomy
It was another strong year for Reconomy, a UK market leader for outsourced services that drive the circular economy – including waste and resource management, recycling and environmental compliance. The firm is working on a variety of schemes, including HS2, the Midland Metropolitan Hospital, and Hinkley Point C nuclear power station. Reconomy has also become the first company to fully digitise the waste management process end-to-end.
SES Engineering Services
SES Engineering Services achieved some notable project wins during the year, including schemes that were instrumental in supporting the NHS's covid-19 response. These projects included work at the Royal London Hospital and on the construction of the Nightingale Hospital North East in Sunderland. As a result of the two-metre rule and as SES strives to reduce its carbon footprint, its newly expanded offsite manufacturing facility has put the company at the forefront of modern methods of construction.
Specialist Group
Specialist Group projects reached new heights over the past 12 months, with notable schemes including work on Mace Interiors' Project Lion in London, Wates' Royal College of Surgeons project in Lincoln's Inn Fields, and Royal Warwick Square, St Edward's newest development, in Kensington and Chelsea. The joinery specialist reacted quickly to covid, including with the creation of six new video suites to remain connected to customers and an increase in its stock of key materials to ensure no long delays.
Trust Management
Trust Management provides an open-space management service to the construction industry, accommodating all areas of open-space management such as for woodland, sustainable urban drainage systems, wetlands and play areas. Continuous professional development is a focus for the firm, which holds workshops twice a week for staff to share knowledge and experience. This encourages cross-departmental awareness and collaborative working.