Read about the winner and shortlisted entries for this year's Client of the Year award
Winner: Muse
Muse is a leader in sustainability and corporate social responsibility, and specialises in sustainable urban regeneration, often with sites of social degradation. At the heart of its approach is the local community and adding social value. The firm works closely with communities to understand local needs and opportunities. In 2021, Muse published a sustainability framework for all its new developments, with five key objectives: net zero carbon, circular economy, health and wellbeing, biodiversity net gain and social value. Each objective has several key performance indicators with challenging minimum performance standards. Project highlights for Muse include the Eden office scheme (pictured) at New Bailey, which aims to be net zero carbon in construction and operation and is now on site.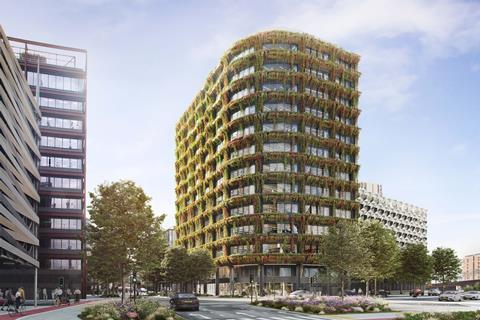 Runners-up
Battersea Power Station Development Company
The client that is behind the redevelopment of Battersea Power Station has seen its mission through to completion, with the iconic grade II*-listed building now open to the public. The central London landmark and its surrounding area have been brought back to life as a mixed-use neighbourhood, including a mix of housing, shops, bars, restaurants and entertainment venues, along with parks and historical spaces. The scale of the project has been undeniable, with the scheme constructed from six million bricks, and the power station covering more than two hectares. The job, variously described as the Everest of real estate and the toughest project in the world, is undoubtedly a triumph now that it is finished.
Be First
Development company Be First, and Barking and Dagenham borough council which wholly owns it, are an exemplar of a local authority developer delivering successfully for local people. Committed to quality, the council has worked to create a series of guides for Be First projects, including on design principles, construction and public realm, in order to help architects and contractors deliver its design aspirations. Be First is an excellent model for others to follow, successfully delivering critical housing along with a range of regeneration proposals for Barking and Dagenham. The council and Be First plan to accelerate regeneration in the borough by ensuring that 50,000 new homes are built and 20,000 new jobs are created by 2037.
Manchester City Council
Manchester's council has shown an ongoing and sustained commitment to the progress of the city, repeatedly making capital commitments to significant and innovative developments. The council is the force behind several major projects, including new cultural venue The Factory, which is due to open next summer. It has also made considerable housing commitments including a promise to build 36,000 homes up to 2032 – 10,000 of them social and affordable housing. It has also said at least a third of the city's 70,000 social homes will be retrofitted to low carbon standards by 2032, while 50% of homes built by 2025 will be low or zero carbon. The council is also developing a retrofit programme for all the city's homes.
Quintain
For 30 years, Quintain has transformed areas into places where communities want to live and companies want to grow. Since 2002, it has built more than 4,700 of a masterplanned 8,500 homes at its flagship development, Wembley Park. Its work here includes the full refurbishment of world-class cultural spaces such as Wembley Arena and Olympic Way, as well as the ongoing management of the entire estate. The developer has also been a key driver of innovation, including developing its own precast facade solution and – as result of evolving its own standardised design – manufacturing offsite elements of the concrete frame. Quintain is also trialling an internal wall system that will reduce labour and wastage.
University of Hertfordshire
The university is no stranger to innovation, as its 2030 Estates Vision demonstrates. It is actively starting on a journey to examine net zero carbon and tackling the impact of post-covid ways of working on its estate– bringing in specialist consultant teams to support it. The university's longer-term relationships with the regional contracting and consultancy markets have seen a mature client team approach, enabling increased collaboration and efficiencies over time. The recently procured £61m SPECS Building, designed with the university's net zero carbon target in mind, will be the largest single structure on campus once complete in 2024. The university has a future pipeline of nine projects planned till 2028.