As the major influence on Jeremy Corbyn's economic policy, Richard Murphy has had a lot to talk about over the last few months. But what might the much-trailed people's QE mean for the construction industry?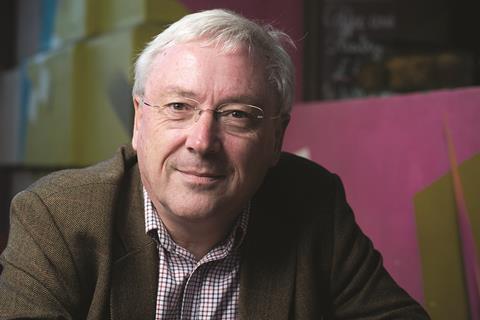 Gulping his second thick black Americano in a trendy cafe opposite King's Cross station, Richard Murphy (pictured above) laughs about one of his two teenage sons, who earlier had resisted demands to do up his tie properly. "But Dad," he said, "Jeremy doesn't."
With more than 40 television documentary appearances to his credit over the past decade, Murphy, an accountant turned tax campaigner, is hardly unknown to the media.
But the 57-year-old's profile has soared since July, when his ideas on stimulating the economy and recouping tens of billions in tax evasion and avoidance were revealed as the bedrock of Jeremy Corbyn's financial manifesto during the Labour leadership campaign. At times this summer, Murphy was being interviewed on television five times a day.
While insisting that he's not Corbyn's "guru", Murphy has nevertheless known the new Labour leader for at least 10 years and has grown closer to him and his family in recent months. Murphy addressed several of Corbyn's leadership rallies, at one point using a megaphone to explain the finer points of "people's quantitative easing" to several hundred people outside King's College, Cambridge, the alma mater of John Maynard Keynes.
Speaking on the eve of Labour's annual conference in Brighton last week, where he launched a book, The Joy of Tax, Murphy insisted he was looking forward to a new job as a professor of international political economy at City University London.
By the end of the conference, however, it was clear that Murphy will be needed by Labour ahead of the 2020 general election, with shadow ministers parroting his ideas on using infrastructure investment to produce economic growth.
Take Baroness Angela Smith of Basildon, the shadow leader of the House of Lords and a former building regulations minister. She told Building: "What he [Corbyn] is talking about is clearly big for infrastructure and economic renewal and there is much more link between the two than there has been before."
So what, exactly, is people's quantitative easing (QE) - the controversial idea that Murphy is championing which underpins "Corbynomics"? And would it work for construction?
Would I do people's QE today? No, we don't need to, because there is a demand for gilts out there

Richard Murphy
QE 2.0
People's QE is a rebranded version of Murphy's green infrastructure QE, which is, colloquially, printing money to "invest in stuff", as Murphy puts it. QE, of course, is best known as the mechanism used to bail out the banks during the depths of the financial crisis, and Murphy sees no reason why the idea should not be adapted for construction and creating jobs.
More accurately, people's QE would see a Corbyn-led government order the Bank of England to buy bonds from a National Infrastructure Bank, which would use the money to fund housing, green energy projects, and small-scale transport infrastructure.
Critics, such as former shadow chancellor Chris Leslie, argue the idea is inflationary and strips the Bank of England of its treasured 18-year independence. Sceptical that the central bank is truly independent of government anyway, Murphy is more concerned by the former argument and shows his plan is more nuanced than his opponents suggest.
Projects funded by people's QE would be no more than £50m to £100m. The focus is on projects that are quick to develop, so that QE can be used when the economy starts to struggle, and have relatively short build times, meaning QE could be stopped shortly after the economy shows signs of overheating.
"[By using] the National Infrastructure Bank to get the economy going again, you would have to start with relatively small projects," says Murphy. "Large projects take a long time to get going, so just getting things like planning permission takes time. Small-scale railway projects are easy to get going, because you already own the land. Some housing projects are on brownfield sites so they can be turned around quite fast.
"Insulation is easy to do, because it's to existing buildings. One of the things I suggest is double glazing all the government buildings that aren't double-glazed, because the payback is really fast, you get your money back in a couple of years. It's a perfect sort of project to put people to work."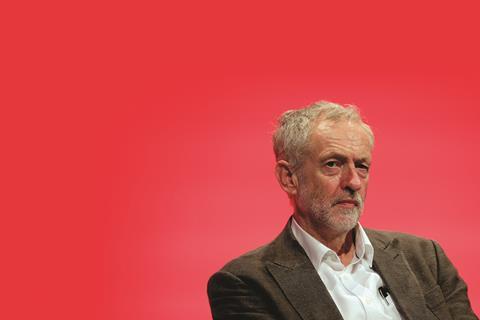 Clive Lewis, one of Corbyn's few supporters in the House of Commons and a shadow energy spokesman, is clearly attracted by Murphy's attention on green projects. He says: "We often focus on supply when it comes to energy generation. We also need to focus on the demand side: insulation, for example, has a massive part to play in housebuilding."
Seema Malhotra, the new shadow chief secretary to the Treasury, adds: "Labour is proposing a National Investment Bank to allow us to support investment in infrastructure and to encourage financial support for small and medium-sized firms. The economy of the future depends on the investment we make today in infrastructure, skills, and schools. We need a long-term plan to boost infrastructure investment if we are to grow our economy in a sustainable way."
Meanwhile, Lilian Greenwood, the fast-rising shadow transport secretary, tells Building that the National Infrastructure Bank is "an opportunity to invest in transport to create jobs".
Murphy admits to having "a problem with giant prestige projects" and would rather see electrification of track to Cornwall than the £42.6bn High Speed Two railway proposed to carve through the heart of England.
People's QE, he says, would be inappropriate for such large projects, given they could not be stopped should inflation climb above the central bank's 2% inflation target. It is more likely to fund a maternity wing than a whole new hospital, Murphy adds.
"The advantage of the National Investment Bank is that with really small projects, where you're building houses at the end of the street, is that at that point you have some control over finessing when you're going to turn off the stimulus," argues Murphy. "But if you're starting HS2, and it's an eight-year project, then you have almost no control over finessing the stimulus. You want to have some degree of granularity, that's why things like insulation, broadband and housing are relatively good because you can turn them off and on."
Rebalancing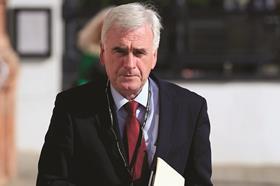 For Murphy, who became a Quaker in the late 1990s because of the movement's commitment to a fairer society, people's QE is about boosting wages at a time when pay has not kept pace with the cost of living.
"The economy is underperforming even now," claims Murphy, who thinks another downturn that will cause "social stresses" is no more than a couple of years away. "We have too many unemployed people, we have far too many people who are on very [small] earnings, far too many people in part-time work, and too many people on zero hours contracts and so on. We need to rebalance in favour of earnings growth."
Perhaps the most telling retort to the more conventional economists who question people's QE is Murphy's insistence that the National Infrastructure Bank could use several forms of funding.
For example, if such an institution was in existence now, he would recommend funding its work through issuing government bonds, because interest rate repayments remain relatively low - people's QE would be for more desperate times. Murphy, who co-founded the Tax Justice Network in 2003, also thinks the government is missing out on £120bn in tax evasion, avoidance, and disputes every year, which is about £86bn higher than official estimates. By providing HM Revenue and Customs with more staff and resources, this "tax gap" could be narrowed, he believes, providing more revenue for the NHS and infrastructure.
"Would I do people's QE today? No, we don't need to, because there is a demand for gilts out there," says Murphy. "The moment there's a sign that we're not able to place enough gilts, that there is a need to create employment and demand in the economy, then we can go to people's QE. It is not a policy for Monday to Sunday, 365 days a year."
John McDonnell, the new shadow chancellor who is Corbyn's closest ally, signalled that he understands the need for a mix of funding during his conference speech. He talked of "patient, long-term finance", which would seem to
include bonds, for an "empowered National Investment Bank".
Before getting his train home to Downham Market in Norfolk, Murphy smiles that by coming under close scrutiny he has had to improve his knowledge of devilishly complicated aspects of the economy, such as central bank reserve accounting. "All those people who criticised me have helped me refine my thinking. I know more than I did at the start of the summer."
And the country knows more about Murphy than they did only a few months ago, because Corbynmania could only be built on his intellectual foundations.
McDonnell's top team
Richard Murphy insists he does not want to become trapped in the Westminster bubble. Indeed, he points out that he isn't even a member of the Labour Party and shows signs of being closer to the Greens in many policy areas.
Shadow chancellor John McDonnell is using Murphy's ideas, but his panel of economic advisers comprises the following heavyweights:
David Blanchflower
A former member of the Bank of England's Monetary Policy Committee who is now a professor at Dartmouth College in New Hampshire. Blanchflower has previously claimed to not be a Corbyn supporter but is a friend of Murphy.
Mariana Mazzucato
An economist with dual Italian and American citizenship, Mazzucato is a professor in the Science Policy Research Unit at the University of Sussex. The 47-year-old was one of more than 40 leading economists to sign a letter backing Corbynomics this summer.
Anastasia Nesvetailova
Murphy is joining Nesvetailova at City University London, where the globalization and financial crises expert has taught and researched since 2007. She is the author of Financial Alchemy in Crisis, which argues the crash was caused by a failed "credit pyramid".
Ann Pettifor
A director at Policy Research in Macroeconomics, a think tank that claims to be "dedicated to analyzing and demystifying contemporary economic policy", Pettifor predicted the economic crisis in 2003. She co-authored The Green New Deal in 2008.
Thomas Piketty
The Paris School of Economics professor wrote the recent worldwide bestseller Capital in the Twenty-First Century, which tackles issues of inequality in 640 pages. Adored by the left, derided by the right.
Joseph Stiglitz
The 72-year-old won the Nobel Prize for Economics in 2001 and was a critic of Tony Blair and New Labour. The Columbia University professor and former World Bank chief economist is a long-standing critic of austerity.
Simon Wren-Lewis
The Oxford university professor has described people's QE as "promising" and is in favour of Labour's new policy of renationalising the railways. He has accused chancellor George Osborne of overseeing a "delayed recovery".