Not satisfied with masterminding the £3bn transformation of King's Cross, Roger Madelin has turned his attention south of the river to Canada Water. But will the developer's much revered magic touch be enough to turn this peripheral part of London into an attractive neighbourhood and a solid investment for British Land?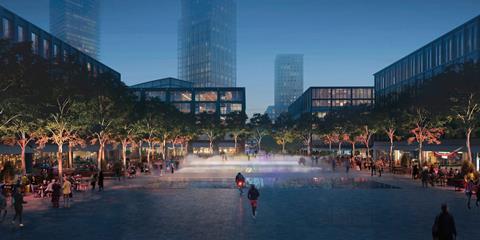 Many of us might consider taking it easy for a while after pulling off two of the era's most significant regeneration schemes. Clearly, Roger Madelin is cut from different cloth. Two-and-a-half years ago, he surprised the property world by announcing he was leaving Argent to join British Land. During his almost 20 years with Argent he had overseen the regeneration of Birmingham's Brindleyplace and the transformation of London's King's Cross.
Madelin was lured across to British Land to take charge of its long-planned redevelopment of Canada Water, the chunk of London's Docklands that is south of the River Thames. After being offered the job, he says, he spent three hours walking around the site with his wife before making the decision to take it.
Last month, the project reached its first major landmark when British Land submitted an outline planning application to Southwark council for a masterplan for Canada Water (see "How Canada Water will be transformed"). On the same day, the FTSE 100-quoted property company announced that it had secured a master development agreement with Southwark council for the 53-acre site.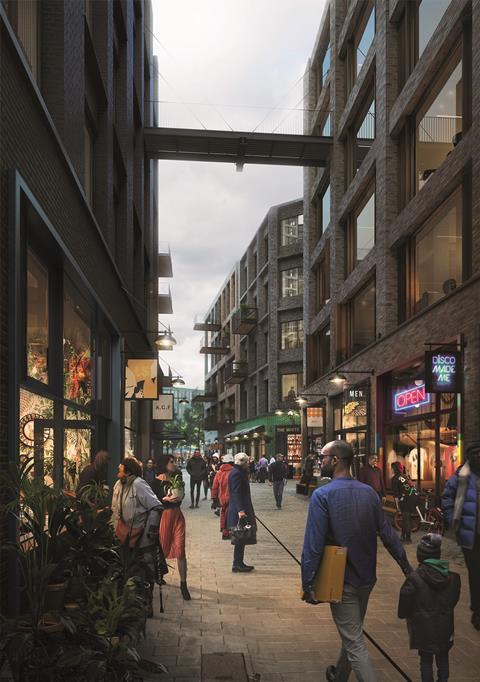 The other side of the tracks
So can Madelin make a success of yet another major regeneration project? Or could south-east London prove an even tougher nut to crack than King's Cross?
On a tour of the site, Madelin is keen to point to the parallels between Canada Water and King's Cross: the sites are about the same size, and are both in nearly freehold ownership and with vacant possession.
"That's Roger's genius: he does things for rational commercial reasons as well as for all the other good ones"

Chris Brown, Igloo
King's Cross was far from a slam-dunk project when Argent took it on in the late 1990s. At the time, what was to become Google's new home was a far from salubrious district. But while King's Cross is on the edge of central London, next to two mainline railway stations, Canada Water is further off the beaten track. "This is massively more marginal," says Jackie Sadek, chief executive of UK Regeneration, another seasoned regeneration specialist.
"It's certainly not on most people's maps," agrees Adam Challis, head of UK residential research at JLL, which has provided strategic advice for British Land on the scheme. "The connectivity of Canada Water is good, but nowhere near the same as King's Cross."
A parallel Madelin doesn't draw attention to is that the area, like King's Cross, has a long and chequered planning history. The Surrey Quays shopping centre, which occupies much of the site, is a legacy of the late 1980s, when it was the first part of Docklands to be regenerated. Its low-rise retail and manufacturing sheds reflect the era's stunted ambitions about what could be achieved in such an area, run down since the collapse of London's docks due to containerisation.
But as Madelin says, "King's Cross, White City and Stratford to an extent have proved that new places can be great quite quickly."
"King's Cross, White City and Stratford to an extent have proved that new places can be great quite quickly"

Roger Madelin, British Land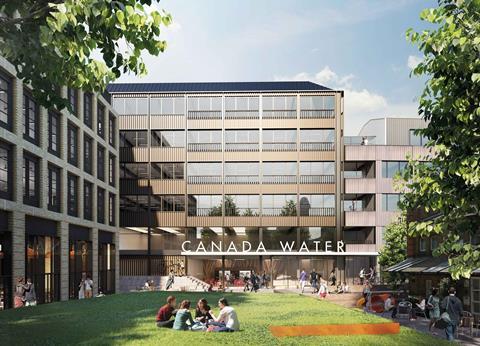 British Land and Southwark signed an earlier development agreement for a smaller, 16-acre chunk of the site in 2005, only a part of which was built out, in a joint venture with Barratt five years ago. Over the last 10 years, British Land has been assembling the bigger 53-acre site, kicking off with its acquisition of a 50% stake in the Surrey Quays shopping centre in 2009 and culminating in the £135m purchase of the neighbouring leisure park six years later.
When Canary Wharf's regeneration kicked off in the 1990s, it rapidly outstripped its ugly sister across the water. But the seeds of a more profound transformation were laid in the late 1990s when Canada Water became one of the stops on the Jubilee line extension, which linked Docklands and south-east London to the city centre. It is only one tube stop from Canary Wharf and two from London Bridge.
When the East London line, which also ran through the station, was extended earlier this decade and incorporated into the London Overground network, Canada Water became a major transport interchange. Greater London Authority plans for a walking and cycling bridge from Rotherhithe to the Isle of Dogs will make it even easier to get to Canary Wharf, while linking into the east London cycle super-highway.
At present, barely one-fifth of passengers going through Canada Water get off at the station, with many using it to change between the Jubilee line and the Overground. But these infrastructure improvements have brought Canada Water and south-east London a dramatic increase in home prices in the past 20 years – a major incentive for the area's regeneration. The average home price in the surrounding SE16 postcode has increased by 300% to just over £500,000 during this period.
"[The British Land project] is full-on, large-scale property development, driven by what happened to residential values and the improved transport links down there," says Chris Brown, chief executive of the Aviva-backed Igloo regeneration fund, which is not linked to the project. Challis agrees: "Value growth has created the opportunity to make changes."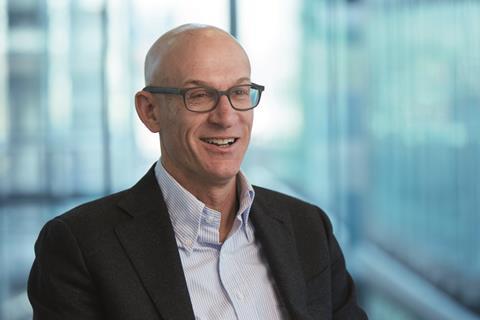 Roger Madelin: regeneration mastermind
Age: 59
Role: Head of Canada Water development at British Land and a member of the executive committee
Previous roles: Development director then chief executive of Argent (1988 to 2016)
Major projects while at Argent:
Brindleyplace, Birmingham was the first major inner-city mixed-use scheme in the UK, built during the 1990s. It includes canalside leisure and retail facilities. Now more than 8,000 people work in the area.
Thames Valley Park in Reading was built on what was previously the heavily contaminated site of a power station. Completed in 2000, it now provides 1.5 million ft2 of business space, a large riverside park, and a nature reserve.
King's Cross is the largest mixed-use development in single ownership to be developed in central London for more than 150 years. In total the 67-acre site was planned to have 50 new and refurbished buildings as well as 20 new streets, 2,000 homes and 23 acres of open space. The area even had a new postcode created for it: N1C.
Manchester Piccadilly took underused brownfield land and created new homes, offices, cafes, leisure facilities and a 300-room hotel. Buildings are set around a large piazza and link to the adjacent central train station via a new footbridge.
Interests: Gliding, aerobatics, hot air ballooning, mountain biking, triathlons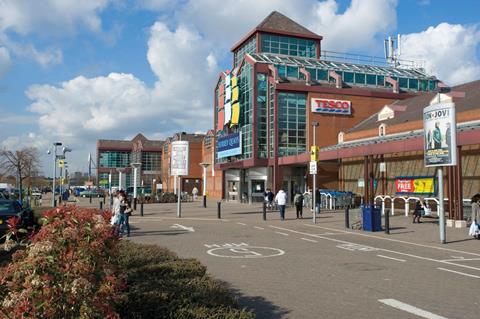 Home improvements
Canada Water's relatively peripheral location means that the focus is likely to continue to be on housing rather than workspace. "King's Cross, being on top of such a major transport interchange and on the edge of central London, probably had greater prospects for office use than Canada Water, where the balance will be more towards residential," Brown says.
Despite the glut of luxury flats being built a few miles upstream in Nine Elms, there is ample opportunity to develop homes here. For one thing, Canada Water is more affordable than many other parts of inner London, meaning the homes built there will be affordable to more of the buying public. "It's more attractive for normal Londoners, whereas Nine Elms is pretty rarified," Challis says. "A big chunk of the mainstream market is in play at Canada Water."
The growing credibility of build-to-rent in the eyes of investors – partly thanks to a more supportive planning policy – helps, as it enables developments to be populated more rapidly, thus providing footfall for shops and leisure outlets. "Build to rent not only helps the cash flow but animates the space much earlier," Challis says. "It's not just plonking a load of residential towers; this about creating a genuine destination."
Safe hands
While its past schemes include Regent's Place near Euston, British Land has never previously tackled such a big city building project as Canada Water. That is why, Brown says, it was such a smart move for chief executive Chris Griggs to hire Madelin. "He has all the skills. He's not just a super smooth salesman, he has the credibility of having done it before. Roger will do a better and more mixed scheme than a housebuilder would ever have done." Sadek agrees it was a masterstroke to bring Madelin on board. "He is the most patient developer in the world," she says. "If anybody deserves to pull it off, it's him."
Challis adds that, as a real estate investment trust (REIT), British Land is a committed investor with the incentive to deliver the kind of long-term programme required at Canada Water. "British Land, as a REIT, has got a real intrinsic commercial driver and desire to see long-term value growth and for the place to improve. It wants to see the place work and become cohesive, because in commercial terms it is the beneficiary of that." It is also one of the few real-estate companies with the balance sheet strength to ride out the market cycles over the decade or more that it will take to build out a scheme of Canada Water's size.
Another plus point is that Canada Water is one of the few big inner-London sites that does not involve rebuilding a council estate, which can bring challenges such as resistance by residents to demolishing homes and compulsory purchase. Nevertheless, British Land has been keen to ensure the council is on-side, as demonstrated by the signing of the development agreement.
"Roger knows this stuff is all about politics," says Brown. "They are going to be doing stuff to the facilities that the people down there use, whether it's shops or cinemas, so you have to take them along with you." The firm has been supporting voluntary groups providing education, employment and enterprise projects in the area.
One thing is not in doubt: it looks like another long haul for Madelin, so it's a good job he seems to get such a buzz out of it.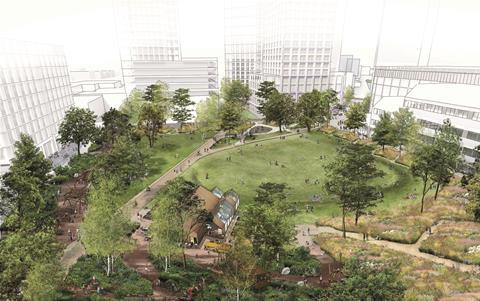 How Canada Water will be transformed
"More exciting than King's Cross" is how Roger Madelin describes Canada Water. This isn't just a developer's natural willingness to talk up his latest scheme; Canada Water boasts "more homes, more retail and more leisure" than his last showpiece project.
The overall masterplan for the 53-acre site is expected to deliver up to 3,000 homes, 2 million ft2 of workspace and 1 million ft2 of retail, leisure and community space. The first phase incorporates a total of 1.8 million ft2 of mixed-use space, comprising 1 million ft2 of workspace, 250,000ft2 of retail and leisure space and 650 homes. Subject to receiving planning approval, British Land plans to start construction of the first buildings next spring and have the first workers at their desks in the scheme's office space by 2022.
The overall scheme will be kickstarted by the redevelopment of the sprawling car park separating Surrey Quays shopping centre from Canada Water underground station, which has been earmarked for three new buildings. While the company is seeking outline permission for the whole site, it is also pushing for detailed consent for this trio of buildings, which will contain a mix of workspace, homes and a new leisure centre.
Two have been designed by Allies and Morrison, while the third is still on the drawing board at Duggan Morris. Of the 250 flats to be developed in the first three buildings, 35% will be a mix of social rented and shared-ownership homes, some of which Southwark council may take for itself, says Madelin.
The heights of the three buildings will range from six to 35 storeys, to ensure compliance with the viewing corridor from Greenwich Park to St Paul's Cathedral, which cuts across the car park. However, the Canada Water site as a whole is hemmed in by fewer height restrictions than the similarly sized King's Cross, according to JLL's Challis.
Later phases will see the redevelopment of the Surrey Quays shopping centre, which is anchored by a Tesco Extra hypermarket. Madelin claims that, despite the widely proclaimed woes of the retail sector, nearly all of the centre's 41 tenants want to return, including Tesco.
It will be a very different space from the conventional covered mall now on the site. Much of the centre will be open to the sky, with units fronting onto narrow streets modelled on the historic warehouse district of Shad Thames, located a couple of miles upstream from Canada Water. And Madelin hints that the Tesco replacement store may have housing on top, like Sainsbury's Fulham branch.
Few of the site's existing buildings will be retained; most will be bulldozed, including the existing leisure centre. An exception is the former Daily Mail printworks, a hulking presence on the eastern side of the site. Madelin is clearly keen to retain the 400,000ft2 building, which is currently generating revenue for its owner by hosting a variety of club nights and special events, such as Nike's launch of the England World Cup football strip.
Architect Hawkins\Brown and engineer Waterman are working on plans to reconfigure the former printworks as a combination of offices and performance venue. Igloo's Brown suggests that other developers might have been tempted to demolish the printworks to pack in more conventional development, but he admires Madelin's decision not to, saying: "That's the kind of placemaking deal that most people in our industry wouldn't get, and yet it's something that is absolutely transformational in terms of financial value and placemaking."
There's another good reason for not knocking it down: the cost of demolishing the printworks' thick walls. "That's Roger's genius: he does things for rational commercial reasons as well as for all the other good ones," says Brown.