Miller Construction may be known as a regional SME, but its boss has ambitious expansion plans that involve grabbing market share from some of the biggest names in the sector.
Joey Gardiner asks him how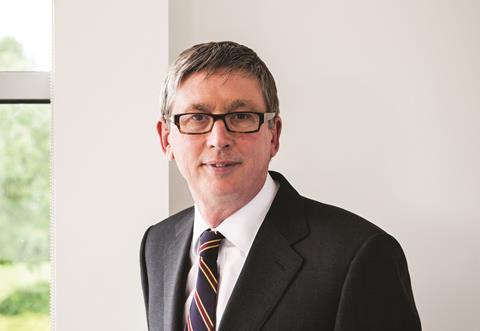 It's probably only a certain type of person who can truly say he or she was inspired by the M62 motorway. For most people who have spent time living in any part of that east-west corridor across the north - Liverpool to Hull via Manchester and Leeds – it's an obstacle to be overcome, not a life-changing epiphany. But Chris Webster, chief executive of Miller Construction, the £240m-turnover construction arm of the family-owned Miller Group, has a different view.
"As a youngster I drove past the major construction site [for the M62] one day and decided that's what I wanted to do. I wanted to be a contractor. And I went off to university and studied civil engineering. And I've been a contractor all my life," he says.
And if it takes a certain sort of mindset to find inspiration in the grey concrete overpasses of a motorway, then maybe it takes a similar attitude to life to see opportunity in the current economic environment. Because far from retrenching, Webster's Miller Construction has embarked upon a confident expansion drive. After arriving from construction and services giant Amey two years ago, Webster has been on a mission to transform the company from a regional SME contractor to a major national player. And right now, he says, he's on track to hit his target of £600m turnover by 2015, a staggering 150% growth on last year's numbers. Furthermore, he says he's going to do it by taking market share from the biggest and most successful contractors in the UK. So just who is Webster, and how on earth does he think he can do it?
Born in 1958, Webster grew up in Knaresborough, just north of Leeds. After getting his degree at Manchester University he spent 10 years at contractor Marples, before commencing his 20-year stint at Amey, where he became chief operating officer, controlling the entire construction and services business with the exception of the Tube Lines franchise. He left in March 2010 when a planned succession to chief executive failed to materialise, and started at Edinburgh-based Miller in September the same year. "Funnily enough," he chuckles, his mild Yorkshire burr coming though, "I never did build a motorway - managed plenty of them, but never built one, that's the truth of the matter."
Ever the optimist
Joining Miller in 2010 could have been a risk. Following the credit crunch the wider group, which includes housebuilding and mining businesses, was left with an unsustainable £700m debt pile, and posted losses of £159m in 2010, with revenue halving between 2008 and 2011. This was on the heels of a family row that shook up the ownership of the firm, and in a market where regional players were being mercilessly squeezed by the downturn.
However, the construction business remained in the black, reporting reduced profits of £10.4m last year. And rather than trouble, Webster says he saw an opportunity. "I was very conscious I was moving into the market at an apparent low ebb. And the Miller brand is hugely strong. But what excited me was that it was an opportunity to create something in an emerging market as opposed to a booming market."
Batting against the big guys, we've got the quality and the technical expertise, so there's no reason we can't do as well as they do
His decision was in part vindicated earlier this year, when the wider group closed a refinancing deal with its banks and private equity player Blackstone, reducing its debt by more than £300m, giving the investors a reported 50% of the business, and Miller a positive balance sheet with cash to grow. Good thing too, as his vision is unashamedly ambitious: to create a top tier contractor. He commenced by creating a regional structure with four divisions: South, Midlands, North and Scotland. He has brought in 80 staff in the last year, bringing the business up to 500, and taken senior figures from Laing O'Rourke, Carillion and Willmott Dixon.However, he says the move is ultimately more about changing the attitude of what was a traditional building business. "I would describe myself," he says, "certainly not as a builder, but as a businessman. It is about taking a service mentality and a client [focused] approach. Which is all about understanding the client's language, [and] understanding what the client wants out of the building, or the asset - understanding how we can deliver value to that asset, and build that relationship and provide a better offering, and having invested all that time and effort, get repeat business through that."
While turnover fell sharply in his first year in charge, a product he says of the volume of work being won - or not being won - before he arrived, Webster claims his approach is already delivering results. Internal figures show the monthly volume of work won has already increased from an annual rate of £170m in 2010, to just under £500m this year. Turnover for this calendar year will be about £300m, and increase by a ballpark £100m each year till 2015.
But he maintains the strategy is not about volume. "The absolute essence behind what we're doing is winning quality work. What we're absolutely not doing is driving the price down because that's not an intelligent game.
"Success isn't about whether next year's £350m or £450m. It's about building a sustainable business of size, as opposed to meeting some one-off annual target. So actually what's really important is everything pointing toward meeting that £600m 2015 figure. And more important than that is that it is a quality £600m rather than a dumb £600m."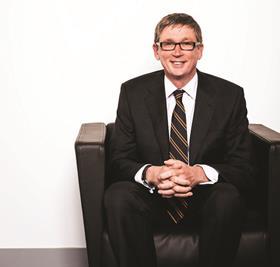 Taking on the big players
All of which is easier said than done in a cut-throat market where the volume of work is shrinking. Nevertheless, he sees opportunity in targeting the blue chip clients who have traditionally used the biggest contractors - firms that are now downsizing their UK construction businesses.
"There are organisations that," he says, "are actually backing out of the market at the moment. Some of the big guys."
When pressed he doesn't hesitate to name the firms whose work he is targeting: "It's the Balfour Beatty's, Carillions, Morgan Sindalls and the Bams that are complaining about turnover. We are without a shadow of a doubt taking an element of [their] market share.
"Batting against the big guys, we've got the quality and the technical expertise, so there's no reason we can't do as well as they do. And then if we all do equally as well then we'll get bigger and they'll get smaller. That's basic arithmetic."
He maintains he won't be doing it by low-balling the big players. "The opposite to our philosophy is people think you only make money by spending more of your clients' money," he says.
"However, I genuinely believe it's good business to make a return, a reasonable profit, by applying your intelligence in being able to offer your client a service that enables you to save him money rather than cost him money."
To this end he is building up front-end and back-end services offerings for clients. This includes consultancy, programme management and sustainability advice at the front-end, and asset management and facilities management at the back-end. Though these services will mainly be sold to its traditional construction customers, he nevertheless thinks that together this capability could provide a quarter of Miller's construction revenue.
I believe the government have got the message and will be spending money in the next 18 months through the construction industry to boost the economy
Frameworks are a particular focus, with Miller having won places on a number of the largest, including the IESE and Scottish Northern Hub, and the firm now starting to pick up hospital work after a slow start on the Procure 21+ framework. He also points out that his growth strategy, while supported by this February's refinancing, pre-dates the arrival of Blacktone's private equity money. Therefore, he maintains, Miller can't be accused of timing this turnover push to suit a particular exit strategy for Blackstone at a later date.
It all sounds a bit too good to be true. The reality is the firm still faces major challenges, for example in diversifying its customer base. Education projects made up 50% of its 2011 revenue - a third this year - a market that, while still significant, is on a clear downward trajectory. Miller's commercial work has reduced ("we await the return of the commercial market") and its foray into defence work has been hit by the Ministry of Defence's 18-month delay in procuring its next generation estates contracts. Other target market include rail, community regeneration, energy and science and technology. Webster is also concerned about the recent rash of collapses in the supply chain, and the firm's most recent annual report identifies vital specialist suppliers as a key risk to the business.
Above all, though, Webster is an optimist, and supporting his growth strategy is a conviction that, far from the decade of stagnation some are predicting, the economy will look better within the next 18 months. Indeed you sense his frustration at the rest of the country and the industry for failing to grasp the opportunities still out there.
"Whichever number you pick the industry's gone down from around £48bn to £40bn - it's not an industry with no work. There's work out there," he says.
Besides, he is hopeful things will change soon. "I firmly believe the government have got the message and will be spending money in the next 18 months through construction to try and boost the economy, and that organisations of that size will feel better about life in 2014 than they do in 2012."
"Yes the big guys need the market to come back, I can understand their concerns. But I do think we're a nation of whingers, and actually we're also an industry of whingers. I think there is life out there, you just need to work harder to benefit from it." If the market does come back as he thinks, it's a fair bet Miller Construction will be taking a bigger share of the work than it was before the downturn. Carillion, Balfour Beatty and the rest can consider the gauntlet well and truly laid down.