College will be used by more than 8,500 students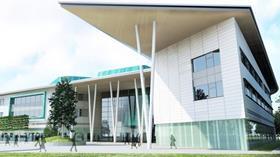 Miller Construction has been appointed to build a new £75m complex for Inverness College.
The college is moving from the Longman in Inverness to a new campus on the outskirts of the city.
Construction work on the college for more than 8,500 students will begin early next year.
The new Inverness Campus will also provide a base for the University of the Highlands and Islands (UHI).
John Spencer, principal and chief executive of Inverness College UHI, said: "We are certain the project will create many local construction jobs to boost the Highland economy.
"We expect completion to be in time for the start of the 2015 term.
"We are extremely excited to have a new purpose-built state of the art facility which will not only reflect the work of our students and staff but will also provide a superb student experience."
Chris Webster, chief cxecutive of Miller Construction, said: "Our teams worked extremely hard on local employment initiatives and community benefits and we look forward to delivering these as part of this prestigious project."