What made the Olympic build such a success? Jason Millett, head of delivery partner CLM, shares the secrets of UK construction's shining moment – and his one regret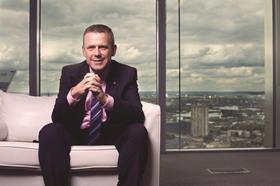 When Jason Millett says that construction is in his blood, he means it. Discussing his meteoric career in his 17th-floor Canary Wharf office, the man who has helped mastermind arguably the largest and most successful building project in UK history, says he began by following in his dad's footsteps.
"My father worked in civil engineering for years, building tunnels and roads up and down the length and breadth of the UK," the youthful chief executive of 2012 Olympics delivery partner CLM says. "I probably did things you couldn't do now. I used to spend my summer holidays, in my formative years as a teenager, working alongside him. He worked on projects like building the M11, a lot of the major motorways. It was always in my blood to move into construction and my career choices were quite simple. I'd made up my mind before I left school that this was the industry I wanted to be in."
The softly spoken Millett, a Mace director who was promoted from the role of deputy programme director of the joint venture – comprising CH2M HILL, Laing O'Rourke and Mace – to become its boss in January, clearly has more experience to draw upon than you would expect of a 47 year old - he was famously made CEO of Bovis Lend Lease at the age of 38 in 2003. Now, with just a month to go before the eyes of the world fall on UK construction's great victory, what does he believe lies behind this success? What, if anything, would Millett change about the Olympic build programme if he was now given the chance? And can the industry really learn the lessons of the 2012 achievement?
A compelling partnership
Delivering the Olympic park on time and under budget was fundamentally about managing relationships, Millett argues. At the very beginning of the process in 2007, that involved working out precisely what role the two halves of the client, CLM and its public sector partner the Olympic Delivery Authority (ODA), would adopt.
"Like all marriages, it's a case of understanding who's going to do what," he says. "Once we had clarity around those roles and responsibilities, it became a very powerful team."
Millett says this "compelling" partnership created a new type of client body. "We [CLM] weren't just a programme manager - the ODA bought a delivery partner," he says.
That partnership saw CLM bosses sitting down week in week out with successive ODA chief executives David Higgins and Dennis Hone to manage the job and identify problems at an early stage.
And once the team was in place, the "highly incentivised environment" created by the use of contracts such as NEC3 - which is designed to reward the hitting of deadlines while promoting collaboration and sharing risk - was also a key plank of success, Millett argues. He also points to the importance of quality assurance, which he says was "mundane" yet effective.
Crunch times
But it would be wrong to think the goals were just about time and money. "We had lots of other aspirations to fulfil – about apprentices, getting people from the local community involved, health and safety, being the greenest Games and the most inspirational Games," he says.
Millett seems acutely aware of the social impact of large construction projects and repeatedly stresses the importance of using a local and directly employed labour force and of training. When asked what he would change if he had his time again on the Olympic park, he is silent for a full 10 seconds before admitting that he would have liked to have achieved more in terms of benefiting the local community and the industry. "We've had a tremendous record with apprentices. We've had 450 apprentices … but you've got to bear in mind that when we started we were in a boom period. Now jobs are scarce for young people.
"That would be one thing I'd want to do differently - how you get more young people in the industry and staying in the industry."
Asked about the largest obstacle that Millett and the client team have faced, he evokes the spectre of the credit crunch, which in 2008 forced the government to bail out two of the largest elements of the Olympic park. "What was most testing was when we had to change the procurement arrangements for the media centre and the [athletes'] village because they were lined up to be private-sector-funded deals," he says. "Because of the way the market collapsed, it became more efficient to fund them through the public sector. That, I would suggest, was the biggest challenge that the ODA, CLM and [athletes' village development partner] Lend Lease had to work through."
Repeating the performance
While not everything has been rosy in the 2012 Olympic garden, the overall result has been almost universally held up as an outstanding accomplishment. So, will UK construction really be able to replicate this level of performance on anything other than the largest jobs?
Millett reckons that it can, stressing that the means to such success are neither complicated nor novel and that such lessons are already being widely shared through the ODA's learning legacy programme.
"We've not been an innovator," he insists. "A lot of what we've done has been down to the execution of tried-and-tested techniques.
"Look at health and safety. We've not really done anything new in terms of health and safety. What we have done is been quite belligerent at times on the execution.
"I would argue you could do that on a £100m job, the same as you could on an £8bn job."
On the other hand, Millett admits that the industry has yet to demonstrate consistent performance and says that the unique nature of the Olympic event served as a rather artificial advantage. "The Olympics is very easily understood and communicated," he says. "It's a sporting event that the average man in the street can recognise. So in terms of getting your message out and stressing that it has to be finished on time and that the quality has to be right and so on, it's easy to translate."
Asked what's next for him, Millett says he expects to return to Mace next year in a global programme management role. "Obviously Mace is a very successful business with a great brand," he says. "We're going to break through the billion-pound turnover ceiling for the first time this year … so Mace is a good place to be."
It will be hard to top his Olympics role but Millett's life-long love affair with construction shows no sign of ending.

Millett on …
… the No Marketing Rights Protocol
Back in 2006, journalists were looking to write a bad news story and they've not been able to do that because the industry has risen to the challenge and performed well.
That's not just CLM and the ODA. Lots of people have performed really well and put this country on the map. My personal view is we should be allowed to celebrate and use it to the benefit of the people who have been involved.
… why temporary venues are the future
This Games has used more temporary venues than any other and it's a new blueprint for the International Olympic Committee. As CLM, we encouraged the ODA not to use only [the largest] tier one contractors for temporary venues. What we ended up with was a quasi-construction management approach where we subdivided the works into a number of elements.
The main driver for that was that the expertise lies with the specialists. We've delivered the basketball arena, the water polo arena and the Eton Manor sports complex through that method.
… his love of cycling
I've done it for years, even before it became the new golf. Cycling seems to be a very powerful way of networking in construction - you get these people getting together and having a cycle in Richmond Park before they go to work.
I shouldn't say this but some of us had a sneaky go on the velodrome two or three nights before it was handed over. We had a spin round … until you get used to it, it's scary on those 42-degree banks. Joking apart, I can see it being great for legacy use.