That London has gained a new landmark is largely down to the commitment of Sellar Property Group, whose 'vision, grit, commercial nouse and great skill' gave the city The Shard
WINNER Sellar Property Group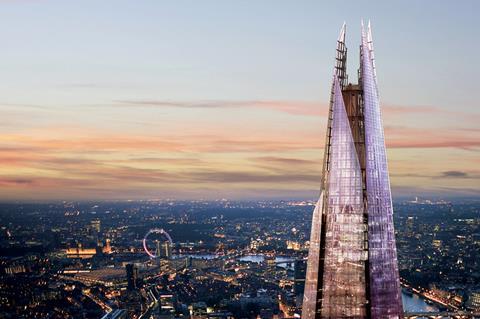 2012 has been Sellar's year - the Year of the Shard. Over 12 years in the making, the 95-storey, 306m skyscraper now towers over London Bridge and forms an instantly recognizable spike in the London skyline. As one judge said: "Sellar have had the courage to create a landmark that has 'recalibrated' London". While the Renzo Piano-designed Shard cannot be said ever to have looked easy, its birth was particularly hard, with knock-backs in securing planning and funding. It is Sellar Property Group's "indefaguigability" that has brought it to final and triumphant fruition. The final word goes to the judges: "Sellar has shown vision, grit, commercial nouse and great skill in delivering an international land mark and a pillar of London and the UK's future."
RUNNERS UP
Crossrail
With work increasingly hard to come by, in 2012 Crossrail was, for many firms, The Big Project. In fact, it is Europe's biggest construction project. The ambitious plan to connect London and the Home Counties via 73 miles of rail track and 39 stations has led to thousands of contracts awarded to the construction industry. It has called on expertise from architects to design its nine new stations to tunneling specialists to work on its 25 miles of tunnel. Tier one contracts awarded have topped £5bn, a much-needed shot in the arm for construction. For this, and for sheer scope and ambition, Crossrail is to be applauded.
Derwent London
Dewent has made its mark on London in 2012. Specialising in regenerating commercial properties in the capital, its design-led approach has led it to work with a wide variety of architects on schemes including the Turnmill building on Clerkenwell Road. As one judge said, the company seems to "go from strength to strength, with more imagination than most developers". At the end of 2012, it had 495,000ft2 of major projects under way, with a further 422,000ft2 set to start in 2013. One judge said: "Derwent's innovative approach in investing in quality is laudable and they act as a good role model for REITs which I wish more would follow".
Network Rail
Some of 2012's most prestigious schemes have had the name 'Network Rail' behind them. The redevelopment of London's King's Cross station. High Speed 2. The transformation of Blackfriars Bridge into a station spanning the Thames - and the £5.5bn Thameslink upgrade programme of which it was part. The redevelopment of the Borough Market area around London Bridge. New lines and stations for the 2012 London Olympics. The £600m redevelopment of Birmingham New Street station. But Network Rail has also continued to provide bread and butter work. In January 2013, the company announced £16bn to be spent over the next five years on replacing and improving rail infrastructure in the UK, under the CP5 plan. The company has also continued to challenge the industry, launching Network Rail Infrastructure Projects in April 2012 with a remit to drive down costs and encourage competition. Network Rail's commitment to sustainability has been sector-leading, as shown by the innovative use of solar panels on Blackfriars Bridge, and the company's own headquarters is nominated in this year's Building Awards for Sustainable Project of the Year. In addition, it announced in November that it would award 5% of all tender points on suppliers' ability to meet its sustainability criteria.
Canary Wharf Group
Canary Wharf Group has, in recent years, ventured far beyond its east London home ground. In December, the Rafael Viñoly-designed "Walkie-Talkie" tower topped out the steel structure of its 37-storeys, a joint venture with Land Securities that now forms one of the capital's newest landmarks. In the pipeline is the redevelopment of the Shell Centre on London's South Bank with investor Qatari Diar. But it is also working closer to home, with the construction of 20-storey tower at Churchill Place, which will complete its original masterplan for the area. In Docklands, too, more is planned, with Wood Wharf, the £2bn, 4.7 million ft2 mixed-use extension to Canary Wharf to be built in phases over 10-12 years.