Lakesmere's work on difficult projects such as Heathrow's Terminal 2 impressed the judges
WINNER Lakesmere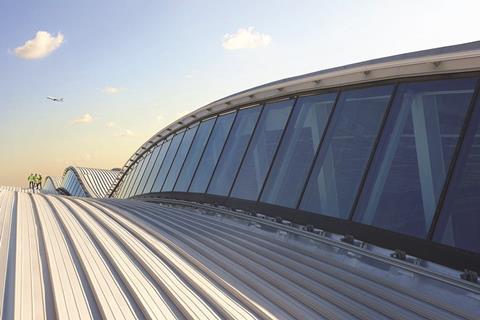 This year's winner has had a bumper year with turnover up 15% to £54m and operating profit up 256% to £342,827 between 2011 and 2012. In the last three years turnover has grown 28%, while operating profit is up 40%. Lakesmere puts this success down to long-term planning, strong leadership and management controls, its £10m cash reserve and new market opportunities. Major new projects include roof design and installation on the new Heathrow Terminal 2 building. The firm also expanded into the Middle East, winning its largest single order yet with the roofing contract for the King Abdullah Aziz airport in Jeddah. The judges praised Lakesmere's strong safety record, international growth, work on large and difficult projects and healthy financials.
RUNNERS-UP
Fire Design Solutions
Fire Design Solutions increased its turnover in the last year by 27% to £7m, while its net profit increased by 41% to £1.5m (its operating profit was up 19% to £1m). The company reports that its staff grew from 34 to 43 in the last year and that two new directors were appointed to lead the company's strategic planning. The firm also says that it established itself in the residential sprinkler systems market for the first time in 2012 and that, due to a change in its remit on the Greenwich Reach project in London, its contract value increased to £998,000 - the largest in the firm's history.
FK Group
In the last year FK Group has increased its revenues by 3% to £28m and its operating profit by 14% to £1,774 [chk]. In the last three years its income has increased by 14% and its operating profit by 11%. In the last year the company reports that its headcount has increased by 3%. 2012 saw FK Group launch its EnvoCare Maintenance business, which provides detailed site assessments in order to establish lifecycle maintenance costs and prepares tailored maintenance schedules. The company says that the service can reduce the need for callouts and repairs and can increase the life of a building by 10 years on average.
Multitech Site Services
Temporary electrics and plumbing specialist Multitech Site Services has seen steady growth in the last year, with turnover increasing 9% to £6m and operating profit up 60% to £800,000. The firm has also increased its construction staff by 17% in the last year, from 70 to 82. In the last three years the company's turnover has grown by 58% and its operating profit by 122%. Key projects in the last year include the Warner Bros Leaveden Studios and the Crossrail station at Bond Street. The company also claims an excellent health and safety record, with 0% rolling AFR over 20 months
NG Bailey
After a difficult couple of years, NG Bailey's construction turnover increased in the last year by a respectable 12% to £377m and the company's operating turnover leapt 243% to £4m. The overall group figures are also impressive, with turnover up 10% to £459m and operating profit up 276% to £7m. The company, which is over 90 years old, says that it has won significant new clients in the last year, including the likes of the NHS, Network Rail, Arla and Morrisons. Recent projects include the Western Concourse project at London King's Cross station, Birmingham New Street station and ManchesterTown Hall.
Vital Energi
Vital Energi has seen its construction turnover grow 61% in the last year to £47m, while its overall group turnover increased by 67% to £51m. Construction operating profit is up 76% over the last year to £3m and group profit is up 276% at £3.3m. In the three years construction income has increased 103%, while construction operating profit is up 190%. The firm says that it provides a complete sustainable energy service and that it contributed new heating systems for major clients such as Center Parcs and Edinburgh University in the last 12 months. In the last year the company has also completed projects including the athletes village for the Glasgow 2014 Commonwealth Games and York University's new campus.