Skills shortages mean salaries in the sector are rising more rapidly than inflation, and more people are looking to move jobs. But while employers are still hiring, Brexit has introduced a note of caution. Joey Gardiner reports on Hays' latest consultants' salary survey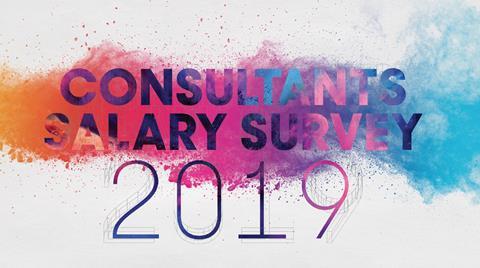 Given the repeated dire warnings about what will happen if the UK leaves the EU without a deal – as it still might do – you'd be forgiven for assuming business confidence has crashed through the floor. And, consequently, that construction employers are pretty reticent about taking on new people. But the data from Building's annual consultants' salary survey, conducted in partnership with recruitment firm Hays, finds little evidence of imminent catastrophe.
Richard Gelder, built environment director at Hays, says: "You look at the news and you'd get the impression the world is ending. But actually we're still pretty much at peak market. For most it feels like business as usual."
Certainly, the data from the survey suggests things for now are steady as she goes. The average salary rise across all job roles surveyed is 2.6%. Although technically the lowest for five years, this represents a continuation of the modest 2.8% average growth recorded in 2017 and 2018.
While this is not exactly stellar, it does mean construction consultants' salaries are rising significantly more than the 1.9% average rise in wages across all industries in Hays' latest trends guide – and, vitally, at a faster pace than the current 2% rate of inflation.
"We've got virtually zero unemployment in the sector. There's more work out there than there are people to do it"

Richard Gelder, Hays
But the "business as usual" mantra belies a skittishness in many businesses about future prospects in the light of Brexit, with many watching events closely and preparing to react quickly if necessary. At the same time, for many employers the bigger questions are around how they bring in new digital skills to their organisations, and how they improve their overall offer to attract the most talented without busting loose on salaries.
Top salary increases

| Role | Average salary | Increase |
| --- | --- | --- |
| Senior technologist | £37,708 | 3.8% |
| Technologist | £28,521 | 3.7% |
| Senior surveyor | £46,125 | 3.5% |
| Associate building surveyor | £54,583 | 3.4% |
| Partner/director building surveyor | £69,854 | 3% |
| Partner/director professional QS | £73,229 | 3% |
| Associate architect | £47,333 | 3% |
| Partner/director architect | £59,896 | 3% |
Uncertainty principle
The data from Hays, which combines information from its placements in 34 different engineering, architecture and surveying job roles over the past 12 months – obtained through an employer and employee survey – suggests a remarkable degree of consistency across disciplines and regions. Where previous years have seen double-digit salary rises in some disciplines while others fell, this year there are very few roles or regions in which staff have experienced anything other than steady rises of between 1% and 4%.
"What we really need to do is future-proof our business by bringing in the digital skills we will need"

Lucy England, Arcadis
That, of course, means existing disparities in what you can earn in a particular function or location compared with another remain largely unchanged. A senior QS still earns significantly more than a senior architect – £49,000 compared with £37,000 – for example, while Londoners still earn more than everyone else. A partner in a QS practice in the capital earns on average £100,000 – two-thirds more than someone doing the same job in the North-east.
These modest increases reflect an industry that can do little other than proceed as if Brexit is not happening. Meanwhile, for many, the market is still buoyant. Adrian O'Hickey, senior partner at 620-strong consultant Ridge & Partners, doesn't perceive Brexit as a major threat to the economy, and says the firm is expecting strong growth in staff levels of 5%-10% this year, after nearly 15% growth in 2018. "We see this year as stable and growing. There's more than enough work out there," he says.
But while employers are still keeping their eyes open for talent, there is a note of caution. Daniel Harris, head of talent acquisition for Europe at engineer Mott MacDonald, which has more than 800 vacancies – 80%-90% of them UK based – across its 6,500-strong EU business, says: "The uncertainty is the thing at the moment, but we've just got to carry on. We've got technology which allows people to work on projects from all different parts of the world. We will deal with any issues as they arise."
At Mott MacDonald, Harris says, caution has seen them reinforce existing recruitment policies designed to ensure jobs are offered internally first, so that new people are only brought in when absolutely necessary.
"There seems to be more discipline. Bidding wars and silly money doesn't really help anyone. It's not sustainable"

Daniel Harris, Mott Macdonald
Similarly, Lucy England, HR director at engineer and surveyor Arcadis, says her firm is making doubly sure that any recruitment plans align with the known pipeline of work. But, again, this is not pulling on the handbrake, simply reinforcing good practice. She says: "It's business as usual. We're making absolutely sure through strategic workforce planning that the people we have match the skills needed and projects in the business."
Past five years

| | Average rise |
| --- | --- |
| 2019 | 2.6% |
| 2018 | 2.8% |
| 2017 | 2.8% |
| 2016 | 4.0% |
| 2015 | 5.5% |
| 2014 | 2.0% |

Shortages
Hays' Gelder says candidates themselves are exercising "a bit more caution when thinking about moving jobs – some are saying they'll wait a few weeks and see how things pan out with Brexit. Everyone's got one eye on the future." Hays' survey nevertheless finds 54% of employees intend to move jobs this year – actually slightly higher than the 48% reported last year.
While the Brexit political process rumbles on, the far bigger issue for employers remains skills shortages. The survey finds nine out of 10 employers report skills shortages and one in five say these shortages are "extreme". Gelder says: "We've got virtually zero unemployment in the sector. There's more work out there than there are people to do it."
For some employers, the perceived risk posed by Brexit is less about the threat to their workload, and more about reduced access to skilled professionals and the unsettling effect on their existing EU staff. Arcadis' England says: "Brexit is actually just shining a light on the fact there are such severe skills shortages in the UK. It's forcing us to think even harder about how we attract great people and drive diversity to target a greater range of people."
Hays' data indicates that this year, as in recent years, surveyors are among the hardest to recruit, with the top salary rises dominated by various surveying roles, in all of which salaries have risen by more than 3%. Mott MacDonald's Harris says: "Project managers and QSs are still very difficult to find."
In some ways the wonder is that salaries haven't risen more quickly, given the dearth of people. Between 2014 and 2016, as the industry was restaffing as it recovered from the recession, many roles saw double-digit increases and anecdotes abounded of talented individuals sparking bidding wars. Gelder says employers are now exercising a greater level of control. "Two or three years ago salaries really got away. It had become a bit of a frenzy. Now employers are really getting a grip on what they're paying." Harris, who this year himself moved from Aecom to Mott MacDonald, says: "Yes, there seems to be more discipline. Bidding wars and silly money doesn't really help anyone. It's not sustainable."
What employees want
Hays' survey revealed a considerable mismatch between the perks that employers offer, and what employees most value.
The benefits employers ranked as most important were:
Childcare voucher schemes
Cycle to work schemes
Training and/or professional certification support
Pension provision above the legal minimum
Financial support for professional studies
However, the benefits reported by employees as most important when considering a new role were:
Over 28 days paid annual leave
Pension provision above the legal minimum
Health insurance or private medical cover
Company car or car allowance
Training and/or professional certification support
Digital future
Besides, employers are increasingly focused instead on bringing in hi-tech skills to ensure their businesses are fit for a digital future. The data suggests the two biggest salary rises in the past year were for architectural technologists and senior architectural technologists, both in the vanguard of this movement. However, the bigger shift is that employers are recruiting for roles not previously seen in construction firms. Harris says: "We're trying to bring in software engineers and .NET developers. It's a big issue. We're having to be creative because these people don't necessarily associate a firm like Mott MacDonald as working in this space."
Arcadis, for example, is working with technology start-ups via a joint venture with US technology incubator Techstars in order to bring in these kinds of skills. Arcadis' England says: "What we really need to do is future-proof our business by bringing in the digital skills we will need. For the first time we're competing to recruit against IT companies, web companies. But it's also about how we upskill our existing people," she says.
Flexibility
For traditional roles, the need to keep control of pay while attracting scarce talent is increasingly putting the focus on employers' broader offer to prospective staff. Ridge's O'Hickey says the breadth and variety of work available to Ridge employees is unusual, and is used to attract people. "Money's of course always important, but we're clear that as an employer it's about being able to offer more. We're continually changing what we do to improve our package."
Likewise, England claims this is something to which Arcadis has given a lot of thought. "Reward is not what features strongly in what people want from an employer now. It's about the workplace and the work environment. People want to work for an organisation with a social conscience, with an environmental agenda, that lives its values, and where they can give back to a community."
Hays data suggest that offering flexibility is key to this – with around one-third saying the ability to maintain a good work-life balance was the most important factor aside from salary in choosing a job. The most desired perk was being offered more than 28 days holiday. For example, Harris says Mott MacDonald has just recently changed its standard job advert form to make clear that it is open to discussions with all job candidates about flexible working options.
However, Hays' survey suggests this is an area where many employers come up short. The survey found that 15% of employers still do not offer any common forms of flexible working, and three of the top five "perks" desired by workers don't feature in the top five most commonly offered by employers. Clearly, offering flexible working can be challenging in an industry that has traditionally worked all hours and where clients demand delivery. Gelder says: "Employees appear to be slightly ahead of the curve of some employers, who are having to catch up. Partly this is because it can be bloody hard to address these issues."
However, Arcadis' England rejects this idea: "It's a cultural shift and it's one our people are embracing. Yes, you have to bear clients' needs in mind – but their cultures are changing as well. Agile working is not unusual."
With margins continuing to be tight, employers may have to learn to be even more flexible if they are to attract the best and brightest.