Last week, after just three months as head of the Olympic legacy body, Daniel Moylan stepped down to lead mayor Boris Johnson's campaign for a
new hub airport to the east of London. He tells Joey Gardiner the reasons for the move and why he thinks the government has got it wrong on Heathrow.
Portrait by David Woolfall
From the first second I meet Daniel Moylan he is complaining. He detests having his photo taken, he tells me. He sees absolutely no need for the photographer to take so many pictures, and furthermore photographers are liars one and all - this last with a look and an arch of the eyebrows that suggests it may just be possible to entertain the notion he is joking. "Why can't they just take one photo and be done with it?" he asks, berating but not quite addressing the photographer. Clearly this is going to be a pretty unusual interview.
However, I don't yet know quite how unusual. The first time I speak to Moylan is at the swish Stratford headquarters of the London Legacy Development Corporation (LLDC) where he is chair. But two weeks later we have a second conversation - this time a hastily arranged phone call. It's just one day after he has been unexpectedly replaced by London mayor Boris Johnson and asked to take on an expanded role heading a brand new London aviation unit.
The job is to run a campaign that, if successful, has the potential to result in the commissioning of the most significant civil engineering project in the last hundred years in the UK: a wholly new airport to the east of the capital with an estimated construction value of anything from £20bn to £70bn. The outcome has the potential to effect the future of UK construction even more than the post-Olympic redevelopment. The question, after his worryingly brief tenure at the LLDC, is whether he has what it takes to win the argument.
I have lots of experience of planning - lots of battles and bruises, with the likes of Michael Squire and David Chipperfield
Tory councillor Moylan, seen as a key adviser to Johnson, lasted just three months as chair of the legacy body. London Assembly members refused to endorse his appointment because of his relative lack of regeneration experience. Then, after his removal, one Labour member, John Biggs, described his tenure as a "wasted three months." Yet he is unabashed about the manner of his departure and dismisses any suggestion the swift exit is any kind of black mark against his name. "I leave the Legacy Corporation with a heavy heart," he says. "But I've had no disagreements with anyone. The simple fact - that happens to be true - is that Boris is really fired up for the [legacy] job, and needs me to focus just on aviation.
"He's the mayor, so what he wants to do, he does." For anyone else this might be an extraordinary set of events, but with Moylan, one gets the sense this kind of thing could be all in a day's work. Moylan, who became chair of the LLDC in June, was never your average quango bureaucrat. A highly political - and controversial - figure, he has been branded the "Conservative Peter Mandelson" by the London Evening Standard, a reference that alludes at the same time to his intelligence, his reputation as a formidable political fixer, and his sexuality (Moylan is publicly gay).
As an interviewee Moylan is combative and witty by turn, with a voice like cut glass that belies his Birmingham roots. He has no compunction in occasionally insisting that I'm asking him the wrong thing ("I don't recognise that question"). Certainly it's not hard to see why he remains a powerful yet divisive figure at Kensington and Chelsea where he is a councillor. "I think I have a reputation for getting things done," he says, with a smile.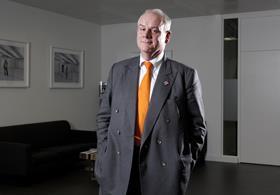 Moylan's expanded aviation role (he was already Johnson's adviser on aviation policy when chair of the LLDC) demonstrates Johnson's desire to step up his campaign for a new airport to the east of London, dubbed Boris island, and it soon becomes clear that Moylan himself is not averse to lobbing political hand grenades into the £50bn debate over the location of new airport capacity.
Up until a few months ago Johnson's opposition to the expansion of Heathrow airport would not have been controversial in the Conservative party, which included a pledge to stop Heathrow expansion in its 2010 manifesto. But with the removal of avowed Heathrow opponent Justine Greening from the transport secretary role, and the setting up of a commission headed by former Financial Services Authority boss Howard Davies to look at how to increase airport capacity in the South-east - reporting after the next election - the consensus is that the Conservative party is preparing for a U-turn.
"The government has adopted an approach which is flawed in two respects," he says, swiftly sweeping aside any lingering fears that party allegiance might keep him from speaking his mind. "Firstly it will take far too long. And secondly it is taking policy formulation away from the people who are elected to formulate policy."
It is a very funny approach to say the planning system is too cumbersome while then parking the decision on one of the most important pieces of infrastructure we'll see for years to come
Is prime minister David Cameron's move just political expediency? "I don't think it's unfair to say that the timescale chosen is intended to put off the decision until after the next election. And you don't need a secret informant to tell you that the Conservatives are re-thinking their stance [on Heathrow]."
Of course it hasn't escaped notice that Cameron's move to put off the decision over expansion is deeply ironic, given his pledge to "cut through the dither" of excessive planning laws he says is holding the UK back. Moylan agrees. "It is a very funny approach to say the planning system is too cumbersome while then parking the decision on one of the most important pieces of infrastructure we'll see in the UK for years to come. It is lacking in logical consistency and very strange."
Politics aside, Moylan is passionate about why the airport is important. He can demonstrate a commitment not only to infrastructure (he was deputy chair of Transport for London), but also, as the former deputy leader of Kensington and Chelsea council, to design and public spaces. He is the man who pushed through the redesign of Exhibition Road around the museum quarter of the borough, and led the influential rethinking of street architecture to reduce needless clutter and barriers - an achievement for which he was awarded an honorary fellowship of the RIBA in 2008.
He says the airport will have a "transformative effect" on the economy of east London - though he admits that he doesn't yet have reports and figures to back up his case - and its success is closely linked to his former role. "One shouldn't see Stratford and the Olympic park as a sort of outpost. It is part of a wave of expansion of central London that has been going on for the last 20 or so years, and will continue. A connected and joined-up arc of opportunity. And an airport to the east of London will have a transformative effect. I see the two things as very closely linked."
Moylan maintains that Johnson, far from objecting to Heathrow in order to gain votes in West London, is being politically brave by promoting an additional airport. "We have to give Boris the credit for his honesty in saying there has to be an alternative. Because we do need an airport. We live on an island. Yes, we can connect to Paris and Amsterdam by rail. But are we going to travel by rail to Mumbai? Or to Rio?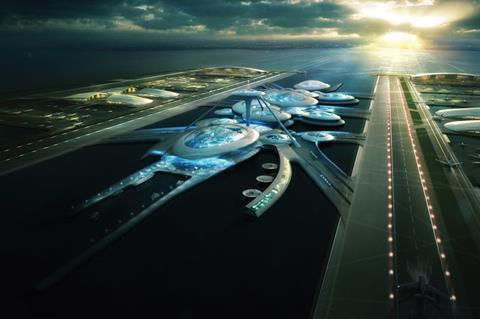 "The question is not whether we will have a hub airport, the question is simply whether we as a country end up exporting that hub airport to another country. And that is not an idle threat - it is happening now." For example, he claims that Amsterdam Schiphol serves 18 UK cities - where Heathrow serves just six.
To date, the GLA hasn't expressed a preference between the various schemes being promoted by Foster + Partners and Halcrow, and Gensler (whose design for a floating four runway airport on the Thames Estuary is pictured above). Just a week in Moylan has, however, commissioned Atkins to carry out some early stage feasibility work into a new hub airport. He says part of the reason for promoting the debate which he will now lead is in order to flush out all the possible options. "We have Foster, Gensler, god knows who else. Let's just get the ideas out on the table.
"Boris is not interested in the interior design of the toilets at the airport, or any other design aspects that many other people out there are much more qualified to debate. The campaign is about getting the government to commitment resources to a particular site."
Ultimately, he says, the GLA is likely to back one scheme, though the government will still decide which is successful. "There will be no hub airport at all unless the government agrees to it - that's just the way things work in this country."
Given how new his job is, exactly how the campaign will be run is still being developed - Moylan is due in a meeting after our phone call to discuss just that with the mayor. He promises more details within the next few weeks. Whatever is decided you can bet that, with Moylan running the aviation campaign, life is unlikely to be dull.
One minute Moylan
Born: 1956, Birmingham
Educated: Second class degree in modern languages and philosophy, Queen's College, Oxford
Interests: Reading, classical music and riding
What they say about him:
Boris Johnson, mayor of London: "A gifted politician with a superb brain."
John Biggs, London Assembly member: "[The assembly] had serious reservations about his lack of regeneration experience."
Tim Burke, campaigner, the Friends of Portobello Market: "He's very intelligent but he does not understand the human side of things. He's about pavements and architects - not about life."