The awards took place last Friday honouring the civil engineers that make London run - from infrastructure, to buildings to the protection offered by the Thames Barrier.
Fifteen years ago London's infrastructure was terrible. The tube was clapped out, traffic was gridlocked and water poured out of the mains. Today the picture is very different. There are new tube lines, congestion charging has freed up central London and Thames Water has invested in fixing water leaks and infrastructure. London is now a better place to live.
Without civil engineers, these upgrades would not have been possible so what better way of celebrating a reinvigorated capital than the London Civil Engineering Awards? Organised by the Institution of Civil Engineers in association with Mott MacDonald, the awards were held 4 March at the home of the ICE in Westminster. Below is a roundup of the winners.
The infrastructure award (in association with Ramboll)
Barclays Cycle Hire
Entered by: Transport For London
The Barclays Cycle Hire scheme, or "Boris bikes", is probably the most visible recent addition to London's infrastructure. The popularity of the scheme means the distinctive blue bikes are everywhere in central London with up to 27,500 journeys made a day. The scheme promotes environmentally friendly public transport, and has proved very popular for short journeys as for just £45 a year users get free use of the bikes for journeys of less than 30 minutes. People can also pay on a daily basis to use the bikes. Like any infrastructure scheme, it took a lot of setting up. TfL had to persuade nine different authorities to grant permission for the docking stations, which take up precious pavement space. TfL lodged 530 planning applications, with 400 going through. It also had to install the docking stations and link these to a control centre in Islington. There is also the day to day management of the scheme: a fleet of electric vehicles redistributes bikes from popular dropping off phttp://be-cms.mfuk.com/Pictures/thumb/i/x/k/barclays.jpgoints back to busy centres and the bikes must be maintained. TfL is looking to expand the scheme eastwards in time for the Olympics next year.
The judges said: "What appears simple masks a truly 21st-century bit of infrastructure. The scheme's 2.5 million riders are surely now in rude health."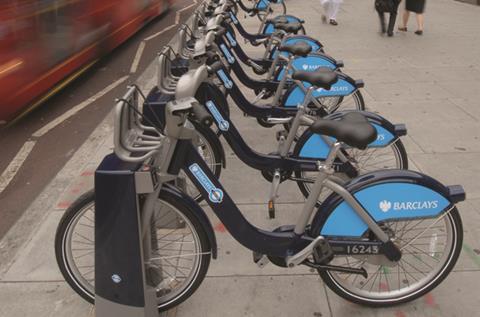 THE BUILDING AWARD
London 2012 Olympic velodrome, Stratford
Entered by: Expedition Engineering
Client: Olympic Delivery Authority
Architect: Hopkins Architects
Structural engineer: Expedition Engineering
Services engineer: BDSP
Landscape architect: Grant Associates
Contractor: ISG
The velodrome has the distinction of being the first sporting venue to be completed on the Olympic park. It also is a perfect synthesis of architecture and engineering as this is a building pared down to its essentials - providing covered seating around a central track - without any architectural fripperies.
It is extremely elegant with a striking, double curved roof sitting over a timber clad bowl. Structurally the design is highly efficient; the roof contains just 100 tonnes of steel, which is 30 times less than the aquatics centre. The team pushed for a cablenet roof structure that initially appeared risky and expensive but has turned out to be a cost-effective, safe to build and efficient solution. This is attached to a steel bowl structure that transfers the forces down into the ground. Uniquely, prefabricated cassettes have been used to clad the roof and were dropped onto specially designed nodes between the cables. These contain insulation and are topped by a waterproof membrane which ensured the envelope was made watertight as quickly as possible. Unusually the building contains rooflights as it was deemed a more sensible solution than fitting photovoltaic panels to power artificial lights. Unlike some other venues on the park this one comes with legacy built in - it will continue being used as a velodrome after the games with minimal work needed to create a cycle park outside the building. The judges said, "The velodrome is not only a striking building; it delivers well beyond the original objectives of the brief. Add to this a level of teamwork that worked to adopt new methods and materials, completing within budget and ahead of time, makes this a worthy winner."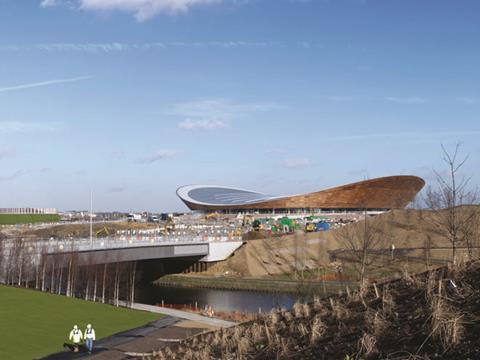 GREATEST CONTRIBUTION TO LONDON AWARD AND THE COMMUNITY AWARD
East London Line
Entered by: Balfour Beatty Carillion Joint Venture
Client: London Overground for Transport for London with Network Rail and London Underground
Contractor: Balfour Beatty Carillion Joint Venture
Enabling works: Taylor Woodrow (now Vinci Construction)
Programme manager: Parsons Brinckerhoff
Client's technical adviser: Mott MacDonald
Engineer: URS-Scott Wilson/Tony Gee & Partners
Architects: JSA Opus/Weston Williamson/Acanthus LW Architects
Want to get to Dalston in East London from Croydon in the south? Until last year this was a journey that would have taken several hours, but with the revitalised East London Line takes just 47 minutes. A tired underground line has been extended north from Whitechapel to Dalston with four new stations and now reaches from New Cross all the way to Croydon. Passengers enjoy a turn up and go service with new overground Bombardier trains that are more spacious than the biggest underground trains. Half a million people use it every day with numbers expected to rise further. In January it was the UK's third most reliable train service, which is excellent for a line that has been open less than a year. The line will not only immediately benefit the community but as it cuts a swath through some of the most deprived areas of the capital will bring enormous regeneration benefits in the long term too. The design and construction was equally impressive. Despite the tight, three and a half year timetable the £1bn project was delivered two months early. The line makes clever use of existing infrastructure that kept costs down and simplified planning. A new section of track linking Dalston to Highbury and Islington has just opened and means London now has an orbital railway as well as the M25. The judges awarded the project the community award for the huge benefits it brought to people living adjacent to the line, and the greatest contribution to London award for the wider benefits to the capital.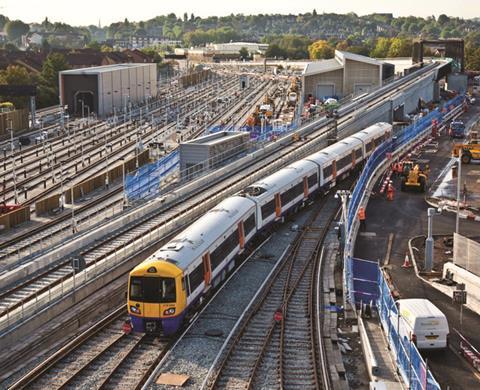 SPECIAL AWARD
Sports Canopy, The National Tennis Centre, Roehampton
Entered by: George Stowell
Client: Lawn Tennis Association
Architect: George Stowell
Structural engineer (steelwork and canopy): Airlight
Structural engineer (foundations and services) Arup
This modest project could make a big difference to the UK's chance of success at Wimbledon. It covers two clay tennis courts that are good for training and competition, but that are normally unplayable in the winter. This innovative canopy enables year round play as it protects the court in the winter and can be taken down in just four hours for the summer season. The Lawn Tennis Association's (LTA) plan for an air hall type enclosure was turned down by local planners and it only had a budget of £420,000. The team says it explored every option until it settled on the untried idea of using pneumatic beams to support the 42m wide canopy. The PVC roof is supported on steel columns and held aloft by five tubular fabric beams inflated to a pressure of 1 bar. A lightweight steel arch above and below the pneumatic beam provides stiffening and will hold the structure up temporarily in the event of depressurisation and during erection and dismantling. The LTA would like to take the idea to other tennis centres and the judges were impressed by the idea saying: "It's real potential is it could be rolled out for use at sports centres across the country".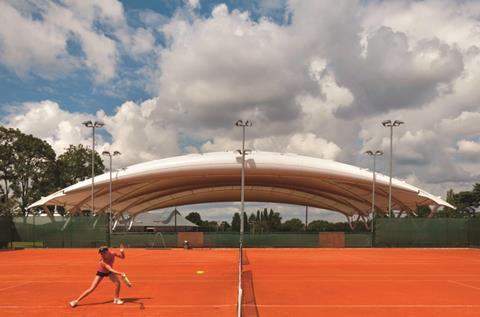 THE HERITAGE AWARD
Thames Barrier, Woolwich
Entered by: Environment Agency and Halcrow Group
Client: Environment Agency
Engineer: Halcrow
Contractor: VolkerStevin
Why has a structure less than 30 years old won a heritage award? The Thames Barrier is one of London's most recognisable icons but it protects 400,000 properties including many historical buildings from flooding. It has closed 119 times since it started operating in 1982. The main gates weigh 3,500 tonnes each so exert enormous forces on the bearings that allow the gates to rotate. Inspection revealed steel bars that support the bearing support cone on either side of the gates had corroded and needed replacing. All the work had to be done below the water line so a bespoke limpet dam, a special box that clamps to the gate arm, allowed workers to replace the bars. The judges said that what captured their imagination was the "use of contemporary technology to enhance the barrier, to extend its life, and so protect hundreds of thousands of Londoners and the city they occupy."
THE SHORTLIST IN FULL
Barclays Cycle Hire, entered by Transport for London
East London Line Project, entered by Balfour Beatty Carillion Joint Venture
Hy-Pavilion, entered by Price & Myers
London 2012 Olympic Velodrome, Stratford, entered by Expedition Engineering
M25 DBFO Widening Junction 16-23 - Section 1X, entered by Skanska Balfour Beatty Joint Venture
Riverside Resource Recovery Facility, Belvedere, entered by AE&E Inova AG
Sports Canopy, The National Tennis Centre, Roehampton, entered by George Stowell
Strata SE1, Southwark, entered by WSP
Thames Barrier, Woolwich, entered by Environment Agency and Halcrow Group Ltd
Thames Gateway Water Treatment Works, Barking, entered by Thames Water Utilities
Tottenham Court Road Northern Line Escalator Box, entered by VINCI BAM Nuttall Joint Venture
Woolwich Clock Tower, entered by Ramboll UK
THE JUDGES
Chris Wise, chair, director, Expedition Engineering
Thomas Lane, assistant editor (technical), Building magazine
Andrew McNaughton, chief operating officer, Balfour Beatty
Dervilla Mitchell, director, Arup
Baroness Jo Valentine, chief executive, London First
This article was originally published under the headline 'A tale of a city'.