Future-gazing economists don't have to look very far to see threatening signs on the horizon for the construction industry. As the CPA revises its forecasts down, should we be calling time on the recovery?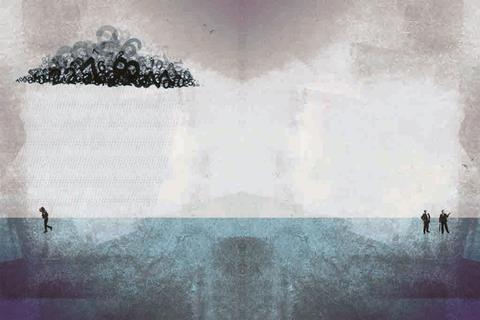 This week's construction output figures, showing the first quarterly drop in over two years, were sadly not unexpected, coming after preliminary estimates of monthly drops in July and August, and last week's profit warning by insulation distributor SIG, which wiped 25% off the firm's stock market value. While part of the dramatic reaction to SIG's news was due to its specific situation, the news also made real for the first time the economic data indicating that all may not be well with the construction recovery. SIG said its sales had been hit not only by the troubles in Europe, but also by a "lower than anticipated level of demand" in the UK repairs and maintenance (RMI) market. Merchant Travis Perkins, which also downgraded expectations in the same week, said it too saw "weaker demand" in both domestic and non-housing RMI. Experian analyst James Hastings puts it more baldly, saying RMI demand has "fallen off a cliff" in the second half of this year.
Of course the situation affects more than just the repairs and maintenance market. After strong acceleration in 2014, construction output growth ground to a halt in the first half of 2015, before its reversal - a drop of 2.2% - in the third quarter. Though this figure is a preliminary one based on only about 40% of data used to generate the final figures, it is in line with other indicators. Most worryingly, new orders are starting to fall in certain key segments - RMI particularly, but also offices, retail, social housing. Private housing - the driver of much of the growth in output so far, has also plateaued and is showing signs of weakness.
Building can reveal that this faltering performance means the Construction Products Association (CPA) is set to revise down its forecasts for 2015 when it publishes its revised autumn analysis next month. For contractors, most of whom are still suffering the after effects of the long recession from 2008, the last thing they want to hear is that the market is about to head south. So what's driving this weakness and does it all mean we're seeing the beginning of the end of the recovery?
Autumn showers
This time last year the CPA was expecting output growth of 5.3% in 2015, which by the time of its last forecast in the summer had already been modestly reined in to an expectation of just 4.9% growth. Now, says the organisation's economics director Noble Francis, it is likely to make a further "significant but modest" downgrade of around one percentage point for the year, together with marginal downgrades for 2016, following the slowdown in activity in the third quarter. Francis puts this down to congestion in the housing, office and retail sectors. "The major housebuilders definitely experienced a slowdown in activity in Q3," he says, saying the drop in activity is due to soaring wage bills for skilled labour adding costs to projects. "While the housebuilders aren't stopping activity, they're being a bit more careful about which sites they're starting."
This crisis of capacity is also hitting the commercial sector, with the CPA's Francis describing the current situation for the annual £8bn office construction market as a "temporary hiatus". Work already in the system means most contractors working in this market remain incredibly busy, but consultants and others at the front end of the process are starting to see an end to it. Hanif Kara, partner at engineer AKTII, supports this view: "There's about one year to 18 months of this mad period of work left. You speak to one-off developers, and they're thinking about selling their sites as they either build now or the next point is three to four years away."
Land's expensive, costs are expensive. You can't buy development sites at any value that allows you to actually do anything with

London developer construction director
New orders for offices have now fallen for three consecutive quarters, and are now running more than 25% below their 2014 third quarter peak. In part this is down to the issue, identified by Building earlier in the year, where developers stung by the scale of construction price rises in an overheated market have put schemes on hold. "Many contractors are trying to renegotiate prices with clients. The projects are still in the system …But, they [clients] may need to be a little flexible on previously agreed prices," says Francis.
There are other broader issues created by the rapidity of recovery in recent years which look likely to be impacting on both the residential and commercial sectors, in particular a spike in land costs driven by overseas investor interest, which has conspired with rising construction prices to make schemes unviable. As the construction boss of one major London developer says: "Land's expensive, costs are expensive. You can't buy development sites at any value that allows you to actually do anything with it."
Government policy changes are not necessarily helping, with confusion over the promised extension of permitted office-to-resi development rights - under which schemes currently need to be "substantially complete" before May next year - and other changes to planning rules adding to the reasons a developer might put off start on site. These include the planned shift in Section 106 rules announced by prime minister David Cameron this month, which may mean developers can avoid having to provide affordable rented housing - potentially hugely increasing profits - but only if they delay until the onset of the new rules.
Sunny intervals
However, while these issues are serious on an individual scheme basis, many of them are either temporary or simply a reaction to overheating in the market. On this basis there are many who would suggest the dip in growth is just a short-term market correction. Brendan Kerr, chief executive at demolition and groundworks contractor Keltbray, says new enquiries are currently about 15-20% down on their peak, but that this reduction in demand is actually welcome. "The way it was going it was so fast and furious that we couldn't deal with all the enquiries properly. Our order book is very robust for the next 12-18 months. If you ask me the market is calming down, not slowing down."
Also, most figures suggest that the UK infrastructure construction sector is on this rise, with any slowdown in building work to a large extent offset by growth in transport and regulated utilities. Simon Rawlinson, head of strategic research at consultant Arcadis, says: "There's enough to give the industry a good pipeline. What we've seen so far is more about the micro-timing of individual projects than the whole industry going into some kind of tailspin."
Despite these many reasons for confidence, there are still those who sense something more ominous at work in the recent sluggish data, with fears growing about the slowing global economy affecting demand. The IMF this month cut sharply its prediction for world economic growth this year, from 3.5% to 3.1%, due to slowing growth in the world's emerging economies - particularly China. This global picture of economic fragility, a confluence of a stuttering eurozone recovery, greater fears over the geopolitical climate and the collapsing oil price, is leading to fears that occupier demand, particularly for commercial property, is likely to wane. AKTII's Kara says: "The internal issues around the cost of construction and capacity are secondary problems to the worldwide economic stuff such as the oil price collapse. Developers are not being as bullish about demand."
What we've seen so far is more about the micro-timing of projects than the whole industry going into some kind of tailspin

Simon Rawlinson, Arcadis
Additionally certain sectors, such as the retail sector, are facing up to more serious structural issues. Here many of its biggest clients, most notably the supermarkets, are fiercely reining in their spending while they tackle the twin challenges of foreign competitors and the growth of online and convenience shopping. In the second quarter of the year, new orders in this market dropped by a third from the previous year. Likewise the public sector repairs and maintenance market, worth around £4bn a year, seems unlikely to recover this year's sharp falls, predicted to be around 20%, in a period of deepening public spending austerity.
High pressure
The extra difficulty is that the global slowdown is happening at a point where both land and construction costs in the UK, particularly London, are so expensive. Arcadis' Rawlinson says while the short-term issues in the commercial market are down to individual project decisions, there are now fewer site acquisitions happening, indicative of a bigger slowdown in two to three years' time. "We get the sense there's less acquisition activity going on because prices are so high, and international investors are pricing domestic players out of the market. We're seeing a slowdown in the volume of feasibility studies coming through, albeit this won't affect contractors for quite some time."
Julian Daniel, managing director at construction management outfit Blue Sky Building, says - despite Kerr's comments - that demolition and piling contractors are not now seeing work as far ahead as they were a year ago - another sign that the pipeline of future work is tailing off. "They're still busy, but they're talking about wanting to fill order books for the end of 2016. Whereas last year they could see 12-18 months ahead, now it's more like six to 12."
With commercial property, the fact that yields for investors are already at record lows in many prime markets means there isn't any way for schemes to accommodate slowing demand through reduced rents without destroying scheme viability. The major developer says: "Tenant demand remains high for the right scheme, but it's shallow. It's not as strong as people think it is and finance directors' confidence in the future outlook is decreasing. With yields as they are, there's nowhere to go but down."
Adding to the uncertainty is the knowledge that at some point the current property cycle - in which prices have been rising, depending on the specific sector, for anything between three and six years already - will come to an end. Nobody wants to be caught with an expensive speculative scheme in construction at the point the market dies. Rawlinson says: "There are lots of people saying there's got to be an end to this cycle at some point, and they're looking to call the time. It's not sustainable in the long term."
So with prices high, demand under pressure and developers ruminating over what point the market will turn, the fear is that it will not take much more bad news to precipitate a more serious decline in the construction market than seen so far. The major developer, for one, fears that the forthcoming euro referendum could provide exactly the unwelcome "shock" to the market that it doesn't need. "I see things getting harder from here, not easier. In one sense steadier growth would do everyone good. But it'll only take one bump to knock it off course. Sadly I fear the problem of the Europe referendum is going to be just the excuse occupiers need to stop committing to new leases."
While it is not possible to call the end of the cycle quite yet, the recovery certainly doesn't look like being plain sailing any more.

Going down / Construction data
This week's quarterly output fall of 2.2%, the first drop since the start of 2013, was a long time in the making. Although a preliminary estimate, it is consistent with the initial data returns in output from July and August, which both showed falls, of 1% and 4.3% respectively. While the breakdown of which sectors the quarterly fall was caused by has not yet been provided, the monthly figures suggest the weakness is primarily in housing, public sector construction and commercial projects. The drop comes after a first half which saw output growth stall, rising by less than 2% on the second half of last year. More worrying than the fall in output seen in the last quarter is the picture that emerges from new orders - orders which translate into output over the subsequent 12-18 months. Orders for offices, for example, were in the second quarter more than 25% down on the figure seen last summer when the commercial property sector took off. Retail orders have fallen even more sharply, by 60% between the third quarter last year and the second quarter this. Orders for both public and private housing also ran at below the level of Q3 2014 in the second quarter this year, falling by 13% and 5% respectively. However, the market is being supported by sharp rises in infrastructure orders.