Conservative party's secretary of state responds to Building's manifesto aims

As part of Building's Agenda 15 campaign to persuade politicians to adopt policies that will help construction to help the UK economy, Building has put our manifesto aims to the main Westminster parties and given each party leader the opportunity to respond, in an open letter to Building's readers.
Back in 2010, the Conservatives inherited a broken economy - in the words of an outgoing Labour minister, there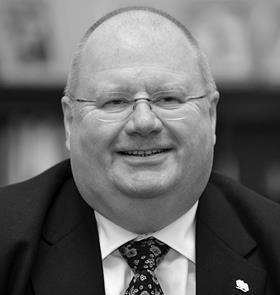 was "no money left". Yet thanks to our long-term plan, Britain is now one of the fastest growing major economies in the world. We have halved our deficit as a share of our economy. More people are in work than ever before.
The volume of new housing construction orders has more than doubled since 2009, and housing starts and the number of first time buyers are at their highest since 2007. Mortgage repossessions are at a record low and our affordable housing programme has delivered over 217,000 new homes with more to come. Our action to tackle Labour's deficit has kept interest rates at record lows, cutting the cost of owning a home and the cost to the building sector to construct them.
Because we have made savings elsewhere, we have been able to make significant investments in infrastructure. Alongside running a surplus, the Conservatives will commit to increasing capital spending - investment in infrastructure - at least in line with national income. We have set out a plan to invest over £100bn in our infrastructure over the next parliament.
In addition to rolling out our national high-speed rail network, with High Speed 2 and High Speed 3, we will complete the construction of the new east-west Crossrail across Greater London, and push forward with plans for Crossrail 2, a new rail route running through London and connecting Surrey and Hertfordshire. We will ensure all parts of the country can benefit from economic growth, and have given councils financial incentives to support development - such as the New Homes Bonus and local retention of business rates. Conservatives will back British businesses: cutting red tape, lowering taxes on jobs and enterprise, getting young people into work, creating three million apprenticeships and investing in science and technology.
We are the party of working people, offering hard-working people security at every stage of their lives. Supporting home ownership is part of that belief: if you work hard, save up, and do the right thing, you should be able to buy your own place. We expect 1.2 million people to take out a new Help to Buy ISA, allowing first time buyers to save for a deposit. We will help build 200,000 starter homes - quality homes for sale at a 20% discount to normal market rate to first time buyers under the age of 40. We are extending the help to buy equity loan scheme out to the end of the decade, and the help to buy mortgage guarantee scheme to 2017.
We have a comprehensive programme to free up surplus public sector property and land. We will create a £1bn Brownfield Regeneration Fund, which will enable councils and developers to clean up derelict or contaminated land, providing enough space to build 400,000 additional homes over four years. We will extend the right to buy to housing association tenants, backed up with finance for replacement homes.
This is in strong contrast to the Labour Party - which would increase development taxes on small builders, impose a tax on planning permissions and strangle investment in the rented sector through rent controls. Such red tape and higher taxes would hammer the construction sector - look at Labour-run Wales, where new houses now cost up to £13,000 more to build than similar home in England, and where housing starts have risen by a mere quarter of the increase of England since 2010.
Conservatives have a long-term economic plan to ensure a brighter, more secure future.
A government cannot invest in frontline public services and construction without a strong economy - and Britain's building industry is now in a position to benefit directly from Britain's robust economic recovery under the Conservatives.