There is now an international standard for measuring how a building impacts on its users' health and wellbeing. Ike Ijeh looks at how Studio Ben Allen Architects' One Carter Lane will become the first European project to receive the accreditation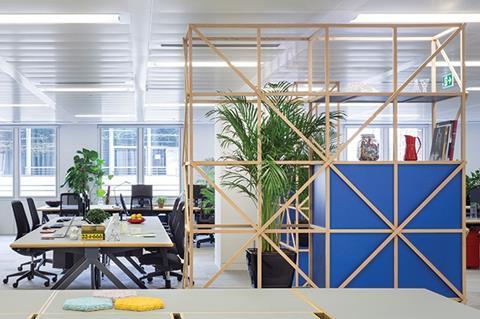 In recent years wellbeing has been playing an ever more important role in the design and procurement of workplaces. As little as five years ago questions about workers' diets and the quality of drinking water might have been seen as irrelevant in terms of office design but today such concerns are embedded into any wellbeing strategy that seeks to deliver a healthier and happier workplace environment.
But how do you measure happiness? And even more importantly, how can a hard-headed construction process principally concerned with the cost and arrangement of inanimate objects and spaces even begin to have an impact on our emotional, physiological state?
The WELL Building Standard is the new international evidence-based system for measuring, certifying and monitoring the performance of building features that impact health and well-being. The standard presents an onerous and exhaustive set of compliance requirements but these can be narrowed down to seven key areas: air, water, nourishment, light, fitness, comfort and mind. Scores are given out of ten for each area with an overall score then calculated from the individual results. Should the standard be achieved there are three levels of certification, silver, gold and platinum. The accreditation is still very much in its infancy and only a handful of completed projects have been registered as meeting the WELL Building Standards. Most of these projects are in the US but the first European project to receive the accreditation is here in London.
| Area | Score |
| --- | --- |
| Air | 8 |
| Light | 9 |
| Comfort | 8 |
| Fitness | 8 |
| Nourishment | 10 |
| Mind | 7 |
| Water | 10 |
| OVERALL | 8 |
The WELL Building standard provides a score out of 10 for seven key areas, One Carter Lane's provisional scores are indicated here which, upon formal certification, should give the project an overall score of 8/10 which attains Gold standard
One Carter Lane is a 15,400ft² Cat-A office fit-out that enjoys an enviable location right opposite St Paul's Cathedral in the City. The new office is the London headquarters of engineer Cundall (which was also MEP engineer on the fit-out) and it occupies the entire ground floor of a large office block built in the mid-1990s. The fit-out provides new workspaces for up to 180 employees and was carried out by Studio Ben Allen Architects. The project has also attained a BREEAM "excellent" rating and SKA Gold certification. Remarkably, it is the first office fit-out project Studio Ben Allen has ever completed.
As Europe's first WELL Building Standard project the scheme has already generated significant international interest and Cundall now finds itself in the unusual position of hosting tours of its offices for UK and foreign visitors. However, as Cundall's business development manager Jonnie Allen explains, gaining the WELL Building Standard was never the express purpose of the scheme.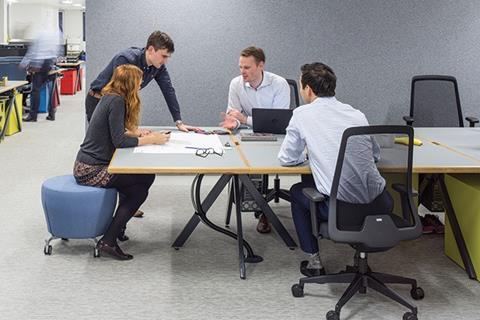 "We're already signatories to the One Planet Living initiative so the biggest thing for us as a company is how to create and sustain a sustainable environment. We also wanted to use the project as a showcase and a test-bed to show our clients what was possible with sustainable design. So these were the overriding ambitions of the project rather than completing a tick-box exercise that would get us the WELL Building Standard."
The One Planet Living initiative was devised by sustainability consultant BioRegional and essentially maintains that today's society uses the resources of around three planets and that this should be reduced to one. This is achieved through the adoption of 10 sustainable principles, two of which concern health and wellbeing and sustainable materials. Therefore gaining the WELL Building Standard did not require Cundall to embark on a huge cultural leap.
Crucially, the WELL Building Standard is certified by the same verification body that administers LEED, which is the US equivalent of BREEAM. So if we assume that the exponential rise in wellbeing attainment in office design continues, the WELL Building Standard could one day be wholeheartedly embedded in the environmental regulatory process in the same way that BREEAM is now commonplace today. One sign of this fledging trend is the fact that of the two other UK projects seeking the standard, one of them is the proposed 278m 22 Bishopsgate Tower, also in the City of London, a building that will provide approximately 83 times the amount of floorspace as Cundall's One Carter Lane office.
So how exactly did One Carter Lane achieve the WELL Building Standard? The key aspects of the design that were heavily influenced by WELL Building Standard methodology are explained in greater detail below.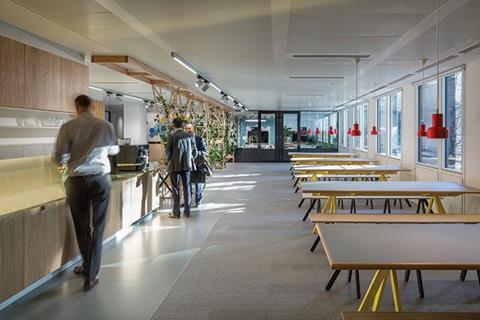 Space planning
As Studio Ben Allen founder Ben Allen explains, one of the defining challenges the brief presented was "how do you make what is essentially deep-plan floorplate designed for a banking operation look like an office for engineers?" This challenge initially appeared even more acute with the limitations of the original brief that Allen's team were presented with. "We were initially brought in to complete a space planning exercise that would create a nicer office space. However, the commercial fit-out market is really just about specifications and this clearly wasn't the kind of project the client wanted."
Nevertheless, space planning became the crux of Allen's design. While the WELL Building Standard does not specify specific space standards for compliant workplaces, it places great emphasis on the fact that offices must be spacious with a generous allocation of communal non-desk spaces such as kitchens, foyers, break out spaces and circulation. In order to achieve this, the team commissioned smaller bespoke desks that freed space for other uses while still allocating each employee the BCO recommended minimum of 10ft². The hot-desking methodology that is currently in vogue across the office market was conspicuously rejected by both staff and the design team on the grounds of impersonality and inefficiency.
Equally, the design also introduces a strong hierarchy of spaces that, as Allen explains, clearly differentiates between "desk/layout/break-out/front of house and meeting". For Allen, who has experience of office design projects in Europe, this emphasis on non-desk space and communality made for a refreshing change. "There's much less of a corporate or deep-plan office culture in Germany and Scandinavia and office design is much more user driven. Additionally, workplace design is all too often handled as a process but WELL Building encouraged us to constantly consider space from the perspective of the people who were going to use it."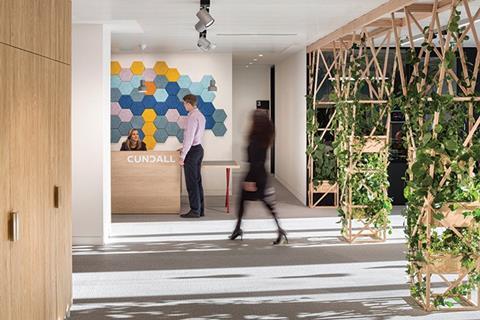 Communality
A big part of this more humanist approach to office design involved a pronounced emphasis on communality. This is expressed not only in the spatial configuration of the office but in its social composition too. The WELL Building Standard states that at least 30% of staff must have space to eat lunch together. In order to achieve this at One Carter Lane, a series of tables and benches have been installed in the foyer area, strategically located beside the kitchen area.
For Cundall's Jonnie Allen, the arrangement provides multiple benefits. "There are advantages in terms of hygiene as it encourages staff to keep food and work areas separate. Positioning this area at our front of house puts our social principles on full display. Having communal tables clustered together rather than spread around the office actually saves space. And there's a health benefit too as studies show that in order to avoid jovial criticism, people tend to eat healthier meals if their work colleagues can see what they're eating."
Materials
Some of the most exacting specifications of the WELL Building Standard concern the selection of materials. Firstly, there is a clear emphasis on the use of natural materials such as timber and oak and this is evident throughout the office. Cupboard doors and desk edging are made from solid oak, solid Douglas fir is used for the desks themselves, shelving is timber and the flooring is a recycled, woven nylon by Swedish manufacturer Bolon. This has the added of advantage of having a natural light shade and reflective quality that increases natural light penetration at the centre of the deep floorplate. Additionally, a striking brass counter in the kitchen offers the benefit of being antimicrobial, with the ability to kill a wide range of harmful microbes and bacteria.
Secondly, the WELL Building Standard states all materials must be locally sourced. This requirement was perhaps felt most acutely with the procurement of the desks, which was already constrained by the commissioning of a bespoke design. "Furniture always assumes the biggest part of the budget in office fit-outs," explains Ben Allen, "and desks are the biggest chunk of that." The solution emerged in the shape of a specialist desk manufacturer in Welwyn Garden City who built the modular desk system that now occupies the office.
The third requirement is arguably the most onerous. WELL Building insists that the volatile organic compound (VOC) rating of all materials must be between negligible and zero, thus ensuring that office fixtures, fittings and fabric do not expel harmful chemical or organic emissions. As Cundall's Allen explains, satisfying this proved to be one of the most challenging elements of the project. "It immediately reduces your range of options in terms of what materials you can choose from. Even discovering the VOC content was a challenge because most manufacturers don't commonly list it. However, even though finding one that did often came at a cost premium, it was also usually a sign that not only would the content be low, but the manufacturer was enlightened enough to share the same kind of sustainability commitment that we were looking for."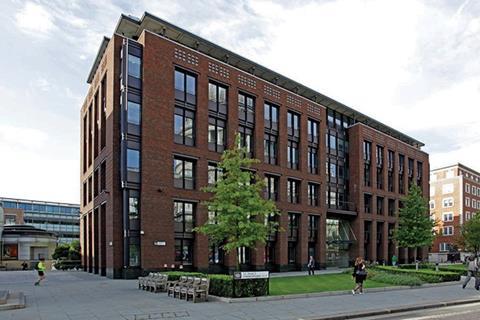 As a result of VOC requirements, materials like melamine finishes and veneers are scrupulously avoided throughout the office. However, the VOC considerations do not stop when the project is complete. Unlike BREAAM or other similar environmental assessments, a key component of WELL Building is constant testing of air quality and water long after the project is complete. As Cundall's Allen explains, one such test shortly before the office opened left the design team baffled.
"Our first air quality test failed and we had absolutely no idea why. But then we realised that the office had been thoroughly cleaned the night before with cleaning agents with a high VOC content, which was lingering in the air system. When the office was re-tested once these compounds had evaporated, we passed with flying colours."
Plants
Plants are commonly found within the office environment in an attempt to brighten and naturalise the workplace. But, according to the One Carter Lane design team, their true organic potential is rarely realised. The WELL Building Standard actively encourages the adoption of biophilia, the strengthening of the connections between humans and living plants and organisms and an area of research that Cundall is heavily involved in. These principles manifest themselves in the project in the installation of two green walls within the office. But, while most green walls only expose the plants, Cundall's research has demonstrated that the richest oxygenation benefits plants can offer to their environment are not found in the leaves but in the roots. Consequently the green walls at One Carter Lane are installed on specially constructed trellises which incorporate fans in the plenum behind the plants. This innovative mechanical element pulls air from the office through the roots which helps improve air quality within the office.
Costs
Clearly, the additional requirements that the WELL Building Standard imposes have a cost consequence. This is perhaps most evident in the reliance on locally produced products and the limitations on material selection VOC adherence demands. Cundall's Allen is bullish about the impact on the overall budget. "It probably added around 3%," he reveals "or, in more simple terms, £200 per head."
While this might be manageable within a fit-out it would obviously have much bigger implications on a new build. However, as the considerations prioritised with the WELL Building Standard become more mainstream in line with broader cultural changes in society's relationship with sustainability as a whole, requirements such as specifying materials with low VOC content may come at lower expense. Until then, sustainability, as ever becomes a question of priority and whether the health and wellbeing of workplaces and employees is considered as important as the costs necessary to achieve it.

Project Team
Client: Cundall
Architect: Studio Ben Allen
Contractor: QOB Group
Project manager: HUSH
MEP engineer: Cundall
Quantity surveyor: Bigham Anderson Partnership