Hanif Kara has a reputation for inventiveness and eccentricity, but he has soberly steered his engineering firm through a merger with White Young Green and a recession. He tells Emily Wright about the need to make difficult decisions.
Hanif Kara has never been one to conform. From the way he does business to his distinct and much discussed image, he thinks it's important to be a little bit weird - his word, not ours.
Actually, it was Stanhope chief executive Peter Rogers, himself known for his red glasses, who encouraged the principal of structural engineer Adams Kara Taylor (AKT) to feel comfortable with his off-the-wall persona. "Years ago Peter said to me: 'You're a bit weird Hanif. Stay weird'," says Kara.
Sitting in his Clerkenwell offices in a wide-pinstripe, round-collar suit with a bright pink shirt and neon-orange glasses, it's clear that Kara took the advice on board.
Kara's creative side doesn't stop at his wardrobe. He is well known for being one of the more inventive structural engineers in the industry, as demonstrated by AKT's high percentage of design-led schemes, such as Zaha Hadid's Wolfsburg science centre and Thomas Heatherwick's Shanghai pavilion. In fact, Kara is better known as a design, rather than a structural, engineer. But you can't build a firm on creativity alone. A self-confessed "non-money man", Kara says founding partners Robin Adams and Albert Taylor were the business brains behind AKT and admits that, in recent years especially, there have been several big decisions to make. One of the biggest was the merger with engineering consultant White Young Green (WYG) in 2006, which had its share of teething problems.
But Kara insists everything is now back on track. Almost four years down the line, AKT is turning over £12.5m, making a profit and trading successfully despite the economic conditions. Just as importantly, the firm has kept its own identity - something Kara was vigilant about from day one.
The merger
When AKT merged with WYG, Kara says he and his partners had "a dream" for how it might develop. AKT was winning more work abroad, which it could no longer handle alone, and the hope was that WYG would help AKT's international growth. "We started to outstrip our success," he says. "A number of people approached us looking to merge and we thought 'this could be a good way to grow'. But I insisted it could only work if the AKT brand remained protected.
"A merger has to be about more than growth alone from both sides. They have to want something else, such as your technical competence or quality." Although AKT is known for taking on projects where the architecture challenges the engineering, Kara has no desire to be anything other than a structural engineer. "I don't like hybrids," he says. "People who are promoting the idea of 'archi-neer' or 'engi-techt' are just trying to mix the two animals up and it doesn't work.
"Kara praises WYG for allowing AKT to keep its "free spirited" identity, but suggests they may have merged at the wrong time: "A multidisciplinary approach wasn't great as the market had changed. It is well known that, for a while after the merger, there was no clear destination or course at WYG. The management had dreams they weren't able to reach, so there was a sense of denial. The market was changing fast and we had to adapt. The recession hit us all badly, but it's how you respond that gets you through." WYG's response was a review of its operations, followed by a debt restructuring deal earlier this year. Its turnover fell 20% to £115.2m in the six months to December 2009.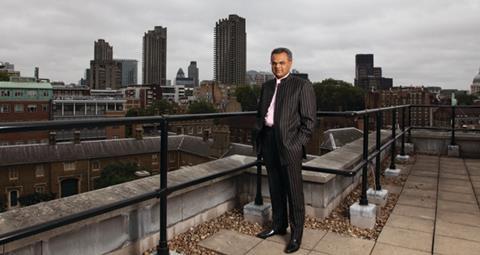 The future
While future output in the UK remains uncertain it is picking up, says Kara. A full recovery will still be a long time coming,
he adds, with the collapse of more "firms in denial" - such as Connaught - before things improve.
As for all companies, finding work is tough, especially in the UK. "The [Learning and Skills Council] colleges being cancelled was a big blow - we lost six projects in a day. We are working on key UK projects like Park House [a mixed-use scheme on Oxford Street] and our UK/international split is 50/50 at the moment. I think that will become 30/70 in the near future, which is more than I would like."
In terms of the regions where AKT is looking for work, it should come as little surprise that the firm has decided to be a bit different. Rather than going to places like Brazil - "where everyone else is" - Kara says it is targeting areas such as Russia, Norway, Turkey, north America and north Africa. Even if international work can sufficiently bolster the firm's income over the next few years, Kara would not rule out having to make more tough decisions to keep its head above water. "Staff numbers have dropped from 190-odd
to 130 in the past two years, which has been a career low for me," he says. "But when recession-proofing, you maintain quality by lowering the headcount if necessary. That's the direction we would choose to take."
He is confident, though, that all is on track until Christmas - in fact, staff are stretched and he hopes the firm is "well-shaped" for next year. "Financially, AKT is doing well," he says. "I can't speak for the whole group - that would have to come from WYG - but we're hitting our targets and making small profits. They are not huge profits any more, but we are surviving."
Personal effects
I never leave the house without … my organ donor card. My wife was upset that I didn't say a picture of her.
I have never … done a bungee jump. Although I would say I have done most other things.
Last time I cried … was on holiday after a little row. But everything is fine now.
The five people I would invite to a fantasy dinner party would be … Quentin Tarantino (I love Reservoir Dogs), Jimmy Page, Madonna, Zaha Hadid (she's a close friend and life is never boring when she is in the room) and Obama. If he couldn't make it, his wife could come in his place.