We look at the Building of yesteryear, welcome Anthony Bamford to the Lords, watch George Ferguson defend his red trousers, imagine fisticuffs with Ed Davey, and consider an alternative use for scaffolding
My former self
As Building celebrates its 170th year, it was pleasing to see our earlier incarnation making an appearance on prime time TV last week. Episode three of BBC 2's Restoration Home focused on one couple's attempts to transform a disused Victorian chapel in the Welsh valleys
- Nebo Chapel - into their new home. And where did its experts turn for architectural advice? To Victorian copies of The Builder, of course, which presenter Caroline Quentin described as a "font of knowledge on the classical style". Hear hear!
Honourable mention
There was much ado about the appointment to the House of Lords of 30 life peers last week, with the main parties accused of cronyism after the inclusion of large donors among the picks. One of the biggest targets of outrage was Sir Anthony Bamford, chairman of JCB, whose family and company have given £2.5m to the Conservative Party in recent years. But if you're going to allow the effective rewarding of donors with peerages, at least Bamford, who took control of JCB when he was 30 and built it into the global giant it is today, is pretty qualified to scrutinise policy-making from a real world business perspective. Certainly he's more qualified than some of the party press secretaries and election strategists that were also appointed. However, Bamford, a strong proponent of the construction, engineering and manufacturing industries, is likely to remain a controversial choice. He was first nominated for a peerage in 2010, only to withdraw his name days before the announcement, in a move reported to be linked to his tax affairs.
I've been called worse
I have remarked before on architect-turned-mayor George Ferguson's penchant for red trousers. Last week, the former RIBA president and now mayor of Bristol was inundated with cheeky messages on Twitter after a survey found that almost half of Britons don't like seeing men donning such garish garments. The YouGov survey found that words commonly associated
with red trouser wearers included "idiot", "yuk", "clown" and "prat", with only 12% having a favourable impression of them. But George was quick to point out that it didn't seem to have put off the Bristol voters, who last November helped him, as an independent candidate, trounce the three main political parties. "Just think what my majority would have been if I'd worn grey," he responded.
Title fight
Given the length of time it's taking the government to deal with EDF over its planned nuclear plant at Hinkley, you could be forgiven for thinking it's one of the most torturous political processes ever. However, it's going a lot smoother than the debate over a new nuclear plant in Taiwan, which saw parliament erupt into a fist fight last week, with honourable members barricading the door as two of them slugged it out. All of which prompts me to wonder who would win if energy secretary Ed Davey faced-off against EDF boss Vincent De Rivaz in such a manner. Speaking to Building last week Davey said he was "bullish" on green energy, so he clearly has the attitude of a champion pugilist and, given his height, I suspect he has a longer reach. De Rivaz, meanwhile, would have Gallic determination on his side. My money's on Davey in the fifth.
Raising the bar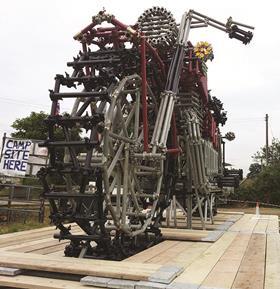 Scaffolders are an impressive bunch at the best of times, but this is beyond the call of duty. Sculptor and scaffolder Toby Welsby, from Calne, Wiltshire, created this monster bike, which was used to publicise the Calne Bike Meet last month. The huge bike, built out of scaffolding pipes, measures 20ft high and took Welsby two years to build. Local councillor Greg Widger said he had heard about the sculpture and decided they should use it to promote the bike meet: "We just walked into this barn, looked at it, started laughing, and said we've got to have it. He's taken it all apart and he's re-built a lot of it. He's put a lot of work into it and he deserves credit."
Send any juicy industry gossip to hansom@ubm.com