Danish-born, Kent-based H+H Celcon is a £70m-turnover concrete manufacturer that specialises in aircrete blocks but has now launched a structural housing system.
Not so set in their ways …
Celcon was founded in the UK in 1949 to develop the uses of aerated concrete initially manufactured by its Danish parent company based in Copenhagen. The company became H+H Celcon in 1999. Its headquarters are located in Kent and it comprises three manufacturing sites. The company's turnover is £70m. Here we talk to Ian Exall, a director at H+H Celcon, about the current state of the concrete market and his firm's place in it.
Q: What does H+H Celcon do?
A: We manufacture aircrete building blocks which are primarily used for housing projects – our key clients are volume housebuilders such as Miller Homes, Barratt and Redrow. They're also used for any sort of commercial and public utilities.
Q: What's the current state of the market?
A: It has gone through a bit of a sticky time in recent years. We were slow to address some issues, such as Part E (acoustic regulations). I'd say that it's a tough market at the moment. The market in which we're operating is in a state of flux. It's very difficult to see whether the housebuilding sector is slowing down or picking up and growing more. There is a certain level of uncertainty but we expect next year to be better.
Q: What new products have you launched?
A: We have launched a flooring system and a housebuilding package called Rå House (see "Product focus" below). The life cycle of a product always starts off quite slow because it cannot be a straight substitution product for our customers. So far, it's not making us rich.
Q: Which products are currently popular?
A: Our aircrete system, which is available in different sizes. It has a very good thermal and acoustic capacity and is lightweight and strong. It comes in a range of different thicknesses for specific applications and can be used for wall construction or floors. With the regulations becoming more stringent, customers favour our products because our aircrete range performs better thermally than cellular concrete. It has been on the market for 50 years and didn't need to be revised to comply with the new Part L regulations.
Q: What are the current lead times for this product?
A: It's readily available – a couple of days at most. We have very large stocks.
Q: How do you work with specifiers?
A: Most of the specification work comes from housebuilders who make the decision themselves. We show specifiers the different shape, feel and look of our products. We work on an ongoing relationship basis because to act proactively is a very difficult thing. We run seminars and can organise presentations at specifiers' offices. Last year our seminar roadshow, which takes place on a monthly basis throughout the UK, was attended by more than 100 architects and surveyors.
Q: What new factors could lead to higher prices or shortages?
A: In the past couple of years, energy costs have been rising so much that it stretches on our margins tremendously. I am not even ready to speculate what the impact of future prices for oil and gas will be.
Q: What new technical developments is your company working on?
A: We invest in our product and process research to create more efficient and more environmentally friendly materials. At the moment we're working on changing the shape of our product to introduce different sizes. We're constantly looking at what our sister companies are doing in Europe, to see what has worked there and how we can apply it here.
Product focus: The Rå House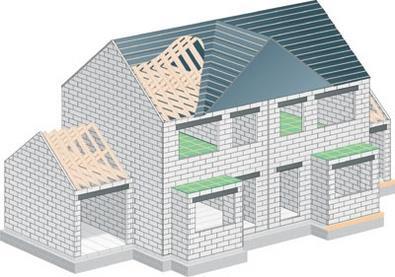 The Rå House is a structural system made of Celcon aircrete blocks which comprises the company's thin-joint system, proprietary intermediate floors and roof. Celcon provides its own foundation blocks and flooring system, but specifiers can choose whichever roofing system they want because the company says that its Rå House is compatible with any other manufacturer's roof options.
The design for the house is flexible and is based on designer's drawings. However there are some structural limitations since a house with very high ceilings is not achievable yet.
The house is said to be able to interface with any insulation system because it has been designed to work together with other products on the market.
H+H Celcon says the housing system is quick to build because contractors are trained by the company to construct the shell.
Off-site housing
1

2

Currently reading

H+H Celcon: Not so set in their ways

3

4

5