We revisit the Chambers family, who run Lincolnshire-based Lindum Group, two decades after we last dropped in – and find a thriving, diverse company that despite its booming bottom line sees turnover as irrelevant and the security of its many stakeholders and staff as the top priority.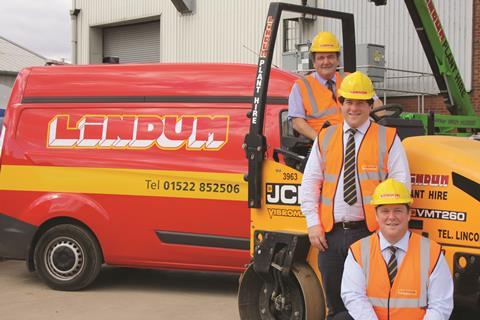 Twenty years ago Building visited a slate of family-run SMEs, to give them the attention we felt they deserved as the backbone of the construction industry. One of these family firms, based in a village in Lincoln's suburban hinterland, was Lindum. Founded in 1956 by civil engineer John Chambers with just four staff, it had by 1998 swollen to become a £27m-turnover company employing 245 people.
The founder's son, former banker David Chambers, then 42, was in his seventh year as chairman of the group. He told Building of his concerns about a decline in industrial jobs as the strong pound caused exports to slide, but said housing had recently become a lucrative new area for the firm.
"We never say a job is wonderful because it's big. Big contractors do. They always talk about the big jobs, but the desire to do them is silly"

David Chambers, Lindum
Two years before, Chambers had introduced share ownership for employees, and by 1998 it had become core to the DNA of the business – today, about two-thirds of its 663 employees are shareholders. Back then, Chambers said he felt it was "important to encourage staff to want to see the business thrive, if I'm not to push my own children into the business". As Building reported at the time, "Chambers' sons, aged 14 and 16, and daughter, nine, are too young to know if they will want to join the company".
Chambers' sons have both become directors at the firm in recent years, while their father, now 62, is still the chairman and the boss, having steered the company through the tumultuous waters of the past 20 years.
So how have the past two decades gone – for Lindum and the Chambers? How does the company shape up against Britain's goliath contractors? And what are the implications of having 400 shareholders work for the firm?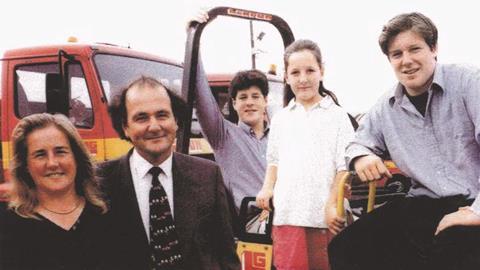 It's not about the money
Lindum has expanded, with offices in Peterborough and York in addition to its North Hykeham headquarters. Last year the firm enjoyed a £150m turnover, although Chambers plays this down: "We don't really talk about turnover because we don't want staff to think it's important."
Freddie, 36, and Ed, 34, have both returned to Lincolnshire within the past five years. Freddie lived in Battersea and worked as a chartered surveyor for asset managers before joining the family firm in 2013 as a business development manager. "When we were younger we loved working on the business and on the building sites, but we went off and did our things," he says.
Ed, who studied mechanical engineering before working as an analyst at RBS in London, denies always knowing he'd return: "Growing up, you don't even know if the business is going to be there when you're older." He moved back to North Hykeham a year after his brother, and is now the general manager of Lindum's plant hire arm. "I think there was an invisible pull, and over time it comes to the front of your mind," he says.
"Some contractors do look at the turnover line and want to double it, and we're not interested in that. I wouldn't say we're slow though"

Ed chambers, lindum
Ed and Freddie are both married and have three daughters between them, while their sister, Katie, still lives in London and has just given birth to twin daughters. Chambers' wife, Sue, is on an extended visit to help her daughter look after the new babies, leaving the men of the family at work together back in Lincolnshire. "I suppose a mother often sees more of her children, but for the first time ever I see more of them," Chambers exclaims. "I actually have to tell them to ring her and catch up sometimes."
The last 20 years have seen the UK economy soar, dive, recover and slow. "We have expanded a little, but not a lot, since 1998," David reflects, modestly. "The financial crisis affected us a little, but not a lot. We only operate east of the A1, stopping at Newcastle, and most of the companies there aren't revolving around the financial centre."
Company accounts bear this out: rounded turnover stayed steady at £87m from 2007 to 2008, up by 9% on 2006. And while profit halved from £4.4m to £2.2m in 2008, as Ed points out: "We managed to avoid losing any money in the recession years; we scraped through."
Lindum's work spans several sectors, including construction, development, plant hire, vehicle maintenance, waste management, security services and home repairs, and it is to this breadth that Chambers partly attributes the firm's resilience. "We have always tried to remain quite well diversified," he says. "Instead of specialising and making lots of money on one job, we maintain a good balance."
The evolution of Lindum
1956: Civil engineer John Chambers founds Lindum (the Roman name for Lincoln), with secretary/PA Pauline Brown, three tradesmen and Shep the dog
1958: Lindum Plant is established
1961: Company moves to premises outside Lincoln
1965: Lindum Joinery is established
1979: KGM Roofing joins as the roofing and cladding division
1988: Pauline Brown, the original secretary/PA, takes over as company chair
1988: Shares are given to non-family members – directors only – for the first time
1988: John's son David Chambers joins the firm
1991: David Chambers becomes chairman after Pauline Brown dies
1993: David Chambers oversees introduction of profit-related pay
1994: Employee share ownership scheme starts
1995: Lindum enters the housebuilding sector
2000: Lindum moves round the corner to its current location on the business park
2000: Lindum Joint Ventures is established
2011: Peterborough office opens
2012: York office opens
2016: Freddie and Ed Chambers become directors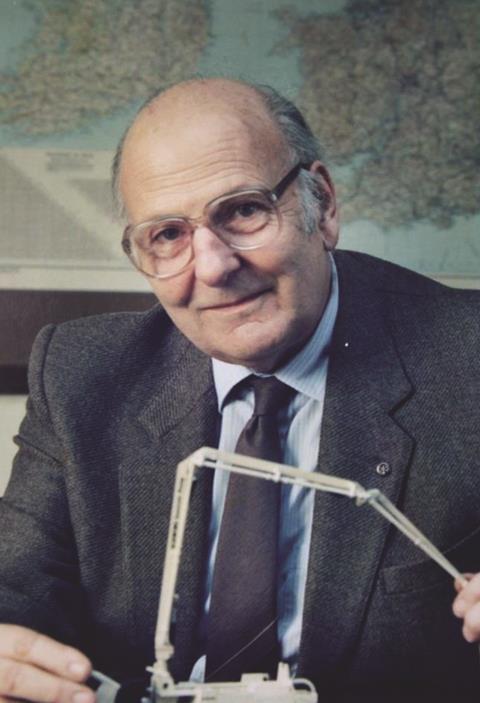 Small is beautiful
Unlike many larger contractors, 67% of Lindum's workforce comprises tradespeople, and the firm feeds off small jobs. "We never say a job is wonderful because it's big," Chambers says. "Big contractors do. They always talk about the big jobs, but the desire to do them is silly." He jokes: "For our income a big contractor could do three jobs [and employ only] three project managers, three project directors and one HR person."
Chambers happily reflects that Lindum operates on jobs worth anything from £60 upwards. The biggest job it is currently working on is a £17m joint venture with Castle Square Developments to build student accommodation in Lincoln. Even of that, he muses: "Is it large, really? It's just lots of student flats, repeated."
Chambers' cool dismissal of big jobs may surprise entrepreneurs swashbuckling for growth and market share. "If we're reducing the turnover, as long as there is a good reason for it, fine. And I would say that if turnover is increasing, there should be a good reason for that too," he says.
Lindum's business strategy starts with its ownership model. Workers own 25% of the business, while the Chambers family has 55% and other directors hold the rest. In 1998 Chambers told Building about the enormous sense of responsibility he felt towards Lindum's staff and stakeholders: "If it goes wrong, it will be my fault." That attitude hasn't changed: he says today that for him the main objective of Lindum is to provide as much security as possible for the firm's many employees and shareholders.
This sense of family affection for the firm is palpable, walking around the headquarters office – and Lindum has been listed in the Sunday Times Best 100 Companies to Work for in the UK for 13 years in a row. But at a time when the industry as a whole is precariously balanced on razor-thin margins and suffering pervasive cash flow problems, how does one ensure security?
"We're still very involved in the day-to-day. I will always know the clients," says Chambers.
Ed adds that employing so many people also helps the firm avoid risky work: "It gives us a lot more control because they can tell us what's happening on the front line."
Moreover, Lindum is freer to make long-term plans than are many of its rivals. Unlike listed companies, it can prioritise long-term shareholder security over short-term dividend prices. And unlike other private businesses, as a family-run and staff-owned firm it isn't at risk of being bought, sold, split up, restructured and sold again by different global asset managers.
What Lindum does can perhaps best be understood by what it does not do. Last time around, Building reported that "perhaps as a result of his financial background, Chambers is keenly aware of market trends and which sectors are profitable for the firm". The firm had entered the housebuilding sector just three years earlier, in 1995, and since then Lindum has consistently built and sold about 60 homes a year, an endeavour that today is worth 6% of its turnover. A further 23% comes from developing affordable homes for housing associations.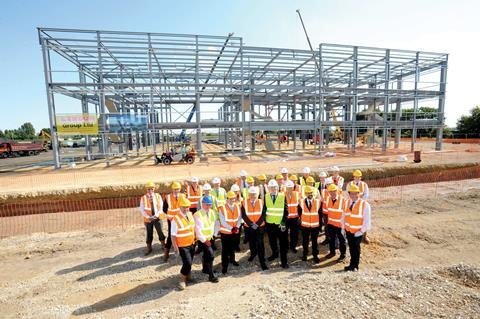 Margins hit 12% on the group's own-brand housing developments but hover between 1% and 1.5% for all other construction work. So why not start building 100 houses a year? "We've just tried to make sure we never do that, because it's not about only making money," Chambers responds. "If we start doing lots more houses and less construction, the end result is that we will lose people. We will lose our skills capability – and when housing demands contracts, we'll be left with nothing."
Another reason for resisting more development work is the fact that Lindum operates with zero debt. Chambers, who before joining the family firm worked in corporate finance at Citibank, says construction is ill-suited to borrowing money. "Building makes such little margins, if interest rates double or triple then suddenly your margin looks a bit precarious," he explains.
If anything, Lindum is creditor rather than debitor. Over the past 20 years it has bought 25% stakes in 15 local start-ups. These businesses have included a planning firm, an electrical firm, a fire-proofing firm and even a law firm. "It's also a good way to get middle managers to become associated with other companies, so they stay interested," Chambers says. "We're also just trying to provide support."
The starts-ups are free to buy back Lindum's stake at any time, meaning the finance comes free from capitulation to a corporate overlord. Currently the group holds a stake in only three start-ups. Chambers attributes this to a lack of eligible new firms: "The internet age has made it more internet-related start-up: we prefer to support more manufacturing."
Lindum's plans for the future seem to revolve around continuing to do local jobs well. "What we need to do is make a reasonable profit every year so our employees and shareholders are content, and we can add little things on as people come up with new ideas," Chambers says.
When asked about Brexit, Freddie and Ed pause. "We need to focus on our business, continue to make sure that we look after our clients on each job we do, and make sure we have a diverse business," Freddie says, channelling his father. A question about whether the firm's plan is to plough on with slow and steady growth is met with patient distaste: "Look. Some contractors do look at the turnover line and want to double it, and we're not interested in that. I wouldn't say we're slow though," Freddie protests.
And what of the family's future involvement in Lindum – will the brothers ever leave the firm? "Absolutely not," Ed begins – "I was trying to think of a sensible way to say that," Freddie interjects. Ed explains: "We all thought about it very hard before coming back, because it would be a very hard thing to leave."
Finally, if Building returns after another 20 years, can it expect to find a fourth generation of the Chambers family running the firm? There are no plans in place, Chambers insists. "But I do have five grandchildren now – all girls. And maybe girls are perfect."