As LOCOG's head of venues and infrastructure, James Bulley has just six months to install 200,000 temporary seats, put up 76 miles of fencing, finish the hockey stadium, weed the rowing lake … and take the rap if anything goes wrong. So why is he so calm? Building finds out. Portrait David Woolfall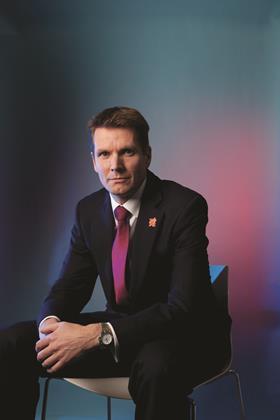 James Bulley must be the only person in the world with "procure enough temporary toilets to service the entire population of Malta" written on his to-do list. That and "install enough tents to cover Hong Kong".
As the head of venues and infrastructure of the London Organising Committee of the Olympic and Paralympics Games (LOCOG), Bulley is charged with transforming the Olympic park from a construction site into an operational venue capable of hosting 10,500 athletes and 9 million visitors during one of the most important six-week periods in the capital's recent history. Oh, and if anything - anything at all - goes wrong logistically or operationally during the Games, it will be Bulley's responsibility to put it right.
When it comes to jobs that are likely to keep you awake at night, you would think this one would feature pretty high on the list. Not for Bulley. "I don't lie in bed worrying about everything," he says. "Considering the buck ultimately stops with me if anything goes wrong in the lead-up to, and during, the Games, I may appear calmer about it than some would expect. But I am confident that we know exactly what we need to do, the structures are in place and we are prepared."
Here, Bulley - a 44-year-old former property consultant who has been working on sports venues for 20 years - talks about what's still left to do, touches on the construction industry's criticisms of LOCOG's strict marketing policy, and explains why he is so serene …
Time to shine
Bulley's demeanour has not changed since August 2008 when Building first met him. Back then, with four years to go until LOCOG was due to step out from the Olympic Delivery Authority shadow, his unwavering confidence was less of a surprise. But now, with the Olympic year upon us, how is he keeping it together?
"I am actually more confident now," he says. "After six years' planning we've got our hands on the site and can start putting plans into place and test everything ahead of July. There will be a cluster of test events in May and that opportunity to put everything through its paces will cement that confidence."
Of course, he is quick to add, calm does not mean complacent: "This is a mammoth task.You can never really relax in my role. I have my mobile on me all the time now and have to be ready to answer it 24/7."
It is easy to see why. Over the next six months, Bulley and his team have an almost superhuman amount of work to complete. Bulley currently has 500 staff on site - a number that will rise to 650 during the Games - and he needs every single one of them. Working alongside a number of construction firms, led by construction manager ISG, they will be busy doing everything from installing temporary venues, such as the hockey pitches, to ensuring that every food stall is in the right place and every scrap of weed has been removed from the rowing lake - yes, really - at Eton Dorney. Some of the numbers for the temporary facilities are hard to get your head around: 200,000 seats, 10,000 toilets, 76 miles of fencing and over 2.5 million ft2 of tents all need to be put in place. And with the bar set so high by the ODA and the construction industry thus far, the pressure is on.
Confident though Bulley may be, others are less sure that all this can be pulled off in such a calm fashion. Speaking to Building in January, Graham Watts, chief executive of the Construction Industry Council, said: "There will be huge pressure on LOCOG to get things right first time, which will filter to the supply chain. The body will probably be a difficult client to work with as it's going to be very stressed."
Considering the buck ultimately stops with me if anything goes wrong, I may appear calmer about it than some would expect
Bulley remains unruffled, but realistic: "Of course there is huge pressure to transform these spaces - particularly the Olympic park - from a construction site into an operational venue. It's a lot of work and this is the big push. But we are on track and within budget after confirming our competition schedules, venues and security planning.
"We are lucky we have had a bit of a head start on the Olympic park itself as the ODA and construction industry have done such a great job in getting everything ready on time and on budget. The major tasks to complete include fitting out the media centre, finishing the building of the hockey stadium, complete with 16,000 seats - this will be done by the end of April - and finishing the configuring of the BMX track and installing 6,000 seats. All of this is on track. We also need to install 3,500 modular buildings - starting with 350 this month."
Under pressure
LOCOG's construction partners, including ISG, Atkins and Populous, will support the body in the lead-up to the Games, but if any of the work that they - or the other supply chain members - do over the next six months isn't up to scratch, Bulley will be held responsible. Just as he will during the Games themselves - his role stretches to operational director of the park and venues throughout the event. If any problem occurs - from issues with a venue through to a London-wide power outage - he will be the one receiving the call to get it fixed. Doesn't he ever feel like he is being set up as the fall guy?
"I feel fine about that part of my role too," he says. "Though it's obviously a huge responsibility, we have contingencies for everything and have been working with the ODA, the police and other emergency services, TfL and a whole host of other bodies to ensure that every eventuality is covered." That covers any unforeseen issues not directly related to the venues. But what about the 23 buildings and surrounding infrastructure that make up the Games sites? What happens if they go wrong at a crucial moment? No surprises here that confidence is, once again, the order of the day; "I know I can't do everything myself, so I have surrounded myself with an excellent team from LOCOG and our suppliers and I trust their abilities entirely."
Sticking to protocol
Then there is the issue of the industry's point about LOCOG's much debated London 2012 No Marketing Rights protocol. Peter Murray, the chairman of New London Architecture, argued in Building last month that most of the team involved in the Games would get little recognition for their work because the protocol was too strict and denied them the chance to showcase their involvement - all part of a strategy to protect the main sponsors who have secured exclusive advertising rights. As Mike Cook, a senior partner at Buro Happold - one of the firms involved in the Olympic project - put it: "What further opportunities globally is UK Plc missing out on by keeping this story hidden?"
Every single firm working on the project signed up to this protocol beforehand. They all knew about it from the start
As a former construction man himself, can Bulley see the industry's argument? Not surprisingly, as a LOCOG director, there is very little he can add apart from reiterating the body's own protocol: "We have to respect those companies who have paid for the exclusive rights to marketing and advertising," he says. "In terms of the construction industry showcasing it's capability - especially to potential overseas clients - I believe there is an outlet for that through the Foreign Office and, through this channel, I think UK Plc and the skills it has to offer are being showcased internationally and introductions have been made. I think it's more an issue that firms don't feel they can create their own marketing opportunities as a result of the success of the Games and the big build. And every single firm working on the project signed up to this protocol beforehand. They all knew about it from the start."
Where am I?
Back in 2008, a then 40-year-old Bulley said he didn't know what the future for him would hold after 2012. He said at the time: "I am not allowing myself to think past 2012. It's too scary. I have no aspirations beyond that year and purposefully so. I will have been on such a huge, huge journey that I don't know where, or who, I will be."We may not be past the 2012 Games just yet but 2012 is upon us. So, does Bulley have any clearer ideas of what he'll do next or - and now for the biggie - who he is? "Oh God," he laughs. "I have no idea. You change in any job and this particular job has certainly made me a very different person. I still have no plans beyond the Games. That has been my life for six years and will continue to be until it's over. I'll revaluate after that."
The merest hint of doubt crosses Bulley's face as he considers a life beyond London 2012. One wonders if that, and not the logistics of installing enough temporary toilets to service the population of Malta, is what keeps him awake at night.
LOCOG's main Olympic Park contractors
ISG - Construction Management services and Main Contractor on various work packages
GL - temporary seating and tent accommodation
DeBoer - tent accommodation to the Village
Elliott - temporary cabins and toilets
Aggreko - temporary power
MTD - temporary water and waste
Alandale - fences
H&J Martin - fit out of the IBC/MPC