Leader of the Liberal Democrats responds to Building's manifesto aims

As part of Building's Agenda 15 campaign to persuade politicians to adopt policies that will help construction to help the UK economy, Building has put our manifesto aims to the main Westminster parties and given each party leader the opportunity to respond, in an open letter to Building's readers. Here, we hear from the Lib Dems' Nick Clegg.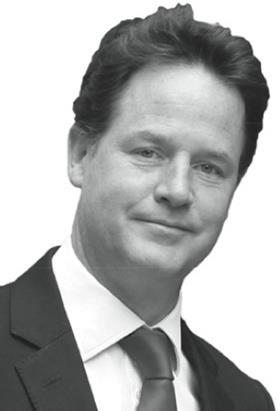 "The Liberal Democrats exist to build a stronger economy and a fairer society, creating opportunity for everyone. Fundamental to our vision is the principle that everyone should be able to live fulfilled lives, with a decent home at a cost they can afford.
We have a real housing shortage problem in this country. The average house price has risen to nearly seven times average earnings, pushing home ownership out of reach for too many people. Ten years ago, more than half of 25 to 35 year-olds owned their own home; today, barely a third do. Rents are rising too, and a quarter of 20 to 34 year-olds are living with their parents as a result.
Britain needs more homes, both to make up for the lack of supply now and to meet the rise in demand to come. In government, we've started to get Britain building again. When we took office, housebuilding was at a record low; we've increased it by more than a third in the last two years.
Our sights are set much higher than that, though. Our ambitious goal is to more than double housebuilding to 300,000 homes a year - much more than the other parties.
We will finish the job of balancing the country's books by 2018 and start to get the debt down, but we'll also continue to invest in the infrastructure our modern economy needs, including housing. Under our plans, public investment will rise every year of the next parliament, both in absolute terms and as a share of the economy, and to provide certainty we'll set out capital investment plans on a 10-year rolling basis.
I completely agree with Building's call for new Garden Cities. We'll build 10 of them, in areas where homes are needed most and there is local support. Like Letchworth and Welwyn before them, these will be well-planned communities with the amenities people need for a good quality of life: gardens and shared green spaces, schools and public transport. A number of them will be built between Oxford and Cambridge, and we'll restore a direct rail link between the two that will serve the new cities too.
And where the private market falls short, the government should step in and commission houses to be built for sale itself. We're already trialling this approach in Northstowe in Cambridgeshire, to get housebuilding going after years of delay.
We'll do much more to support housebuilding too: giving councils the power to borrow to build; fighting to remain in the European Union to give businesses the confidence to invest; and continuing our expansion of apprenticeships to equip the builders of the future with the skills they need.
We're also committed to reducing household energy usage, both to tackle climate change and cut energy bills, and the housebuilding industry has a key role to play here too.
Thanks to legislation we've introduced, all new houses built from next year will be zero carbon homes. We need to upgrade our existing housing stock too. We've insulated more than a million homes in the past two years, and aim to insulate 10 million more by 2020. We'll give anyone who makes their home more energy efficient a £100 council tax discount for 10 years, so they'll benefit twice over by going green, with lower energy bills and lower council tax bills.
That's what you'll get from the Liberal Democrats: more, greener houses so that everyone has a decent place to live."
Nick Clegg MP, leader of the Liberal Democrats