The housing sector is blessed with a mini-boom - if you believe the hype - but new data reveals not all residential firms are bullish about their resilience to covid or their prospects next year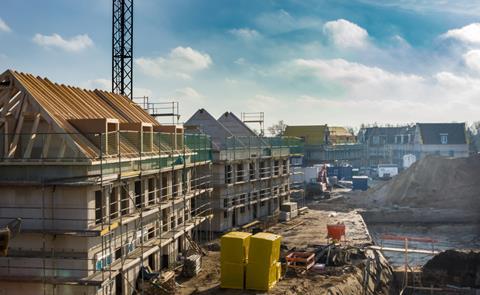 A glance at any national newspaper in recent weeks and you cannot fail to have noticed – beyond the covid-19 gloom – that it is boom-time in the housing market. With people having apparently reassessed their lives and homes during the first lockdown, and the chancellor having obliged their itchy feet with a stamp-duty holiday, the market is by most measures hotter than it has been in years.
Many – naturally – initially feared the impact on the housebuilding sector of a pandemic likely to see hundreds of thousands lose their livelihoods and job security, predicting double-digit house price falls. The latest data from Nationwide instead suggests that prices are now nearly 7% up on where they were back in March.
Even the number of house sales looks likely to end the year at around a million, not far short of where it was in 2019 – despite seven weeks in which the market was almost entirely shut down. Housebuilders including Taylor Wimpey, Persimmon and Crest Nicholson have all published bullish trading updates in recent weeks.
But, while the sector is running hot, it also harbours huge fears over what awaits it in 2021.
It is perhaps unsurprising, then, that a sentiment survey undertaken for Housing Today by recruitment firm PSD Group appears to show an industry split down the middle between those for whom the glass is half full, and those who see it half empty. Not quite the dreaded 52:48 ratio of the Brexit vote, but close enough.
So, what does the survey tell us about the real state of the residential development sector – beyond the headlines touted by the estate agents – and about what we might expect from next year?
Strong demand
PSD's survey of the residential development sector encompassed 450 respondents covering everything from housebuilders and bespoke developers, to developing housing associations, build to rent and modular providers. Undertaken in November, nearly half of the sector (47%) reported that they have not seen a significant effect from the pandemic. A sizable minority (13%) even said that the strong market post-lockdown had more than made up for any difficulties seen during the course of the pandemic.
The main issue is in building sufficiently quickly to capitalise on the demand in the market now – it's a race against time
And it is clear that demand post-lockdown has for most been very strong indeed. Around a quarter told PSD that it had recovered beyond even the post-election bull market seen prior to lockdown, with a further 39% saying it had recovered to around the same level.
With the Bank of England last week reporting that mortgage approvals hit their highest total since 2007 in October, it should be no surprise that only one in 10 firms reported weak current demand.
Dave Sheridan, executive chair of modular housebuilder Ilke, also has a perspective on the performance of the volume housebuilders through his role on groundworks firm M&J Construction. He said: "The top 10 housebuilders are just getting more and more confident around releasing new sites, and bringing forward new phases.
"The government's 'build, build, build' message has made clear it'll do what it takes [to support the industry], and now we've had the announcement of a vaccine – it has all been stimulating the market."
With many benefiting from bumper forward orders, received in a frantic few months of sales since June, the current focus is simply on getting as much as possible built before the end of March, when the chancellor's stamp duty holiday is set to end. Dena Burgher, a former Vistry executive who now works as an interim independent director via her consultancy Revision Property Solutions, says: "The main issue is in building sufficiently quickly to capitalise on the demand in the market now – it's a race against time."
Redundancies
However, this confidence, off the back of surging demand for homes since lockdown which has seen Rightmove record house sales 60% up year on year over the summer, is only half the story. In the lockdown last spring, most housebuilders furloughed staff, cut salaries, slashed dividends and stopped buying land, in fear of what was coming down the track. Even as the market has strengthened, many have started to prepare for what is seen as an inevitable weakening of the market next year.
PSD's survey found 53% of firms reporting that the pandemic had affected their business "significantly" or, in a small minority of cases, "profoundly". Worryingly, this minority of around 6% said the pandemic had "challenged the ongoing viability of the business".
Elliot Course, who oversaw the survey at PSD, says that behind the gloss, many housebuilders have made redundancies since the pandemic started. Those to have announced cost-cutting or restructuring include Bellway, Crest Nicholson, Taylor Wimpey, and Wates, as well as Sheridan's Ilke.
Keepmoat said it has also made 27 people redundant as part of a restructuring of its regional businesses, while Taylor Wimpey's restructuring is understood to ultimately be likely to see more than 100 roles made redundant – albeit the firm maintains it is not covid-related.
Overall, PSD's sentiment survey found that just over a third of businesses (36%) have made redundancies since the start of the pandemic. A similar number, it found, had cut bonuses entirely and stopped dividend payments, while others have cut working hours and more than a quarter reduced salaries.
Nearly two-thirds, it found, put some staff on furlough – albeit a number of the listed housebuilders have announced they will pay back any money received from the government under the scheme. Only one in six has needed to take none of these options.
Triple-whammy
So, if the last nine months has been an extreme rollercoaster, from despair to unexpected redemption, there are now plenty more things to be worried about next year. As well as the impact of deal or a no-deal Brexit, which could impact supplies of materials, there are fears over a triple-whammy of negative policy changes potentially coinciding at the end of March.
This is when the government's current, more generous, Help to Buy scheme is set to end, when the government's furlough scheme finishes, and when the temporary stamp duty holiday announced in July ceases.
You've potentially got a perfect storm of issues, and because of that people are being much more conservative than current sales would suggest
Last month the Office for Budget Responsibility issued a gloomy prognosis suggesting unemployment was likely to double after furlough is withdrawn, and predicting that house prices will fall 8% by the end of next year. Unsurprisingly, the sentiment survey finds economic uncertainty top of the list of concerns of residential developers a long way, with four out of five rating it as one of their biggest challenges. The two other big issues are consumer confidence and the ending of the Help to Buy scheme and stamp duty holiday.
Overall, the survey found 47% of developers were uncertain, pessimistic or very pessimistic about the next 12 months. Revision's Burgher says: "You've potentially got a perfect storm of issues, and because of that people are being much more conservative than current sales would suggest.
"I think they are modelling worst-case scenarios, and some are looking at bringing in forecasts around 10% down next year.
"There are just so many unknowns. But my sense is there could be redundancies and restructurings in the spring."
Opportunities
But despite this uncertainty, by no means everyone is feeling gloomy about the year ahead. The survey found that 53% of firms were either optimistic or somewhat optimistic about the year ahead.
Shaun Pridmore, owner and director at Essex-based SME housebuilder Marden Homes says the pandemic has been "not as bad as it could have been", as the firm had worked hard to catch up since reopening after a short site closure. Since then, he says, the market has gone "quite hot" and the firm could have sold more if it had more stock available.
While he says the uncertainty means that he would settle for a "flat" year next year, he says "we're certainly not hunkering down for a storm".
If the larger builders are holding back on land acquisitions, it might present us with some opportunities
Pridmore adds: "It's very hard to guess, but I'm an optimist by nature. We're looking to expand if anything – if the larger builders are holding back on land acquisitions, it might present us with some opportunities."
While the likes of Marden are hoping for some breaks, others are positively planning for growth. PSD's survey found 56% of respondents planned to expand their businesses in the year – with 9% planning to grow rapidly.
Many of those with the most confidence are not in pure-play traditional housebuilding, but instead sectors such as build to rent, partnerships housing and modern methods of construction, that are predicted to grow rapidly in the coming years, whatever happens in the private housing market cycle.
Geraint Oakley, a former Barratt director who is now executive director of growth and development at 45,000-home housing association Platform, says the organisation is targeting the construction of 2,000 homes a year within five years, compared with a covid-affected likely outturn this year of 1,200 homes.
He is new in post this year and this expansion means he is actively recruiting a new team, with plans to bring in a land director, sales director and business development director in the coming months
Platform splits its new-build housing into thirds, between social rent, affordable rent and shared ownership homes – all of which Oakley says there is strong demand for. His challenge is more in how to respond to government policy announcements, such as the change in shared ownership rules, which make those homes more financially challenging to build.
Dave Sheridan's Ilke, which last week signed a £31m deal with asset manager Man Group, is another with big expansion plans. While the modular builder, which only set up in 2017, made redundancies in June, Sheridan says "we are now looking at how we can ramp back up again early next year".
The firm, he said, is on course to produce more than 300 homes this year, but next year he expects that figure will rise to 750. However, he admits that covid-19 has delayed Ilke's growth – plans for a second factory to add to its current 250,000ft2 Knaresborough facility, are still being pursued, but have been moved back 12 months.
It is these non-traditional housing businesses that seem likely to see the best prospects in 2021. Deena Burgher says: "Offsite and PRS [private rented sector] firms are very bullish. They're recruiting more people, doing more deals for sites.
"They can get funding and, if the market is weak, people still need homes. There could be a load of people who don't qualify for social housing but also can't get a mortgage."
Working practices
As in other sectors, the coronavirus crisis has forced many housebuilders and property developers into different ways of working – from social distancing on site, to remote working for formerly office-based staff.
PSD's sentiment survey found that over 80% of firms had encouraged working from home for some staff and, crucially, that many of these changes are likely to be permanent. Nearly half (45%) of respondents said that flexible or homeworking will now continue indefinitely, with just 10% expecting to return staff to the office this year.
Crucially, for two-thirds of businesses, this move to more flexible working patterns has not been found to reduce productivity. In fact, 14% said productivity had increased in the period.
Gerraint Oakley, executive director at Platform Housing Group, said that, while it will be a mixed picture as some staff were "desperate to get back to the office", he did not foresee the business going back to "mass office" attendance. "We will want to retain that flexibility," he said.
Elliot Course, director at PSD, said: "The built environment has been evolving slowly over the years in many of its working practices, and it looks like the covid crisis has sped up this evolution exponentially."
Methodology
PSD is an executive recruitment consultancy, specialising in director, management and board level recruitment. We canvassed the opinions of senior managers and directors across the built environment including residential development, PRS / BTR, affordable housing and later living, just to name a few. More than 400 professionals responded in November with their thoughts and feelings on how the market has adapted to the covid-19 crisis. For further information on the survey please contact Elliot Course, director for PSD Group on: 0207 970 9792 or elliot.course@psdgroup.com