Supermarkets are preparing to shake up their framework agreements and plump for new ways of procuring work. So what will the new supply chain be expected to deliver? Emily Wright reports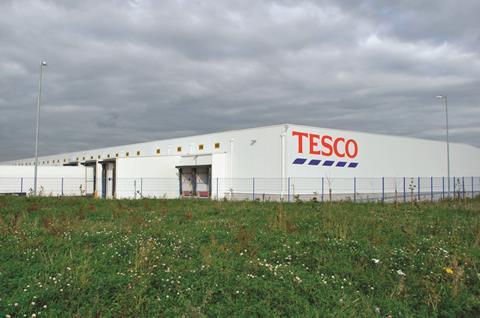 Speaking at last week's Supermarkets Conference in London, four of the six biggest food retailers in the UK made it clear they are about to seriously shake things up on the procurement front. And considering they make up some of the biggest clients in the country, with an average annual combined spend on construction of £5bn, the ramifications
are going to be felt throughout the whole of the industry. For some supply chain members it could prove disastrous as cosy framework agreements are torn up and procurement changes beyond recognition. But for others, it offers the chance of a swathe of fresh work.
The four speakers were Tesco, Asda, John Lewis and Marks & Spencer, all of which said that in such tough, competitive times, solely using framework agreements might not be the right method of procurement. John Lewis doesn't have a formal framework system, but the others have all said they are increasingly looking to tender competitively. The move isn't just about cutting costs, but finding the right contractors to deliver a new generation of food retail outlets. The rise of e-commerce is changing the sector so fast that traditional retail construction skills such as big box build are becoming outdated as the convenience market and live refurbishments dominate. "For the first time, I really don't know what the future for retail development looks like," says Tony Jacob, head of construction at the John Lewis Partnership. Paul Glinn, head of architecture at Marks & Spencer, agrees. "The door is wide open," he says. "Tell us what you think. Come to us with your best stuff."
So as retail development and procurement take great leaps in evolution, who are likely to be the winners and losers and what do the key clients want from a supply chain for the digital age?
Shaking it up
The retail sector is facing a challenging period but this has not eclipsed the opportunities. Tesco still plans to spend £3.3bn this year on construction as well as refurbishing 400 stores; Waitrose, part of John Lewis Partnership, is planning a £600m expansion over the next four years, with a goal to double its property portfolio over the next 10; and Sainsbury's, one of the so-called "big four" supermarket chains along with Morrisons, Asda and Tesco, will invest £100 per ft2 of existing space in each of its 20 refurbishments this year and plans to open 75 convenience stores by the end of 2012. But the space race is over as the convenience market and store refurbs dominate. At the same time there's more work emerging to support e-commerce, including so-called dark stores - warehouses set up like supermarkets designed to make it easier for the "pickers" to put together online deliveries - click and collect hubs and delivery centres.
As the opportunities have changed, so too have the way this work is going to be procured.
Martin Young, chief architect at Tesco, says: "There are benefits to having frameworks, but we are not necessarily in a world where it makes sense to work with the same firms over and over again, if [looking outside the framework] means cost savings and new ideas. There are some financial reasons that make single stage tendering great."
M&S' Glinn says: "We will continue with some frameworks but we have been looking at tendering and have seen some incredible results. But there's a fine line between value engineering and cost cutting and we will always try to stay on the right side of that."
The obvious casualties of a move away from frameworks will be the incumbent supply chain members. But even some of them admit that it could be time for a shake-up: "What frameworks have not done is reflect market pricing and if I were a client I would absolutely be using tendering alongside the framework to get the market price I want," says Andy Taylor, preconstruction director at ISG Retail. "It's unpleasant but an unpleasant reality. Now is the time for contractors not in retail to come to the sector with new, exciting, innovative offers. Incumbents on frameworks who don't adapt will find their positions at risk, we'll really need to change."
Dave Smith, national retail director at contractor Morgan Sindall, says the changes open the door for new supply chain members.
Winning the work
So what do the supermarkets want? Clearly cost is an issue, with John Lewis' Jacob recently admitting Waitrose would be looking to reduce spending on consultants by 30%. But it's more than that: "Contractors and supply chains need to be a lot more organised in the way they plan and programme projects. They need to be more coordinated and much slicker on logistics. By that I mean better management of materials, delivery of products to site with the right quantities at the right time. Assembly points need to be assembly points, not construction points and there should be more of a focus on offsite manufacturing to avoid repetition."
Clients need to see evidence of innovation, which might be technical, with a move to off-site construction and timber frame technology, but might also be financial, with contractors having to offer to finance projects. Tesco's Young says: "For incumbents on existing frameworks, one way to secure work is to forward fund construction work. That's to our advantage as it means we can flatten the development programme. Yes, it means we rely on funding from a contractor, but it means we can start six months earlier and so will give you that work in advance." John Lewis' Jacob has a message for the industry. The opportunities are there, you just have to know what you're up against:
"Our population is set to rise and, whatever people may say about the next generation being entirely digitalised, they'll still need to eat. And as long as that's the case, the opportunities will always be there. But you also need to remember that this is probably the most aggressively competitive sector in the world. So you'll need to be good."
THE WORK AVAILABLE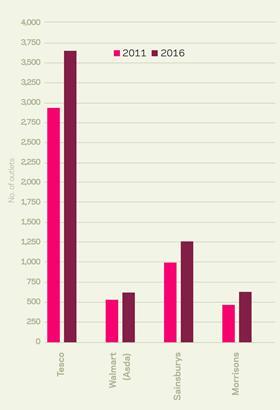 As well as dark stores and click and collect facilities, most supermarkets are focusing on a refurbishment and upgrade plan rather than a big new build or expansion push.
There will be a big convenience push, however, with Waitrose looking to expand in the North and Asda in the South and all major supermarkets pushing on smaller store new builds, meaning more inner city construction.
As for a complete move away from physical stores in the future, Asda's director of construction Mike Abel is not convinced: "All major retailers are moving away from huge boxes but I don't see a move away from having stores on the ground in the short to medium term. We will continue to build stores around 6,000ft2 and push development that supports an increasingly multichannel world."