As Sainsbury's Greenwich, the pioneer of retail sustainability, prepares for possible demolition just 15 years after its opening, we look at how eco-stores have evolved since, with supermarkets attempting to save energy and boost their green credentials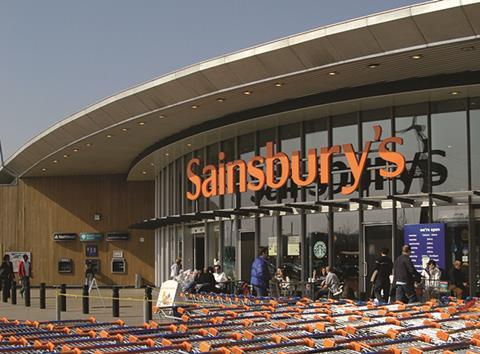 When celebrity chef Jamie Oliver opened Sainsbury's newest supermarket on the partially redeveloped Greenwich Peninsula in 1999, it was gushingly hailed by the media as the supermarket of the future. With its striking, timber-clad organic design and prodigious array of sustainability features, such as solar panels, bore holes and passive ventilation, Britain had never seen a supermarket quite like this before. For the time its sustainability credentials were impeccable and it was the first British building to receive a BREEAM Excellent rating.
Barely a year after its completion it was crowned as one of the jewels in the massive North Greenwich regeneration project when it was only narrowly beaten to the Stirling prize by Will Alsop's Peckham Library. Four years ago it scored a supermarket first when it was visited by South African president Jacob Zuma on his state visit to Britain after he had specifically requested a tour to see for himself the environmental credentials embodied in its design.
And yet, just 15 years after it was opened, the store already faces demolition. Last month Greenwich council controversially gave permission for the building to be demolished to make way for a new branch of Ikea. The Swedish retailer claims the existing supermarket is too small for its standard store template and Sainsbury's, which has remained conspicuously quiet amidst the mounting furore, is already eyeing up a significantly larger site nearby.
The desperate and tragically familiar rituals of emergency conservationism have now swung into action with a campaign launched to save the building and an ambitious spot-listing application already lodged with English Heritage. But with planning consent and the hungry wheels of commerce already clearly set in motion, it is difficult to envisage how this pioneering footnote of British sustainable architecture can be saved.
Such is the inexorable buoyancy of London property speculation that while the demolition of landmark young buildings remains controversial, it is no longer particularly unusual, as Broadgate in the City scandalously demonstrates. But there is an obscene and particularly stinging irony about destroying a building after such a short space of time whose comprehensive commitment to the environmental agenda spoke of a self-professed desire to sustain and endure.
Moreover the type of building under threat at Greenwich is also significant. Supermarkets are not necessarily the kinds of buildings that immediately spring to mind when considering pioneering sustainable design.
Any sector that still revels in the committed carbon corpulence of the open freezer is unlikely to offer a particularly convincing treatise on environmental efficiency. Moreover, in recent years the much publicised problems of the high street have successfully deflected both attention and perception of the retail sector away from sustainability and on to presumably more pressing concerns such as the threats from the recession and the internet.
However, in the 15 years since Greenwich Sainsbury's was built there has been astonishing progress in sustainable design standards and aspirations within the UK supermarket sector. While this has yet to be felt across the vast bulk of the estimated 60,000 supermarkets in the country, there are certainly a handful of stand-out projects that not only set an environmental example to the rest of the sector but also provide a chronological gauge of how the sustainability agenda has evolved within retail architecture over the past decade and a half.
The potential sad demise of the first of this illustrious group of buildings provides an opportunity to revisit both this and some of the noteworthy successors it spawned.
M&S, Cheshire Oaks, Cheshire, Aukett Fitzroy Robinson
2013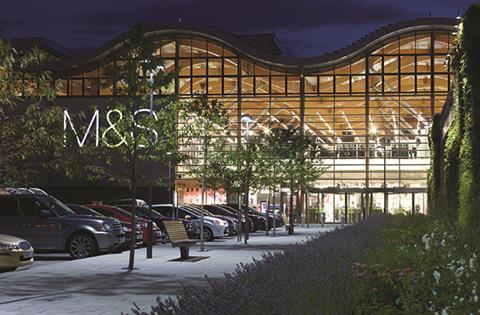 M&S' biggest store outside London and the retail chain's greenest store to date is of a scale that could well go on to emulate the huge impact of Greenwich Sainsbury's. At a whopping 209,000ft2, its roof alone is 1,400m2, giving the building the scale and perhaps the appearance of an airport terminal rather than store. Of course M&S is not just a food-only retailer and the majority of its floorspace here, as in most of its stores, is dedicated to non-food items. But this still marks a significant step in the story of sustainable supermarket design. Arguably Cheshire Oaks' most significant eco feature is its vast undulating roof which is comprised of curving glulam beans supported by a phalanx of steel columns. The store also features precast mixed hemp and lime cladding, a natural material that locks in carbon dioxide and is an excellent insulator. Cheshire Oaks sends zero waste to landfill, has 70% of its heating provided by biomass boilers and reclaimed heat and its fabric is primarily comprised of recycled materials.
Once again these features had significant cost ramifications but M&S maintains that it will benefit in the long run from lower energy and running costs. This touches upon what is perhaps the most intriguing feature of the store: its conception. M&S insists that Cheshire Oaks is not a one-off because it is part of its wider programme of sustainability targets that the company is committed to meeting. It is actually the third of its "sustainability learning stores" and M&S intends to embed findings from these stores across the rest of its property portfolio. Therefore, perhaps Cheshire Oaks' biggest lesson for future sustainable supermarkets is that in as commercially aggressive a sector as retail, sustainability cannot be delivered on an ad hoc basis but must be immersed within a wider corporate agenda.
Sainsbury's, Greenwich, London, Chetwoods Architects
1999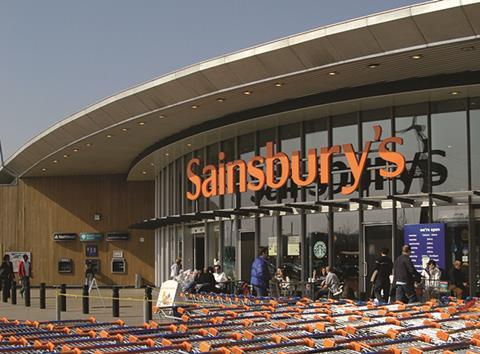 The store that virtually single-handedly kick-started the retail sustainability agenda set a slew of precedents that are still evident today. First, its design was revolutionary. Its timber walls, curving organic profile and vault-like naturally-lit interior astonished a sector that had long blithely encouraged the tyranny of the functional and forgettable brick or metal supermarket box. The futuristic yet naturalistic earth-hugging appearance of the Greenwich store sent a strong statement about its environmental intentions and overnight established timber cladding as the default material for any future supermarket with serious ecological ambitions. Cleverly, it also established Sainsbury's as perhaps the pre-eminent environmentally-aware supermarket brand within the eyes of the public, an accolade it probably still enjoys today and a canny commercial move.
But it was not just the building's appearance that impressed. It introduced a revolutionary series of sustainable features that have now become commonplace. These include underfloor heating, cooling and passive ventilation; earth sheltering, bore holes feeding combined heat and power (CHP) plant via the London aquifer, wind turbines and solar panels. All of which accrued significant annual energy usage savings. Greenwich is undoubtedly a milestone in sustainable supermarket design but should that guarantee its survival in perpetuity? Those that don't believe it should point out that true sustainability is flexibility and that for all its innovation, the store is too restrictive for adaptation. Yet where is the sustainability in demolishing a building that is probably younger than most of the vehicles in its car park? This landmark store's potential demise promises to offer as much to the sustainability debate as its construction.
Asda, Bootle, Liverpool, Aedas
2008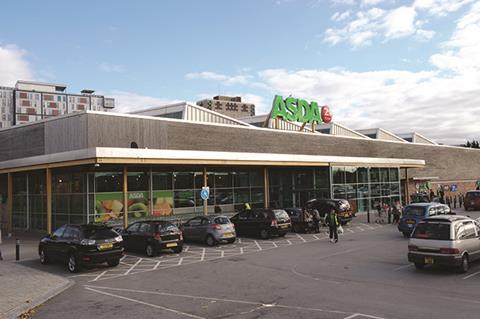 This £27m store builds on many of the features introduced at Greenwich Sainsbury's almost a decade earlier. There's a biomass woodchip boiler that also provides CO2 refrigerant for the chiller cabinets, saving 213,000kWh of energy and 92 tonnes of CO2 per year, thereby directly addressing what is perhaps the single biggest source of energy waste within the supermarket sector: fridge and freezer cabinets without doors. The store also has a green sedum warehouse roof, sensor-controlled artificial lighting to maximise natural light and an open loop ground source heat pump. All of which enables the store to use an impressive 40% less energy than an average supermarket and emit 50% less carbon. The store also contributed to Asda's commitment to eventually send zero waste to landfill sites by diverting 95% of its operational waste away from landfill. While the design of the building is significantly less adventurous than Sainsbury's Greenwich, it represents a worthy evolution of the supermarket sustainability ethos.
Waitrose, Bracknell, Berkshire, BDP
2011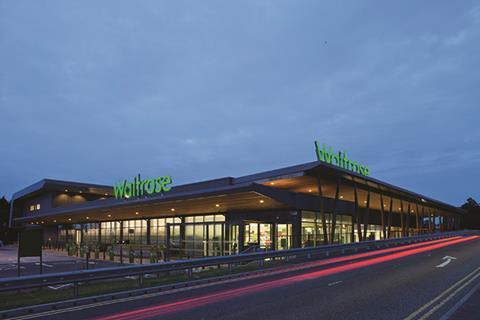 Waitrose's brand reputation for high-end quality meant that it was only a matter of time before it produced an eco-store offering of its own. This eventually emerged in Bracknell, Waitrose's lowest carbon store which claims to reduce average supermarket carbon emissions by a whopping 80%. It was also the first Waitrose supermarket to achieve a BREEAM Outstanding rating. While exhibiting the expressed timber frame that is now familiar, the dynamic envelope comprising deep overhangs and a sweeping colonnade of steel V columns strikes a rare and welcome tone of drama. Sun pipes make another appearance here as does an on-site greenhouse and energy centre, CHP, accessible green roof with working allotments and a "living" wall. The store also makes the most of its comparatively unusual town centre location by addressing a wider sustainability agenda and contributing to the regeneration and "greening" of Bracknell.
Tesco, Ramsey,Cambridgeshire, Saunders Partnership Architects
2010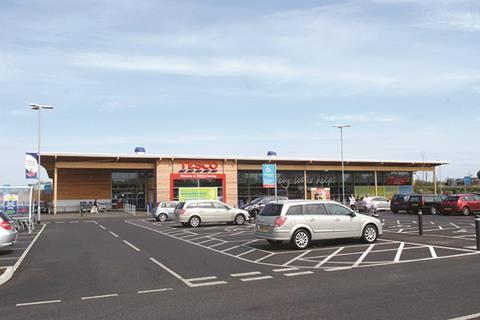 Tesco is the world's third biggest retailer so is in a better position than most to ensure that any sustainability agenda it adopts has a far-reaching impact. Over the past few years it has opened a number of eco-stores, committing to spend over £100m on green energy companies and research, donating £25m to the University of Manchester to establish a sustainable consumption institute and aiming to become a carbon neutral company by 2050. But Tesco still pumps out £4m tonnes of carbon a year and of its over 3,000 UK stores and only around two dozen are of the "eco" variety. The first and most ground-breaking of these was in Ramsey in 2010, the company's first zero carbon supermarket. Its impressive array of sustainability credentials include an exposed glulam timber frame, a naturally-lit shop floor, sun pipes, wind catchers for natural ventilation, biofuel CHP, rainwater harvesting and doors on fridge and freezer cabinets. But perhaps the most interesting fact about Ramsey came from former Tesco CEO Sir Terry Leahy, who revealed that although the store uses 50% less energy than a conventional supermarket, it cost 30% more to build. This perhaps sums up the key concern that still dogs the delivery of sustainable buildings.
Sainsbury's, Dawlish, Devon, CHQ Partnership
2012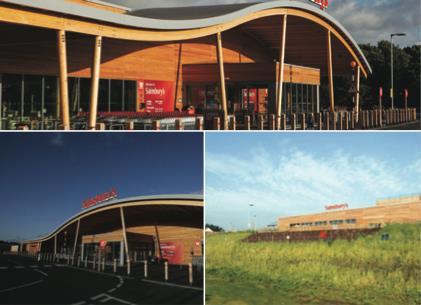 Before this scenic Devon resort captured the public consciousness with its dangling, storm-battered railway tracks, it was famous in design circles for something else: Sainsbury's most sustainable supermarket since Greenwich. Its designers claim that this was the first UK supermarket to meet Passivhaus standards and with U-values of 0.2kw/m2, airtightness of just 1.8m3/m3/hr and 10% renewable onsite energy generation, it has the credentials to prove it. It also aims to achieve a net zero carbon footprint over its operational lifetime. Once again the store's aesthetics reflect its strong sustainability agenda with larchwood walls and roof. A recyclable PEFC glulam timber frame holds pre-formed timber cassette wall and roof panels which are largely responsible for the building's airtightness and insulation performance. The store also incorporates a host of other sustainable features including natural light and ventilation, sensor-activated artificial lighting, a biomass boiler fired by locally sourced wood pellets, an eco balancing pond to provide ecological compensation and car park run-off, rainwater harvesting and waterless urinals.