New building codes in development, a fledgling eco rating system and an influx of western expertise - are these signs that China is finally pushing forward with energy efficiency? Building reports on the rise of sustainability amid the world's most relentless construction boom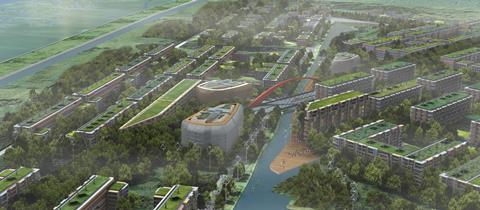 Dianchi Lake, in south-west China, was once known as the "Pearl of the Plateau". A 298km2 stretch of water in the heart of Yunnan Province, 2,000m above sea level, the sparkling, sunlit setting was, until the early nineties, the centrepiece of an agricultural community, providing drinking water and a steady supply of fish to
local fishermen.
By 2000, however, after 10 years of increasing commercial and residential development along its banks, the lake had become the most heavily polluted stretch of water in China. The water, by now a dumping ground for sewage and mining waste, and contaminated by fertiliser run-offs from local farms, was classified as unfit for not only human but also agricultural use.
The situation was so bad that, in 2006, the Chinese government set aside 17.1bn RMB (£1.7bn) in its 11th Five-Year Plan for an enormous clean-up operation. This included an 8bn RMB (£800m) engineering project to divert water from Niulan River, situated about 130km from the lake. The scheme, which will be finished this year, is just one part of a massive environmental project that will cost another 42bn RMB (£4.2bn) over the next five years.
The amount of money the Chinese government is spending on the lake is indicative of how far environmental issues have shot up its agenda since the late 2000s. As well as environmental mega-projects to address existing concerns, the government has begun a drive to integrate sustainable construction into its huge development pipeline, as it attempts to meet an international commitment, made in 2009, to reduce its carbon intensity (a measure of a country's carbon dioxide emissions compared with its GDP) by 40-45% by 2020.
However, China has a chequered history when it comes to sustainability: its highly publicised 86km2 eco-city in Dongtan, for example, failed to materialise as planned for the 2010 Shanghai Expo, and it is understood that its construction has been indefinitely postponed.
So, when it comes to China's burgeoning construction programme, just how real is the government's - and private developers' - commitment to the environment? And, given that sustainability is a relatively new phenomenon in China, how much is it looking to western expertise to meet its targets?
Government steps
In December 2009, at the Copenhagen Climate Change Conference, Beijing bowed to international pressure on China to curb its carbon emissions by agreeing to a reduction of at least 40% in its carbon intensity by 2020. Last year, at the UN's climate change conference in Durban, it took a further major step by agreeing to allow international authorities to audit its calculation process for carbon reduction for the first time.
The clamour for China to tackle climate change has come amid the country's rapidly escalating contribution to global energy use. In 2010, China overtook the US as the world's largest energy consumer. In the same year, Chinese CO2 emissions rose by more than 10%, with China accounting for a quarter of global emissions, according to research from energy giant BP.
The Chinese government started taking steps to address the issue several years before its public commitment to tackle climate change. Its 11th Five-Year Plan, covering the period 2006-2010, included a series of major projects aimed at addressing environmental problems that resulted from the country's rapid urbanisation, including the Dianchi Lake clean-up. It also advocated the development of renewable energy sources such as wind power, solar power, bio energy and nuclear power. The implementation of these projects in practice was mixed, but by the end of the period, in 2010, renewable energy made up 8.6% of China's energy consumption, according to the country's National Bureau of Statistics.
The 12th Five-Year Plan, for 2011-2015, continues the trend towards tackling environmental issues - primarily through increasing the country's use of renewable energy and taking clear steps towards a sustainable approach to its massive development programme.
In terms of renewable energy generation, the government has mandated projects such as the construction of large-scale hydropower stations in south-western China, where it has planned schemes with a total installed capacity of 120 million kW; eight major wind-power bases; and solar energy power stations capable of generating more than 5 million kW of energy, focusing on areas including Tibet, Inner Mongolia and Yunnan.
The government's policies towards improving the sustainability of its buildings focus on two areas: the creation of large-scale sustainable "eco city" developments; and improving the efficiency of individual buildings during initial construction and through retrofitting. It is aiming for 200 of the 260 city developments it has earmarked for the coming 20 years to be eco cities, and in 2010 China's National Development and Reform Commission named five provinces and eight cities that would be pilot areas for low-carbon development (see box, below).
When it comes to individual buildings, the government is increasingly pushing its voluntary, three-star ratings system, launched in 2006, which asks that developers of residential and commercial buildings achieve minimum standards of land savings, energy savings and water savings. These are designed to supplement mandatory energy savings codes for public buildings, which are generally regarded as being very low, and tougher local design guidelines on green buildings that are in place in some areas. However, although the rise in the use of the three-star system - about 800 projects had been rated under the scheme, according to research published last year - has been welcomed by the green lobby in China, there have also been criticisms that the system enables clients to brand buildings as "green" when they only meet the minimum - one star - standard.
In addition to its ratings system, the government has also begun to introduce incentives to install certain types of renewable technologies, including solar panels. Some commentators believe that greater incentives will be needed to secure buy-in from local governments to introduce sustainable measures, as there is often a disconnect between top-down policy and spending decisions at a local level, where cost is often prioritised over sustainability.
One industry source says: "The national government has been setting the direction, but there have not been many financial or fiscal incentives given to local government. At the moment, it's not sustainability at any cost - but I do believe we will see more provincial targets as local governments become more concerned.
Private developers' attitudes
Striking a balance between cost and sustainability is also an issue among private sector developers, partly because the Chinese market, in evolving its use of low-carbon development, has tended to focus on visible technologies, which are often expensive and not always the most efficient way of greening buildings.
Yingchu Qian, head of sustainability, Asia at Faithful+Gould, says: "So far, how to control cost is a problem. Some developers have depended on tangible, expensive technologies, and this leads others to say that they can't copy them. But they can, if they learn more about sustainability. It's about achieving affordable sustainability by integrated technologies or design."
According to Dr Li Hongyu, regional managing director of building engineering in China at Aecom, clients are becoming increasingly aware of this. She says: "More and more, clients don't just want a green sticker on their projects. They're starting to want sustainability to be embedded within buildings." Her colleague, Helena Fu, director of Aecom Sustainability Center, adds: "I do think that the market place is maturing, but it mirrors what's happened elsewhere in the world. Some clients want in, and some don't want to invest."
Qian observes that government clients are leading the sustainability agenda in China, together with multinational private clients, with Chinese private clients less likely to place value on sustainable buildings. When it comes to multinational clients, many are asking for their schemes to be double-rated, with a three-star score supplemented by a LEED rating, as it is internationally recognised. A handful of clients have also asked for BREEAM scores to be applied to their buildings.
Western ways
Aecom's Dr Li says there is growing demand for "worldwide experience in the appropriate application" of sustainable building techniques and technologies, as clients on projects in China look to harness international firms' experience of sustainable construction elsewhere in the world. She
says that Aecom is now emphasising its sustainability offering in its fee proposals, "not just price".
Michael Kwok, director at Arup, agrees that international experience in sustainability can offer an advantage on projects. He says: "Expertise in sustainability, and our knowledge of sustainable concepts, are an additional edge that Arup has in China."
However, firms need to balance international experience with local expertise and sensitivity. Baet Yeok Hoon, senior associate director at Atkins, recalls one project where the company included green walls in its design, but had to house the plants in pots that were removable during winter as the local district government did not want to have its buildings adorned with wilted plants. Another consultant reports a project in which the client wanted to include a combined heat and power generator, but the local government refused to allow this access to the regional power grid.
One area in which companies including Aecom have found work is in offering high-level consultancy on sustainability to cities or regions, or repeat clients. Dr Li says: "There is still a need to proactively promote sustainability, particularly to third and fourth-tier cities."
The company has written a sustainable development directive, providing technical guidelines, for one local Chinese developer, and its Sustainability Center was set up to work with city and district governments to set sustainability strategies and goals.
So far, the main area of demand on top-down consultancy and on individual projects has been on the construction phase; however, Dr Li says Aecom is now extending its service to cover operational and maintenance issues as the Chinese market becomes more aware of the benefits of whole-life sustainability. Faithful+Gould has also recently launched a building commissioning service in China.
There are openings, too, for western firms that can provide energy retrofit services, particularly in the industrial sector, which is under pressure to reduce its impact on the environment, politically and due to rising energy costs. Barry Piper, director for Asia at Faithful+Gould, says: "Multinational clients want to lower their energy consumption and their carbon footprint to help offset the growing cost of doing business in China. Local clients can be reluctant to spend money, but it's about finding a model that makes it easier on them to do so. At the moment, the standard model is to take fees out of the energy savings."
This is perhaps the main issue China must overcome if it is to meet its ambitious international targets: on one hand, there is a growing consciousness of the need to address sustainability; on the other, there is hesitation over the extent to which it must pay to do so in the face of short-term development needs.
Aecom's Fu, for one, believes the country is on the right path. "To me, the main message is that there are really daunting challenges ahead, which China is well placed to address, but it will take effort and resource," she says. "But I think the government is really committed to meeting these challenges."
International star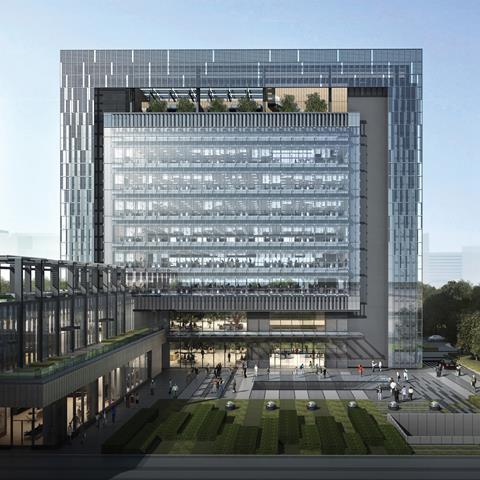 H2 Low Carbon Building, Tianjin Modern Service District
Design: Atkins
Client: TEDA
Additional sustainability consultancy: Aecom
This project, to be used by the government affiliated developer as a demonstration project in its Modern Service District, conforms to four international ratings systems. It has a three-star Chinese rating, BREEAM Very Good, LEED Gold and Japanese Casbee S rating - illustrating the appeal of multiple ratings on schemes. Baet Yeok Hoon, senior associate director at Atkins, says: "It makes quite a statement - especially as it was challenging to achieve as some aspects of the ratings came into conflict with each other."
The 12,000m2 building includes photovoltaic panels and a double-skin facade.
Dongtan: the vision that never materialised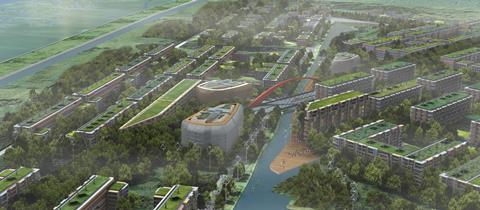 The Dongtan scheme is an example of where ambition has outweighed a commitment to sustainability in reality. Arup was appointed in 2005 by Shanghai Industrial Investment Corporation to produce a masterplan and sustainability guidelines for Dongtan, a proposed eco-city near Shanghai that would create a zero-carbon living environment for up to 500,000 people. The work was completed and handed over in 2006, but since then construction permits have lapsed and the scheme is understood to be indefinitely on hold.
Pilot cities and provinces
In 2010, China's National Development and Reform Commission named the following pilot areas for low-carbon development:
Provinces
Guandong, Liaoning, Hubei, Shaanxi, Yunnan.
Cities
Tianjin, Chongqing, Shenzhen, Xiamen, Huangzhou, Nanchang, Guiyang, Baoding.