Among a truly impressive array of projects that have gone green in a myriad ways, Max Fordham and Feilden Clegg Bradley Studios' The Hive project in Worcester struck the judges with its holistic environmental approach
WINNER The Hive, Worcester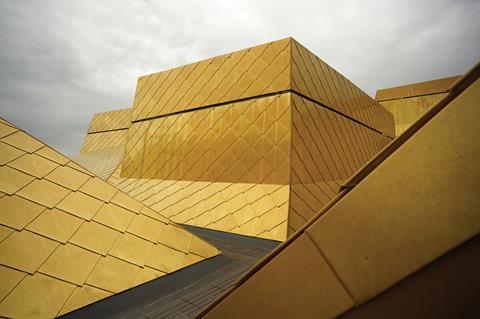 Max Fordham & Feilden Clegg Bradley Studios
The Hive is a building whose environmental strategy is synonymous with its design approach. The structure sits on a flood plain and its distinctive TECU cladding stops short of its raised basement plinth. This too is surrounded by a rich garden landscape that promotes biodiversity and is inspired by local flora. But nowhere is this unison more evident than in the nine lanterns that crown the roof. Not only do these reference the pottery kilns embedded into Worcester's heritage and the jagged topography of the Malvern Hills nearby, but they are also the culmination of an ingenious passive air flow system that provides natural ventilation, daylight, warm air exhaustion and solar shade. These and a host of other measures including a biomass boiler and heat exchange from the nearby River Severn enable the Hive to achieve an annual BER of 17.4 kg CO2/m2 and harness 50% on-site renewable energy.
RUNNERS-UP
One Angel Square
Bam Construction, 3D reid, Buro Happold, M&E Design
With a score of 95.3%, the new headquarters of the Co-operative Group has achieved the highest ever BREEAM "outstanding" rating. With an A+ Energy Performance Certificate rating and Display Energy Certificate A operation standards, it is the first UK commercial building to achieve all three environmental accreditations, via low-carbon sustainability features, which enable the building to consume only 150kWh/m2 of energy.
University of St Andrews Biomedical Science Research Campus
Sir Robert McAlpine
The University of St Andrews' new biomedical science research complex is the first building to achieve a BREEAM "outstanding" rating in Scotland. It also has an EPC rating of A, achieved by installing a CHP plant which also supplies an adjacent building with heat and two other laboratories with electricity, cutting carbon emissions by 54%. The building has better than university best practice buildings for electricity.
Cheshire Oaks
Marks & Spencer
This is the retailer's second biggest outlet so making it the greenest too is impressive. M&S set out to cut carbon emissions from the BREEAM "excellent" store's operation by 30% compared with a standard store so natural lighting has been maximised and LED lighting used externally. A biomass boiler provides heat and a 80,000l rainwater harvesting tank cuts mains water consumption by 25%.
The Quadrant: MK
URS
The Quadrant embodies an exceptional environmental approach. The 400,000ft2 complex houses 3,000 staff in a flexible building that consumes 25% of the energy and 30% of the water of a similar sized traditional office and maintains an EPC rating of 18. This is achieved by a passive design approach that uses the building design, layout and orientation as the chief environmental tool.
Oakfield Primary School
Willmott Dixon
Oakfield primary school has no air conditioning, excellent daylight levels, an A-rated EPC and has achieved a 15.3% improvement on its building CO2 emission rate target. Also, at a cost of a mere £2.2m (£1,858/m2) for a brand new one-and-a-half form entry primary school (including fixtures, fittings and equipment), Oakfield represents exceptional economic sustainability, too.
The Crystal, London
Turner & Townsend
The Crystal will be the first building to achieve both BREEAM "outstanding" and LEED Platinum. It is part of client Siemens' sustainable cities initiative and houses an exhibition showcasing the best of urban sustainability ideas. The building exceeds 2006 Part L by 85%. A sophisticated control system ensures power is not wasted.
Tata Stores Building
McCann & Partners consulting engineers
This training and visitor building has an EPC rating of -1, which equates to an A+, achieved by using waste heat from the adjacent blast furnace and using flared gas from steelmaking to generate electricity. The building has a BREEAM "outstanding" rating made possible by rainwater harvesting, efficient plant and maximum use of natural light.