Former head of property for banking giant looks forward to "hands on" role as non-executive director of London-based firm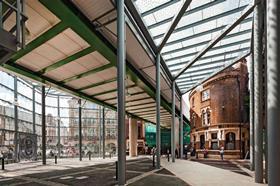 The former head of property for banking giant Barclays, Brian Teale, has joined the board of architectural lighting specialist Future Designs.
Teale – who previously oversaw 25 million ft2 of real estate for Barclays and the construction of its 32-storey Canary Wharf headquarters – said he was attracted to the lighting sector by the "phenomenal" growth potential offered by the property industry's increasing adoption of LED lighting.
Teale joins Future Designs as a non-executive director.
London-based, 75-strong Future Designs has a turnover of £8m and has installed high-end lighting in London's revamped Borough Market (pictured) and for oil giant Shell and insurer Lloyds.
Teale told Building his role would be "hands on" and that he has already begun meeting Future Designs clients.
Teale said: "Lighting is now a very critical element in building design."