Could shipping modules from China be a cheap solution for prefab housing? Joint venture Verbus thinks so, and has invested £1m devising a system to win over developers at next week's launch. Katie Puckett follows a prototype on its journey from Xinhui to Salisbury
The quest for a cheap, quick solution to Britain's housing crisis has led, time and time again, to modular housing. But despite enthusiastic backing from the government, modular systems remain beset by high costs, variable quality and a lukewarm reception by consumers and lenders alike.
The latest firm to enter the fray is Verbus, a joint venture between Bournemouth-based contractor George & Harding and structural engineer Buro Happold. They want to take advantage of rock-bottom Chinese manufacturing prices and the standardised transport methods of shipping containers – 1.6 million units are produced and shipped a year – to import cheap but robust custom-made housing units. So far they've invested £1m in a system for doing so, and they plan to capture the eye of developers and housebuilders when they launch the system next week at the Thames Gateway Forum (23-24 November at ExCel, east London).
It's not the first time shipping containers have been used on developments — the architect Nicholas Lacey has used recycled ones on several schemes in east London — but Verbus' patented system has a few crucial differences. Here's how it works …
1.The production line, factory of the world's largest manufacturer of shipping containers, Xinhui, China
Verbus units are made in a Chinese shipping container factory, but they're not shipping containers, says Rufus Harding, a director of Georgeand Harding. "Using actual shipping containers didn't work. They were only 2.4 m wide — you'd just about fit a student in there. And it's a metal box, not a building product."
Instead, the Verbus patent covers any width up to 5 m. Standard units are 3.6 m wide and come in four lengths: 6, 12, 13.7 or the unusual 8.6 m (a bedroom plus corridor). They are lined with 32 mm plywood from the factory next door, which would be too expensive to use in the UK.
To be cost-effective, units must be made and transported in bulk – the factory will be able to produce 300 a day. However there is only a tiny margin of error in the units' dimensions. Any that are a millimetre too big or more than three too small will be thrown away because port cranes won't be able to pick them up. To check quality at the factory, Verbus has turned to an unusual proxy – Lloyd's Register, which certifies merchant shipping.
2. Transporting the units, Shekou docks
After a week in the factory, the containers spend four being transported to England. Shipping is included in the unit price and includes trucking to site. Harding says the total works out at the same cost as timber-frame construction when the units are designed into a building. Since the units deviated in width from the standard container, the engineers designed and patented a transportation system so that wider units could fit within the system used to ship regular containers.
Shipping containers are by definition hard-wearing – they are guaranteed for 60 years, are rust-proof and self-healing if scratched. To satisfy Lloyd's Register, the units undergo stringent strength tests. Harding says the Verbus units are weighted with 16 tonnes and bent like regulation shipping equipment to make sure they are up to the job; the engineers at Buro Happold check they are structurally sound. Winning the confidence of lenders and insurers is the toughest challenge a new modular system faces. Harding admits that so far in talks with HSBC the issue has not come up, but he hopes the Lloyd's certification will be enough to convince them.
3. Adding bespoke design to the units
Previous attempts to use shipping containers as housing have made no attempt to disguise their unconventional appearance, restricting their appeal. Harding says the strength of the Verbus units means any kind of cladding can be bolted to the outside. "It's so strong, you can just screw rather than bolt. Most modular housing isn't strong enough to hang brickwork from – and stick-on bricks never look great."
Harding believes they will also tolerate ambitious architectural designs, such as this one by Edward Cullinan.
They have tested structures up to 16 storeys. "Cost-wise, the system is competitive for buildings between three and five storeys high, and very competitive above five," says Harding. "It's almost a no-brainer, you can put it up so quick."
4. The building process: On site in the UK
Bolts on shipping containers lock together automatically – which means instead of bashing units into place with sledgehammers, construction workers just need to tighten the connections with a spanner once they are in place. Buro Happold worked with a German expert in high-tech bolts to develop a rigid semi-automatic model to ensure that the finished buildings would neither rattle nor creak.
Fit-out will be done in the UK at first. "There's not enough of a saving to take a chance on quality," says Harding. He hopes using local labour will also appeal to social housing providers, one of Verbus' target markets.

5. The finished product: Prototype in Salisbury, UK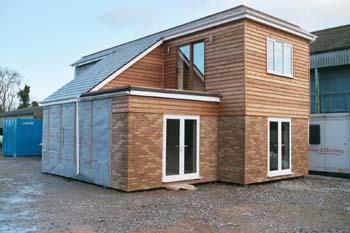 Verbus' prototype house took just nine weeks to build in total, from factory to completion. The units arrived on site in week five, and Harding believes that the assembly process could be speeded up for repeat developments. So far it has welcomed visitors from housing groups, developers, contractors, architects and client organisations. "After a year, the structure has no cracks or condensation," says Harding. He also believes building inspectors will be satisfied: "It beats the regs in every sense." He admits that the units do not in themselves make for a very sustainable buildings, "but you can make them sustainable, better than steel frame."
The next step is to attract bulk orders from clients. The price of the units, dependent on volume, specification and location, will be held for five years. "As the rest of construction inflates, they will be very competitive, much cheaper than existing modular systems," says Harding. The first Verbus development, a low-cost hotel, is about to start on site and Harding believes that developers will be persuaded to take the plunge: "Nobody wants to be the first, but once that's built, they'll be flying off the shelves."