This week's products include prefabricated stone cladding for buildings at the Kew Bridge West development in north London, and sheathing board for a zero-carbon housing development in Peterborough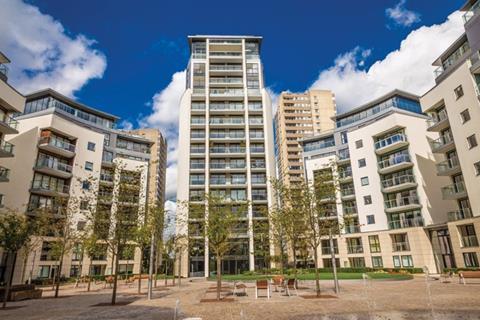 Stone cladding
Shackerley has supplied 2,400m2 of fully prefabricated Sureclad engineered stone cladding for the lower storeys of a number of buildings at the Kew Bridge West development in north London. The products were chosen to match the aesthetics of the existing design of the complex. Sureclad Hang On system was customised to fit around two circular towers, and faceted facades were required to clad curved elevations of adjacent buildings. Shackerleywww.shackerley.com
Movers and Makers
Aluminium system supplier Kawneer has launched two new guides for its windows and unitised curtain wall systems. Both brochures have been updated to include the company's full window range as well as the new AA265 unitised curtain wall system. The brochures also contain advice on specifying the products and a product selector detailing different product types, features and benefits of off-site manufacturing.
Experience Permasteelisa is a new app launched by the Permasteelisa Group to showcase their projects around the world, and is available on both iOS and Android. The app allows users to access exclusive content through various tools, including "on the spot", which displays the projects in their natural surroundings, "augmented reality" which uses the device's own camera to provide information about their surroundings and "search+", which allows the user to use technical and architectural parameters to search for data.
Forticrete has invested around £1m in expanding its capacity at the Thornley factory in Durham and the Anstone factory in Sheffield. The expansion will enable the company to add new facilities to manufacture a wide range of cast stone products and to increase production efficiencies, and is expected to create up to 20 jobs. Both the Thornley and Anstone factory are expected to be fully operational by March.
EOS Facades is expanding its section capability with investment in new roll-forming machinery, making the total owned by the company now five. The machines currently roll sections ranging from 65mm, 100mm and 150mm deep in a range of gauges from 1mm, 1.2mm and 1.6mm thick, and the company says the inclusion of the new machinery will assist it to supply to the volumetric modular building industry.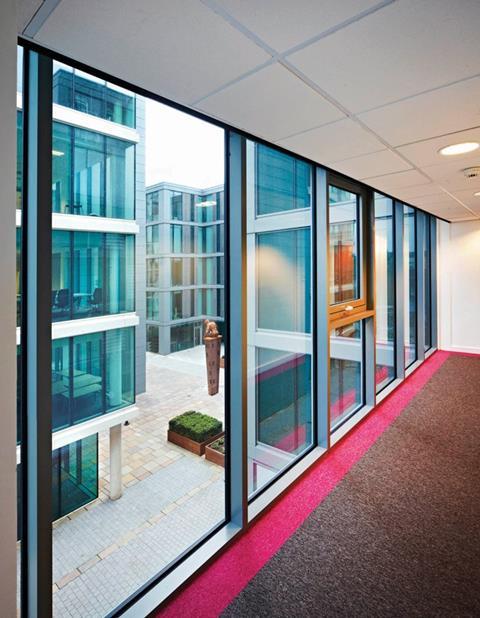 Curtain walling
Some 14,000m2 of curtain walling from Wicona has replaced the facades of four buildings at Velocity Village in Sheffield as the old system was no longer watertight. The facade had to mimic the frameless appearance of the original design, with floor-to-ceiling glazing. To achieve this the WICTEC 50 SG system was chosen, as the range offers the option of flat or faceted construction and is designed as a traditional stick system facade, where the insulating glazing is retained between the panes.
Wicona
www.wicona.com
Sheathing board
Versaliner sheathing board from Euroform has been chosen for Vista apartments, a zero-carbon development of 295 family homes and apartments to a former brownfield site in Peterborough. The product was chosen as the project had to meet the requirements of BS 8414 Part 2, stipulating that fire resistant materials must be incorporated into the specified rainscreen system. Versaliner meets these requirements as it is frequently employed as a carrier panel in insulated rainscreen systems over 18m in height, where testing to BS 8414-2 is a critical factor. Over 4,000m2 of 12mm Versaliner was installed on the project.
Euroform
www.euroform.co.uk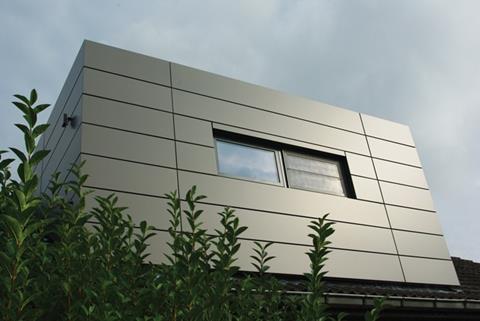 Metal cladding solutions
Midland Lead has launched a new range of metal cladding solutions, as the company diversifies into metal cladding from machine-cast lead. The company says the new cladding system offers a lightweight, green product which can be used to preserve a building's existing structure. The product is available in large panel sizes and has pre-fabrication options.
Midland Lead
www.midlandlead.co.uk
Translucent polycarbonate cladding panels
Some 4,000m2 of translucent polycarbonate cladding panels by Rodeca are being used on an energy recovery centre in South Gloucestershire as part of a sub-contract package. The tongue-and-groove opal panels are being installed around the buildings' ground-floor process areas and north-east gable end in up to 13m lengths. The product is a clear, high impact thermoplastic with a claimed temperature resistance from -40°C to 115°C.
Rodeca
www.rodeca.de/en
Building boards
Manufacturer Panel Systems has released new panel sizes for the weather resistant Styroclad eco panel. The product is now available in the new 4ft x 2ft size. The company says the new size can prevent cold bridging and improve the thermal performance of a building. Styroclad eco is manufactured of 6mm autoclaved fibre-cement board and is class O to Building Regulations and has class 1 surface spread of flame to BS 476 Part 7.
Panel Systems
www.panelsystems.co.uk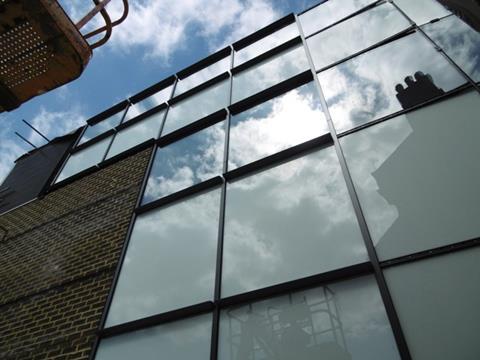 Curtain walling and casement windows
Soundcraft has provided curved curtain walling and composite casement windows for a grade II-listed building at Muswell Hill Road, north London. SWC+ aluminium curtain wall system, including a curved corner and Hybrid composite casement windows were chosen for this project due to their thermal and acoustic performance. The project consisted of creating a new retail facility of six shops and the addition of eight flats, attached to a listed Odeon cinema.
Soundcraft
www.soundcraft-doors.co.uk
To see more cladding products, visit Ecobuild on 8-10 March at London's ExCeL.
Book your free place at www.ecobuild.co.uk