This week's cladding products include the refurbishment of a high-rise building at the Darmstadt University in Germany, and wall cladding for a home on the banks of the River Tay
Curtain walling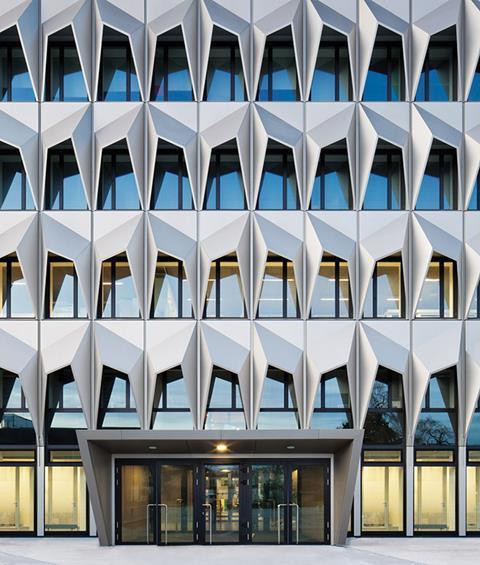 The refurbishment of a high-rise building at the Darmstadt University of Applied Sciences in Germany has been completed using a bespoke facade solution from Wicona. The redevelopment of the sixties 16-storey high building was designed by Berlin-based Staab Architekten. The tower was completely stripped back to its original concrete structure, the windows were replaced and the outer walls were created with Wicona curtain walling. The north elevation, which faces the city centre, features narrow strips of glazing and contrasts with the south elevation which has 3D metal facade elements for solar shading. The bespoke facade design was developed by Wicona in conjunction with fabricators Heinrich Würfel Metallbau GmbH and Co Betriebs KG, based on WICTEC 50 'stick' curtain walling with integrated pressure plates, and the WICLINE 75 evo window system for natural ventilation.
Wicona
Laminate wall panelling
Formica Group has launched an extension to the Formica Washroom Collection of laminates designed for washroom applications such as wall panelling, cubicles and vanity units. The collection offers a range of materials and decors, with a colour palette including 25 new decorative designs, and includes a custom laminate service which allows architects, designers and fabricators to create bespoke designs for interior and exterior applications.
Formica
Cladding support system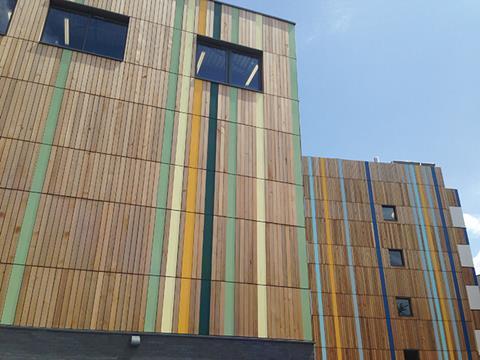 NVELOPE has provided its NV1 and NV6 cladding support systems, to Crest Girls' Academy in Neasden, London. The systems have been installed throughout the £40m refurbishment of the school, to support approximately 6000m2 of timber and cedar cladding. The company claims that the NV1 vertical flexible point brackets and NV6 horizontal system were well suited for this project as they allow for expansion and contraction of the cladding when under strain from various weather conditions including strong winds. NVELOPE provides secure fixing solutions for a range of facade materials. Systems are available pre-assembled with thermal isolators to help reduce thermal bridging and also prevent a chemical reaction which could occur between the aluminium bracket and the line in a concrete frame. Standoff sizes for the vertical range is from 40-300mm.
NVELOPE
Aluminium curtain walling
Reynaers Aluminium has supplied CW 50 curtain walling to the Paynes & Borthwick riverside apartment, office and retail development in Greenwich. The project comprises new build and refurbished buildings including 257 one, two and three-bedroom apartments, as well as 14,000ft2 of commercial office and retail space.
Reynaers Aluminium
Wall panel system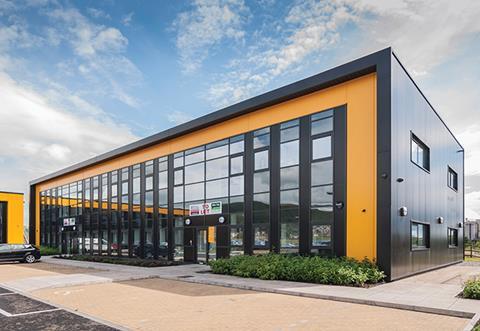 Eurobond Laminates Europanel F5 wall panel system was specified for the Harbourside's R&D Village development in Port Talbot. The two and three-storey BREEAM "Excellent" buildings at Harbourside were designed by Cardiff-based Rio Architects and have been devised to accommodate companies operating within the manufacturing, engineering and material sectors. The Europanel F5 panel system specified is 200mm thick and finished with TATA Colorcoat Prisma in black and mellow yellow. The company claims that Europanel F5 panels were chosen as they supported the target for an "Excellent" rating by making a positive contribution to the assessment. Eurobond products have been assessed to meet the requirements of BES 6001 Responsible Sourcing of Construction Products.
Eurobond Laminates
Walling cladding
Cedral Click wall cladding from Marley Eternit has been used during the creation of a new home recently constructed on the banks of the River Tay. A critical factor for the dwelling was the need to ensure it would be low maintenance for the owners, without any compromise to materials used or the final design. Cedral Click in a slate grey finish was specified by architects Blackdog in order to meet the brief set by the client. The final slate grey finish from the Cedral Click colour palette met with full approval from the local planning committee which deemed it appropriate for use within the conservation area.
Marley Eternit
Curtain walling
Allford Hall Monaghan Morris specified AluK curtain walling and window systems for the Burntwood School project, a series of new educational buildings which will serve up to
2,000 pupils and more than 200 staff. AluK's 72BW HI window system and SG52 curtain walling system were supplied for the curriculum buildings which forms the bulk of the accommodation for the school. For the performing arts building the architects specified the SG52 and bespoke SL52 curtain walling systems. AluK claim their thermally broken
curtain walling systems were chosen as they offer flexibility while maintaining the performance and functionality demanded by modern buildings.
AluK (GB)
Glass panel system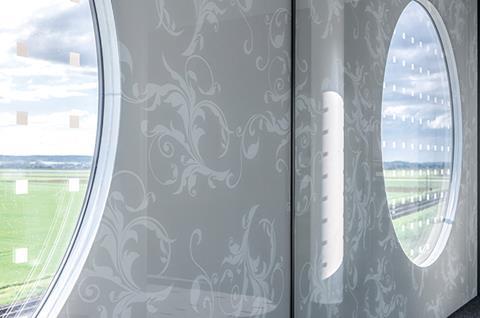 Building facade specialist Seele has developed a glass facade called SCF. The facade elements have a homogenous appearance with the option to place opaque and transparent areas anywhere within a panel. There are no posts, no rails and no silicone joints to interrupt the transition from opaque to transparent which, the company claims, results in an uninterrupted glass surface. The system is based on standard modules with element sizes of 3.20 x 4.00m. Vertical elements measuring up to 3.20 x 15m and horizontal elements up to 7.50 x 3.20m can be supplied on request. Seele claims the system can achieve thermal transmittance values (U-values) of 0.2 W/m2K for opaque, insulated areas and >0.8 W/m2K for transparent areas.
Seele
Movers and Makers
Architectural aluminium systems supplier Kawneer has relaunched its website. The new look www.kawneer.co.uk has an updated cross-platform navigation and new features include bookmarking and quick links to access technical specifications, CAD files and BIM models (where applicable) at individual product level.
UK roof, facade and building envelope specialist Lakesmere has reported an increase in pre-tax profits and turnover in the period ending 31 January 2014. Group turnover has grown to £86.3m with profits before tax up to £1,991,620. Expecting to build on this foundation, the group predicts turnover to exceed £100m this year.
Architectural aluminium systems company Metal Technology has launched a BIM library covering the company's range of windows, doors and curtain walling. BIM product models have been developed using Autodesk Revit to deliver 3D window, door and curtain walling products that can be lifted and positioned within an overall BIM project model. www.metaltechnology.com
SIG have launched a hard metals website dedicated to the company's portfolio of zinc, copper and stainless steel roofing and cladding systems. The new website features a product gallery allowing users to compare products by viewing images of available ranges alongside technical details, downloads and other information. www.sigzincandcopper.co.uk.
Wienerberger, provider of wall, roof and landscaping systems, has launched a series of videos demonstrating the various stages of the build process for Porotherm, the company's clay block walling system. All 10 videos can be found on the firm's YouTube channel at youtube.com/user/WienerbergerOfficial and DVDs are available on request.