This week's cladding products have an international flavour with a Spanish ventilated facade, a ballistic protection system for Afganistan and Saudi Arabia and eco-friendly cladding for a Passivhaus school in Oslo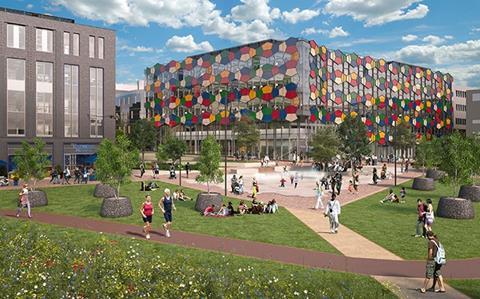 Pilkington Glass for council office
Pilkington Glass was selected for the facade of Stoke-on-Trent's new council office which had to reference the city's history of pottery manufacturing. Designed by ceramic artist Clarice Cliff, the glazing features five colours arranged in a geometric pattern to reflect the artist's most iconic pieces. The facade was custom designed with the colours digitally printed onto the inside of the outer pane of glass within each double glazing unit. Dark colours were used in areas of the facade where solar gain was the highest to help prevent the building overheating in the summer.
www.pilkington.com
Movers and Makers
Technal has launched a tablet app for architects, specifiers and contractors. Users can now receive fast and direct answers to specification queries with simple access to technical data using the latest interactive technology. This architectural database allows access to a library of product information and images, making it a convenient specification tool.
Lindner Facades has launched a website, which allows users to scroll through a visual portfolio on the device of their choosing. The website enables visitors to quickly find the sections specifically relevant to them. One such section is the Lindner Facades Special Works division, which comprises three areas of capability: airport projects, special projects as well as service and maintenance. Each division encompasses the full range of cladding-related services from smaller projects to the larger and more complex.
Schueco has produced a guide and comprehensive set of documents to assist architects in the selection of Schueco aluminium windows, doors and facades best suited for BREEAM projects. As well as explaining the fundamental aspects of BREEAM and the scoring system, the guide demonstrates the influence Schueco products can have on the various BREEAM categories where credits are scored – the main ones being management, health and wellbeing, energy, materials and waste. In addition, Schueco is able to offer specific project-related information such as EPDs (Environmental Product Declarations) as part of supporting documentation.
Wicona has become what it says is the first aluminium facade systems supplier in Europe to use recycled polyamide for thermal breaks. The company says this glazing solution will reduce fossil fuel consumption by 89% compared with conventional polyamide 6.6. It also claims water consumption will be reduced by 32% and carbon emissions by 84% – which is equivalent to an annual saving in CO2 emissions of 12,000 tonnes. The Wicona product warranties apply in full to the recycled material and its manufacture is tested in accordance with EN 14024 to maintain the same performance properties as thermal breaks produced from new polyamide.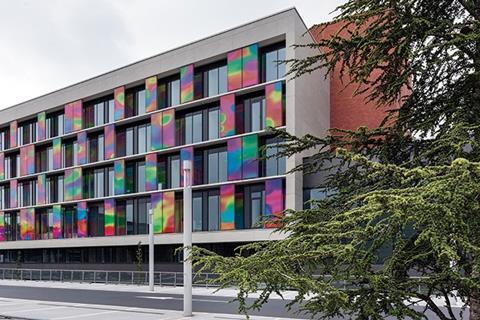 Ventilated facades
Spanish cladding specialist TheSize has launched StrongFix, a hidden installation system for its Neolith panels. Neolith is a sintered panel made from clays, feldspar, silica and natural mineral oxides and is available in 45 colours across 6 collections. Designed as a ventilated facade system, Strongfix provides an invisible, mechanical fixing system that the company says allows for easy panel removal for maintenance or panel replacement.
TheSize
www.thesize.es/web/
Glazing systems
Kawneer's aluminium cladding systems have been used on the Trinity Leeds retail development. Products used on the scheme include the AA100 capped and SSG (Structurally Silicone Glazed) curtain walling systems and AA110 zone-drained curtain walling on shop fronts and link bridges. Top-hung casement and tilt-turn windows were also specified. The retail area is composed of buildings linked by a series of open-air arcaded streets and public spaces above which self-supporting glazed grid-shell roofs rise 30m above street level. The £400m scheme over 817,000ft2 unites three of Leeds' busiest shopping thoroughfares around a central space and includes the refurbishment of an existing shopping centre, all to a BREEAM "Excellent" rating and a 28% improvement over Part L.
www.kawneer.com
Celfix mortar
H+H Celcon has launched a thin joint mortar called Celfix suitable for use in temperatures down to 0oc. The product is suitable for use with the company's aircrete blocks and thin joint system. H+H Celcon said the low temperature mortar meant the working day could now be extended on cold days and enabled work to take place on days that would have previously seen little activity. Celfix mortar is cement based and supplied as a dry, pre-mixed powder in 25kg bags.
www.hhcelcon.co.uk
Ballistic and fire-rated systems
Wrightstyle, a supplier of steel and aluminium glazing systems, is supplying advanced ballistic and fire-rated systems for projects in Saudi Arabia and Afghanistan. The first contract in Riyadh is for some 2,000m2 of ballistic external protection to VIP areas of the King Faisal Specialist Hospital & Research Centre, a 936-bed tertiary care facility. Wrightstyle is also supplying fire rated door sets to the Afghan National Security Forces, which numbers some 350,000 soldiers, police and air force personnel.
www.wrightstyle.co.uk
Computer-controlled louvre-blinds
Glazing products specialist Glassolutions has installed an insulated glass facade with computer-controlled integrated louvre-blinds for the first time in the UK at the £6m Bennett Building at the Babraham Research Campus in Cambridge. The DLS ECKLITE SC system is manufactured by Glassolutions' sister company Eckelt in Austria and integrates an electrically operated louvre within the cavity providing efficient solar and glare control. The louvres and other integral parts are thereby permanently protected against weathering and are maintenance free. The thermal insulation of 0.6 W/m²K fulfils all requirements for passivhaus architecture. The glazing contract also included an 80m2 glass spiral staircase, which forms an emergency escape route within the flagship building.
www.glassolutions.co.uk/www.prater.co.uk
Cedar cladding
Cedar cladding from Caddick Construction has been installed as part of extensive conversion works at The Regatta Group's head office. The cladding has been installed around the structure, which is home to brands including Regatta, Dare2b, Craghoppers and Hawkshead. The company says their cladding was chosen because it's a great renewable resource as a result of the company being accredited with the environmental management certificate IS04 14001. The project involves converting Regatta's existing industrial warehouse in Urmston into a corporate head office facility, with completion expected by March 2015.
www.caddickconstruction.co.uk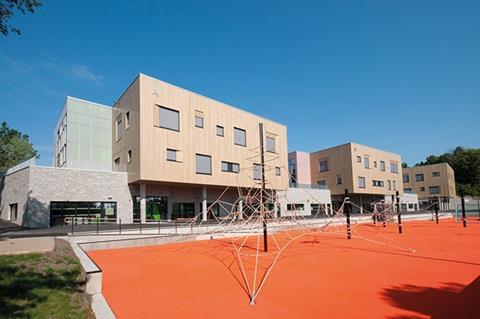 High performance modified wood
Accoya, the modified wood product manufactured by Accsys Technologies, has been used to clad a new primary school in Norway. Bjørnsletta Primary School is the first Passivhaus school in Norway's capital Oslo, scoring high on energy efficiency and constructed using eco-friendly building materials. While the main school building has been clad using stone, the three individual classroom wings have been clad with Accoya. The company said Accoya has excellent environmental credentials by using wood sourced from FSC® certified and sustainable forests.
Accysys Technologies
www.accoya.com